Giving women entrepreneurs an opportunity to shine is one mandate of W.O.M.B [Women who Own and Manage Businesses], and as part of that goal, they will be hosting their third annual market for female businesses on Wednesday December 4th, from 6.00pm to 8:30pm at the BAA Gymnasium.
"We are pleased and excited to bring this market to the holiday market circuit for the third year. The participants last year were so pleased and excited, many asked for the market to be held quarterly. Unfortunately, we don't have the capacity at this time to put on a quarterly market, but we are grateful to be able to bring this market for the third year," shares Stephanie Lee, WOMB Facilitator and Market Organizer.
"We host this market on the Wednesday after Thanksgiving, as it is designated as 'Women Wednesday,' the day where shoppers around the word are encouraged to patronize female entrepreneurs in their community. As a part of our mandate, we host this market to provide a platform for the hundreds of female driven businesses in our community."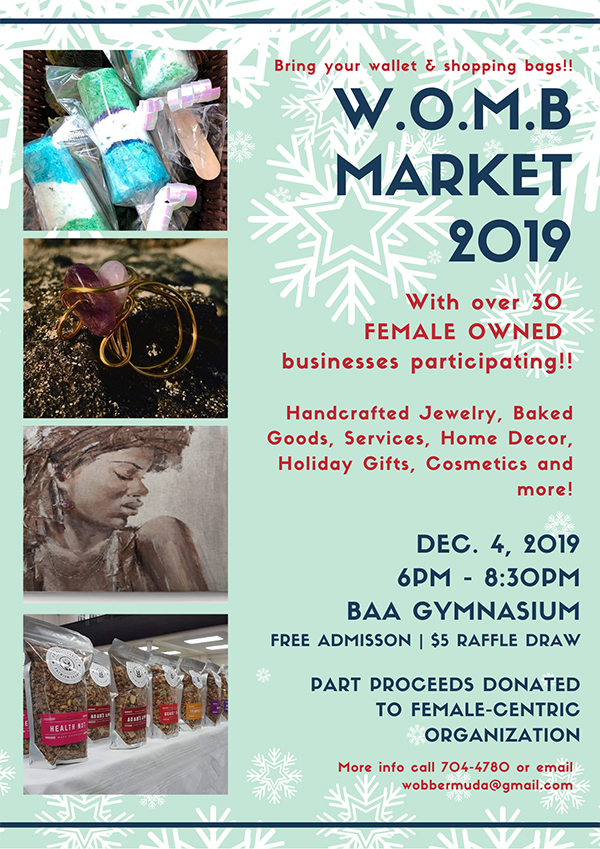 The market will be held at Bermuda Athletic Association, this Wednesday, December 4th, from 6-8:30pm.
"We've received an overwhelming response, having reached capacity, and started a waiting list! This speaks to the power of being able to provide this platform for the many female entrepreneurs on the island. We have a few regulars, a few new faces, and a few who have started businesses while still in school," she said.
They are looking to feature as many as 40 businesses, and are not limited to businesses with a physical product to sell.
"While a majority of the businesses are offering products for sale, there are a number who offer services, both for individuals and to make life easier for families," Ms Lee added.
"Of course we encourage all of Bermuda to come out and support for Bermuda's Female Entrepreneurs. I am always pleasantly surprised and pleased by the quality of the offerings presented by vendors. By patronizing local businesses, you are helping these women provide for their families; which in turn benefits the country."
Current list of vendors:
Women's Resource Centre
BEDC
Authentic Afrika – Bermuda
Click Erands
DuchPops
Endless Creations Pottery
FUELLED Bermuda Ltd.
Gnome for the Holidays
Handmade by Day
INJO CO.
J Milan Beauty
Joy's Gifts
L'Image
Lifestyles Bermuda
Lovelace Spa & Wellness Center
Mayvera Wellness
Department of Community and Cultural Affairs – Senior Crafters
Mixyz Bermuda
Mudai Ethiopis
My DeZigns
Oatbelievable
PanBakery
Perform 2 Learn Nursery
PonDaPits
Uniquely You
Scrapbook Diva Designs
SheVenus
Sugar On Top
The Black Collective
Treasured Sweet Treat
TriMik Sport
True Reflections
VaJuvenate Health and Wellness
Vintage Lace Designs
Salt Spray Soap Company
Lady Macrame
Lingovox Translations
Vim & Venust
There will also be a raffle draw, where items have been donated by female businesses. Part proceeds donated to the Women's Resource Centre.
For more information about the market, visit the website.
Read More About