Aecon and the Ministry of Public Works announced the start of the second Airport Redevelopment Project Internship Programme, which will kick-off in January and finish in July.
Two Bermudians currently working for the Ministry of Public Works will intern for a period of six months with Aecon, employer partners and technical team members in Toronto.
Zeeko Johnstone and Jamar Dill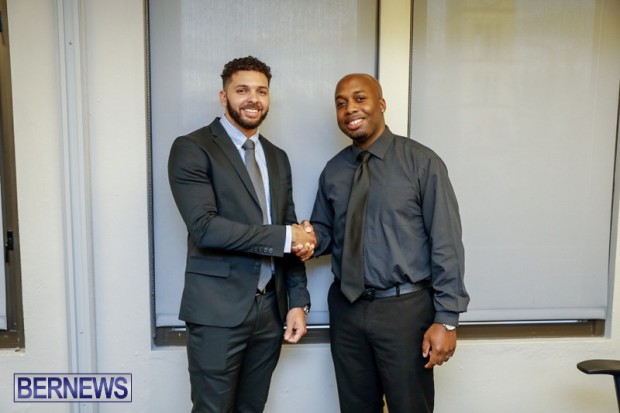 The two candidates chosen for the internships are:
Jamar Dill is an electrical engineer with 18 years of experience. He has a Bachelor's degree in electrical power engineering and a Master's degree in Maintenance Management from Glasgow Caledonian University. He currently works with the Ministry of Public Works with responsibilities in project management and procurement. He will be working with Mulvey & Banani International Ltd.
Zeeko Johnstone holds a Bachelor of Science in mechanical engineering from Florida International University. He is currently employed as a Technician with the Ministry of Public Works. In his role, he assists with various mechanical engineering projects and carries project investigations. He will complete his internship with H.H. Angus Associates Ltd.
Both Mr Dill and and Mr Johnstone will be fully integrated into various design/engineering teams with their host firms and will work on a variety of projects related to their fields of expertise.
Video of the press conference held yesterday
Aecon said, "The interns will also participate in a series of dynamic training courses offered through Aecon University. They will each be assigned a mentor who will help them create an individual development plan to ensure that they maximise the opportunity this programme will afford.
"Upon completion of the internships. Jamar and Zeeko will receive valuable developmental feedback on their performance and will be presented with a certificate of achievement from Aecon. The programme kicks off on January 15, 2019 and will finish on July 12, 2019."
Minister for Public Works Lt. Col. David Burch says: "It's no secret that this Government is fully committed and engaged in supporting the educational and professional pursuits of young Bermudians.
"So I am particularly pleased that we have been able to organize this secondment – thanks in no small measure to the Chief Engineer, Mr. Lortie – who is a man on mission – determined to recruit and train young Bermudians – so thank you Bob.
"Special thanks to Aecon – for agreeing to host and guide them towards professional designation and I am most appreciative of Jamar & Zeeko's families, some of whom are with us today for supporting them in this effort – without you – this couldn't happen – so thank you too."
Frank Ross, Executive Advisor, Aecon Group Inc., said: "We are pleased to be able to offer this internship programme a second time to two more talented Bermudians. This internship will help further Jamar's and Zeeko's skill sets by exposing them to large scale projects in Canada and access to leaders in their respective industries. We are confident they will benefit from this opportunity immensely."
Read More About