[Written by Jamar Dill]
My name is Jamar Dill and I am an Electrical Engineer for the Ministry of Public Works. My background includes 19 years of experience which began in 2000 after graduating from CedarBridge Academy. To date I have worked as an electrician, electrical fitter, and an engineer-in-training. I have also completed a Bachelor of Engineering Honours Degree in Electrical Power Engineering, and a master's degree in Maintenance Management at Glasgow Caledonian University.
I joined the Ministry through the Bermuda Government's Workforce Development Programme and was placed in Public Works engineering section under Principal Electrical Engineer Remi Subair and Chief Engineer Yves Lortie.
After completing the programme, I was fortunate to be given a position. I have been able to attend training events, be a part of various projects and perform energy audits on government buildings to lower electricity bills. However, the main highlight for me was being able to present to CedarBridge Academy students on my journey to date, offering them advice and tutoring sessions and giving them an overall insight as to the role of an Electrical Engineer. It was an amazing experience.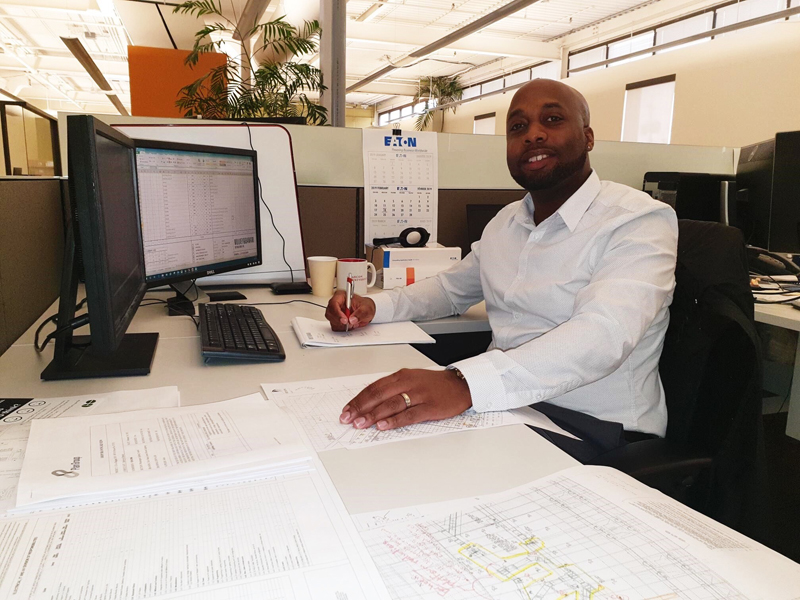 My most recent journey began in January 2019 when I arrived in Toronto as part of a partnership between Public Works and Aecon to intern with Mulvey & Banani, the electrical contractor on the Airport Redevelopment Project in Bermuda. They are a company which provides innovative engineering and designs, have talented engineers, complex projects and I am taking full advantage of this opportunity.
I have already learned a lot especially in the design phase using software such as AutoCAD and Revit. I have been able to apply my new skills to the Toronto Pearson Baggage 2025 which is a major project I am currently working on. The project initiative is to upgrade its baggage-handling operations, with a state-of-the-art, automated system.
Mulvey & Banani is the Electrical Engineering contractor for the project and it is split up into various work packages, of which I am working on Terminal 1. I am doing the lighting and power design, along with the circuiting, and panel scheduling. The project is ongoing with weekly deadlines for progress drawings and changes. These deadlines are very demanding which has taught me the importance of proper project and time management.
Overall, this has been an amazing experience provided by Aecon and the Bermuda Government. I have attended many training and company events and met people that have impacted on my professional career. Furthermore, this internship will also aid in my licensing with Professional Engineers of Ontario which is my end goal. In the end after this experience concludes in July, I look forward to returning home to apply my new skills, apply them to projects and continue to progress professionally.

Read More About