The Bermuda Tourism Authority's collaboration with Google has earned a prestigious industry award, and Bermuda took home two other prizes at this year's HSMAI Adrian Awards.
At the Hotel Sales & Marketing Association International [HSMAI] Adrian Awards this week, the Bermuda Tourism Authority and its marketing partner Miles Partnership won a Platinum Adrian Award for digital marketing innovation in 2018.
The BTA said, "Judges honoured the Google Destinations Project with the highest award in its category. They were blown away by the project's ability to create a comprehensive digital footprint for Bermuda and literally put it on the map for web users around the world.
"Thanks to the work of the Bermuda Tourism Authority and Miles Partnership, Bermuda was the first island destination to have its entire jurisdiction on Google Street View.
"Hundreds of photos, video and 360 images were uploaded by the team – viewed more than 8.4 million times since the launch in June 2018, showcasing the island to thousands of potential visitors researching the destination.
Part of the BTA marketing team, along with its partners, at the HSMAI Adrian Awards Gala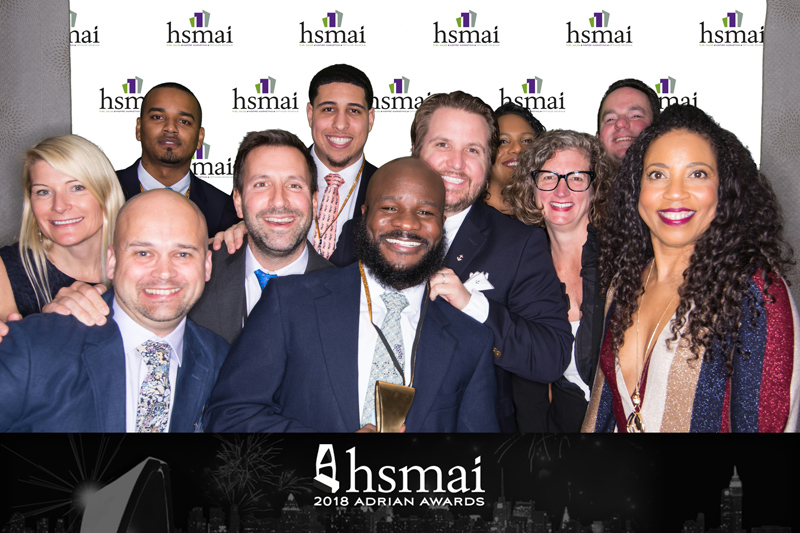 "Digital Marketing Manager Jamari Douglas accepted the award on behalf of the Bermuda Tourism Authority team along with C.A. Clark from Miles Partnership. They both donned Bermuda shorts on stage at the gala event in New York City on January 22″
"In Bermuda we like to be trendsetters and receiving this Platinum Adrian Award is confirmation that as a tourism marketing team, we are living up to the island's reputation of innovation," Mr. Douglas said. "It was an incredible privilege to accept the award on Bermuda's behalf. And the next day, along with Miles Partnership, we went back to work to stay ahead of the competition."
Bermuda took home two other prizes at this year's HSMAI Adrian Awards. There was a Gold Adrian Award for public relations as a result of an America's Cup feature in Ocean Home magazine, won in partnership with Turner PR. A second Gold Adrian Award was presented for the buzz-worthy "Bermuda's Calling" cooperative video campaign with JetBlue.
How The Google Project Came Together
This is the third consecutive year Bermuda has been in the winners' circle at this prestigious industry awards gala, including its 2017 win for Best of Show.
Bermuda's Minister of Tourism & Transport Zane DeSilva said: "Congratulations to the Bermuda Tourism Authority team for three years of success for our destination at the Adrian Awards, including the latest platinum prize for marketing innovation.
"This consistent level of high performance is not only making a big difference here at home for our tourism industry, but also winning the respect of the world's destination marketing industry. Well done!"
"While this week's Platinum Adrian Award for innovation was given for work completed in 2018, the effort to increase Bermuda's Google presence began in 2017. The first step was getting local buy-in from stakeholders to claim their Google My Business listings," the BTA explained.
"This was a major focus of the 2017 Bermuda Tourism Summit. Simultaneously, there was a labour intensive process to clean up inaccurate and outdated content in Google listings. After that, the final step was truly innovative as Bermuda's team and Miles Partnership mounted a 360-degree camera on a taxicab to map the island from east to west."

Read More About