The Department of Education today [Jan 2] held a workshop for teachers on Standard Based Grading [SBG].
"The full-day workshop was organized by the Department in response to a request from the Bermuda Union of Teachers to hold specialized SBG training for teachers," the Department said.
"The purpose of the training was three-fold: [1] To develop a common understanding of standards-based education; [2] to share information on the way forward; and [3] to communicate the type support that will be provided as we transition the system to Standards-Based Education.
Minister Diallo Rabain and Commissioner Richards are pictured with the SBG Steering Committee: Kali Douglas [Chair]; Keisha Allen-Smith; Kalley Baxter-Williams; Jenna Bean; Tamicia Darrell; Lisa DeSilva; Nicole Grant; Linda Holdipp; O'Brien Osborne; Shequita Parson; Daveta Patterson; Kennita Phipps; Shinah Simons; Phillip Trott and Charisa Woolridge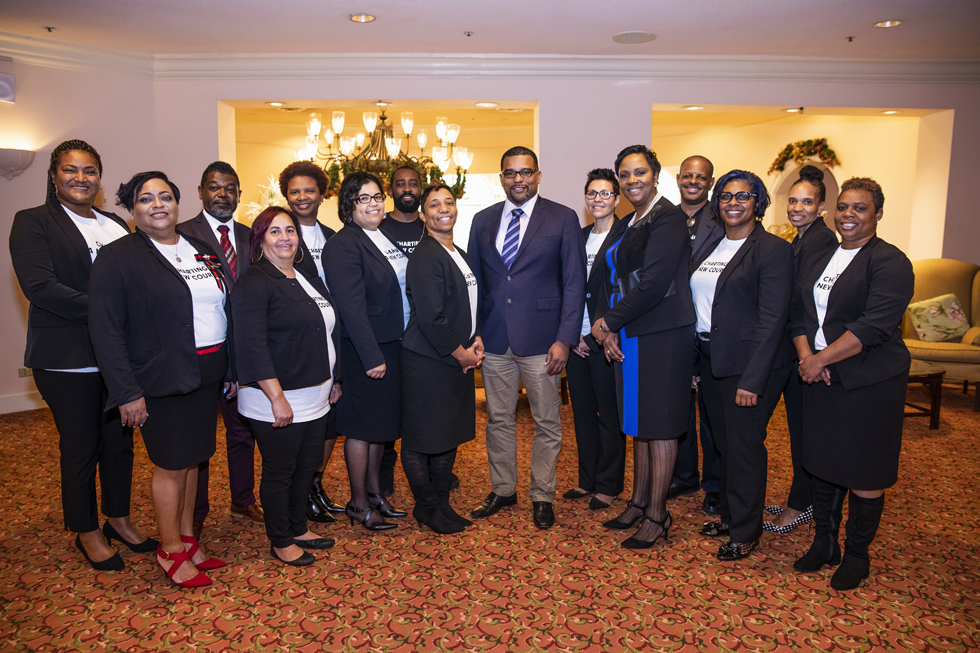 "The workshop began with welcome remarks from the Minister of Education Diallo Rabain; BUT President, Shannon James; BPSU Principal representative, Holly Richardson and the Commissioner of Education, Kalmar Richards. There was a common theme reiterated by each speaker and that was the need to move forward and to collectively work toward the full implementation of SBG.
Commissioner Richards addressed the teachers by first apologizing for "insufficient support, training and communication, and for the impact that it has had on principals, teachers and schools."
Commissioner Richards stated: "The decision to become a Standards-Based Education system was a decision made for children. It was a decision in support of placing greater emphasis on quality teaching and fair and reliable grading practices; it was a decision to transform education for Bermuda's children.
"That decision, although a decision for children, requires site-based execution of Standards-Based Education practices and principles by principals, teachers and other school staff.
"When we assess where we are at this very moment with the implementation of Standards-Based Education, we, the Department of Education, recognize that we need to provide more communication, more training and more support for principals and teachers in order to place you in a position to execute SBG practices with fidelity and confidence. We apologize for insufficient support, training and communication and for the impact that it has had on principals, teachers and schools.
"We commit to a way forward that involves principals, teachers and the Department of Education staff collaborating and agreeing on the decisions related to Standards-Based Education and to getting the key pieces in place. Further, we commit to providing purposeful professional learning opportunities and support that will enable you to lead and execute Stands-Based Education practices with excellence."

Read More About