[Written by Patrick Bean]
X-Roads Warriors have a strong chance of assuming the Premier Division top spot when they travel to face Somerset Trojans tonight as league action resumes in the Bermuda Football Association's [BFA] Premier and First Division following the Christmas break.
Warriors were the surprise team of the first half of the season as after struggling just to maintain their Premiership status a season ago, they have exploded onto the scene this time around and lurk in third place, three points behind leaders PHC and two in back of Robin Hood. They are also expected to overcome an immature Somerset outfit even whilst playing away from home , which would give them at least a temporary posting at the top depending on second placed Robin Hood's result on Sunday.
Hood, unbeaten in league play throughout the first half are likewise favoured to get past mediocre Devonshire Cougars at The Den and give them a chance alone at the head of the charts as PHC's match against Boulevard scheduled for St. David's has been postponed.
In the battle for fourth place Dandy Town hosts BAA in a classic mid-table battle at St. John's, while North Village play host to Paget at Bernard Park
In First Division play Rangers have opportunity to stretch their lead to five points, with nearest challengers Somerset Eagles having a bye this weekend.
Rangers enter fresh from a successful defence of the Shield and coach Jomar Wilkinson is stressing to his charges that they remain focussed at the real prize sought … promotion.
"Our main focus quickly shifts to league play," said coach Wilkinson after the New Year's Day success. "We need promotion and that's our number one priority and we're going to stay focussed on what our goal was from the beginning of the season and that's to get that top promotion spot."
Similarly for Hamilton Parish, who take on Wolves promotion is the focus, with a hope that their activity on the break period has keep them in finer touch than those that were inactive over the holiday period.
"The league is our ultimate goal so we look at going into the second half with some momentum from the Shield cup and we showed today that we can give Rangers a good go and we look forward to playing them in the season," explained veteran goalkeeper Nigel Burgess.
Other matches include another Saturday match pitting Devonshire Colts at bottom dwellers Vasco, while Sunday matches have Ireland Rangers in the unenviable role playing Rangers, Flanagans travelling to Wellington to face St. George's and Social Club away to St. David's.
Weekend soccer schedule: Saturday, January 5:
[Premier Division:]
X-Roads WFC v Somerset CC, Somerset Cricket Club, 8:00 PM AST
[First Division:]
Devonshire Colts v Vasco, Bernard Park, 3:00 PM AST;
Wolves v Hamilton Parish, Wellington Oval, 3:00 PM AST
[Premier Division:]
BAA v Dandy Town, St Johns Field, 3:00 PM AST;
Robin Hood v Devonshire Cougars, Devonshire Recreation Club, 3:00 PM AST;
North Village v Paget, Southampton Oval, 3:00 PM AST;
PHC v Boulevard, St Davids Oval, Postponed
[First Division:]
Ireland Rangers v Southampton, Southampton Oval, 12:30 PM AST;
Flanagan's v St. George's, Wellington Oval, 12:30 PM AST;
YMSC v St. David's, St David's Oval, 12:30 PM AST ;
BYE – Somerset Eagles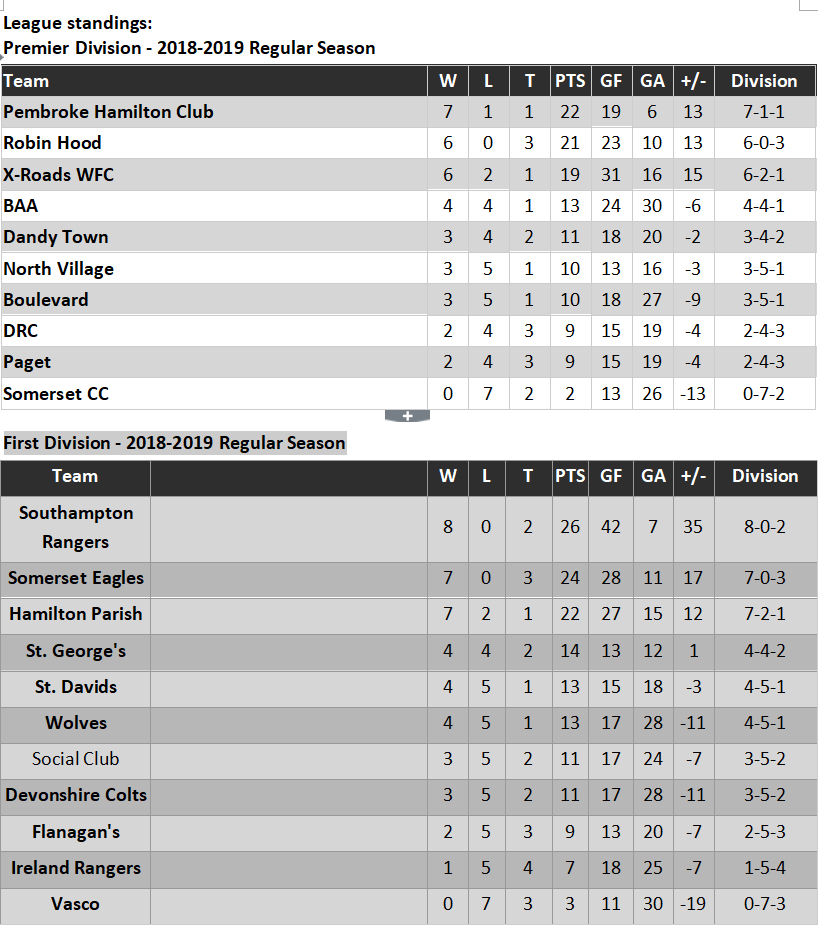 Read More About