[Updated] Minister of Education Diallo Rabain is holding a press conference this morning [Jan 14] regarding the new Board of Education. We will have additional coverage later on and in the meantime the live video is below.
Update: The live broadcast has concluded and the 16-minute replay is below
Update 4.10pm: Minister of Education Diallo Rabain's remarks:
Minister Rabain said, "Good morning and thank you for coming.
"In order for us to continue our march towards Education reform in Bermuda, we need strong visionaries and people committed to not only providing guidance but willing to hold those leading this reform accountable. If we are to move forward with education reform, having a strong Board of Education is not only necessary but critical. Today, I am pleased to announce that veteran educators Dr. Tim Jackson and Ms. Ru-Severin have been appointed as Chair and Deputy Chair of the Board of Education.
"Dr. Jackson is a veteran educator and administrator with over 20 years experience in public education in Bermuda and the United States. He has served as a teacher in Dallas, Texas; Nashville, Tennessee; and Bermuda. In Bermuda, he has served as a teacher at Whitney Institute and Deputy Principal at CedarBridge Academy. From 2007 to 2016, Dr. Jackson served as principal of Sandys Secondary Middle School.
"The Deputy Chair, Ru-Zelda Severin is presently a senior lecturer of Music and Education at Bermuda College. In her 30 years in education, she has taught from pre-school through university and has been an adjunct at Atlantic Union College, Wheelock College and Mount St. Vincent University. Ms. Severin was an integral part of developing a Classical Liberal Arts school in Massachusetts where she served as principal in middle and high school.
"I am also pleased to announce the appointment of the incoming Board of Education members, and they are:
Mrs. Tinee Furbert MP – School other than Senior School representative
Mr. Daniel Reece – Parent Representative
Mr. Pauletta Francis – School other than Senior School representative
Mrs. Shana Williams – School others than Senior School representative
Mr. Chris Crumpler – School other than Senior School respresentative
Mrs. Lauren Hayward-Bell – Parent Representative
Ms. Camille Simmons – Member from Business Community
"Additional Board members will include representatives from each senior school, the Bermuda Union of Teachers, the Bermuda Public Services Union and the Principal Association.
"We find ourselves facing unique challenges within today's education system and the new Board Chair and members have given their commitment to performing the tasks needed to reform education in Bermuda.
"As we continue to move forward with education reform as outlined in Plan 2022 the Board will provide assistance to the Department of Education by providing support and monitoring accountability as per Section 4 of the Education Act 1996.
"Immediately, there are two areas that the Board has been tasked to address, they are:
1. Identify and provide options to address the increased incidents of disruptive behaviors in our classrooms
2. The Board will add to the discussions that have currently been underway involving the Government's election promise to phase out Middle Schools.
"As we move forward with our education reform, I am confident that this team will provide the support, experience and drive to move Bermuda's education system forward.
"I would like to thank the outgoing Board Members, who were instrumental in the development of Plan 2022. They have provided us with a path to victory for our children, a path that seeks to enhance academic rigour, provide our teachers with resources and training needed to succeed and most importantly provide our children with the support needed academically, socially and emotionally to reach their full potential. It was the previous Board of Education that was instrumental in the inception and eventual completion of Plan 2022. They have given us the blueprint and the expectation of the current Board is to provide the support and leadership to take us to the next level.
"I now invite Board Chair, Dr. Tim Jackson to the podium. Thank you."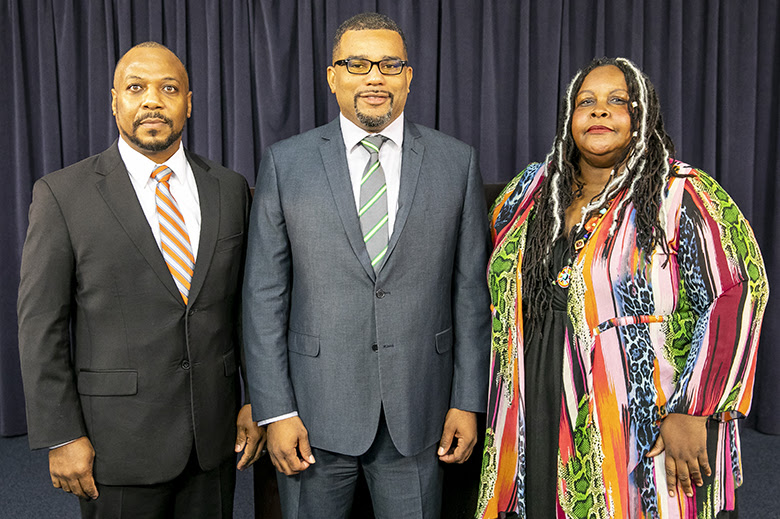 Chairman, Board of Education Dr. Tim Jackson's remarks:
Mr. Jackson said, "First, I would like to thank our Minister of Education, the Honorable Diallo Rabain, JP, MP, for the opportunity to serve as a member and chair of the Board of Education. I regard this undertaking as critically important to the future of our island home. As a Board, our role is to ensure that the Ministry of Education is responsive to the values, beliefs and priorities of our community. We fulfill this role by performing five major responsibilities:
Setting Direction
Establishing an effective and efficient structure
Providing Support
Ensuring Accountability
Providing community leadership as advocates for children, The Ministry of Education and all public schools
"We look forward to being a part of the implementation of Plan 2022, Bermuda's strategic plan for public school education.
"We often here about the negativity of public schools, and how they are failing our young people. While I have the microphone, I will take the liberty of sharing a snapshot of the countless achievements and accomplishments of young Bermudians who have been educated in the Bermuda Public School System. Shelette Spencer attended Victor Scott, Dellwood Middle School, CedarBridge Academy and the Bermuda College. She graduated from Georgia State University in May 2018 with a degree in Actuarial Science. Shelette maintained a 4.0 grade point average during her time in university. Jaret Simmons attended CedarBridge Academy. He earned a degree in Mechanical Engineering [High Honors] from the University of Technology, which is located in Jamaica. In October of 2018, Jaret completed his master's degree in Aeronautical Engineering from Imperial College, which is located in London, and considered one of the top ranked institutions in the world, focusing solely on science, engineering, medicine and business.
"Clevon Cunningham Jr., Marcus Henschke, Kimika Jackson and Dajanee Hill-Edwards attended Sandys Secondary Middle School and The Berkeley Institute. Currently, all four of them are students at St. John's University, located in New York City. They are doing exceptionally well in their respective career paths, which are actuarial science, risk management and underwriting. Furthermore, Dajanee was one of Bermuda's first dual enrolment graduates. She earned her high school diploma and associate degree from the Bermuda College at the same time. By the way, we have 84 public school students currently enrolled in the dual enrolment programme.
"While we have a significant number of students graduating from the Bermuda Public School System who are doing well, we must also address the roadblocks that prevent some of our students from demonstrating their potential and abilities. Furthermore, as a board, we must work diligently to ensure that students and educators operate in schools that are clean, safe and operational.
"As stated in Plan 2022, Bermuda's public-school graduates must be well prepared socially, emotionally and academically for postsecondary success. All students will have diverse and engaging learning opportunities. Furthermore, students will not just be exposed to a college-focused curriculum. They will also have access to career-focused training. Plan 2022 will ensure every child is on an individualized pathway to personal success, a pathway that truly takes into account personal needs and interests.
"Ultimately, we want to ensure that our collective efforts, along with stakeholders, will prepare students with the requisite skills to take on the relevant jobs that exist in Bermuda. We look forward to rolling up my sleeves and doing what is in the best interest of one of our most precious natural resources.
"Thank you."

Read More About