The public is invited to take in the 25th edition of PechaKucha Night on Thursday [Feb 7] at Warwick Workmen's Club, with doors opening at 6.00pm and presentations beginning at 6.30pm, with presenters scheduled to include Dany Pen, Jasen Moniz, Tania Stafford, Danice Mapp, Sophia Cannonier,Alex Potts, Nina London and Bill Rosser.
A spokesperson said, "The people of Bermuda are invited to attend the 25th edition of PechaKucha night at Warwick Workmens Club on Thursday, February 7th. Prepare yourself for another line up of stimulating and engaging presentations from a variety of different people with various backgrounds, perspectives and expertise. This edition of PechaKucha will surely be another great evening featuring a total of 7 presenters. Doors open at 6:00pm and the presentations start at 6:30pm.
"Every edition is different but guarantees short, dynamic and moving presentations. Each presentation uses the trademarked "PechaKucha 20×20" format, in which 20 slides are featured and each slide appears for a total of 20 seconds, resulting in a 6:40 presentation that ensures presenters keep their talks short and to the point.
"For the 25th edition, presentation topics will range from addressing worthiness, to highlighting the most legendary salt-water bivalve mollusc aka Oysters, to discussing one journey that will change your entire life, to improving creativity and promoting a deep relaxation approximating a meditative state, to aerial arts, to paving the way to becoming a human rights activist and to talking about sex and death.
"A full line up of volunteer presenters has been confirmed including Dany Pen, Jasen Moniz, Tania Stafford, Danice Mapp, Sophia Cannonier,Alex Potts, Nina London and Bill Rosser.
"PechaKucha Nights in Bermuda are always free of charge and open to the public, but donations are encouraged in order to give back to our generous hosts at the Warwick Workmens Club, as well as to our A/V team. Doors open at 6pm so come early, get a dinner at Four Star Pizza, a drink from the bar and grab your seats before there's standing room only. As always, the Pecha Kucha team encourage patrons to bring their own reusable cups, straws, and eating implements to help reduce plastic waste.
"Thank you to Kayla Jackson for creating this 25th edition's artwork and poster. The PechaKucha team is looking for dedicated volunteers to join the organizing committee. Email pechakuchabermuda@gmail.com if you want to get involved on an ongoing basis [four events a year], or if you can help out on the night of.
"For more information visit our website, Facebook, Twitter, Instagram, and YouTube."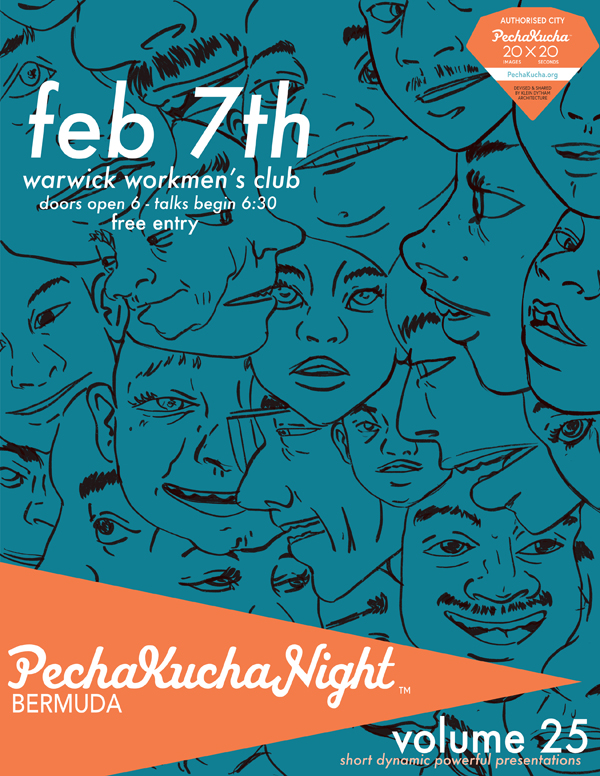 Information:
Event: PechaKucha Bermuda Volume 25
Date: Thursday, February 7, 2019
Time: Doors open 6:00 pm, Presentations start at 6:300 pm
Location: Warwick Workmens Club, Cobbs Hill, Warwick, Bermuda
Format: Presentations with 20 slides for 20 seconds each.
A 3 minute Q&A session will follow every 6 minute 40 second presentation. Attendees are encouraged to spark conversations with neighbors during the intermission and after the show.
Presenters:
Dany Pen – Becoming the Human Rights Advocate
"Dany Pen will be speaking to her journey, experiences and the influence from her community which helped to pave way for her becoming a social and political activist and a Human Rights advocate.
Bill Rosser & Nina London – Brain Spa
"Nina London and Bill Rosser demonstrate a new cutting edge technology they discovered on their recent trip to Asia that utilizes light waves which stimulate areas of the brain to reduce anxiety and stress, release psychological trauma, improve creativity and problem solving, and promote a deep relaxation approximating a meditative state.
Danice Mapp – 40 Days back to Eden
"The one journey that will completely change your life.
Tania Stafford – Worthiness
"Educator, urban planner and mental health advocate Tania Stafford will examine her on-going learning about worthiness as seen through the lens of a person living with a chronic mental health condition.
Alexander Potts – Oysters – All You Need To Know But Might Be Too Afraid To Ask!
"Alex Potts will talk about the life and times of the world's most legendary salt-water bivalve mollusks.
Jasen Moniz – Talking About Sex Doesn't Make You Pregnant and Talking about Death isn't Fatal
"Life is full of uncertainty, but the one certainty for all of us is that our lifetimes are finite. With some helpful advice, we can get past the fear and start having those difficult, but meaningful, conversations about our end of life choices with the people we trust.
Sophia Cannonier – The making of a Pilates Master Teacher and integrating the Aerial Arts
"Sophia Cannonier has been a professional ballerina and a Master teacher trainer in the Pilates Method for over 32 years. She is a published author and is Bermuda's outspoken normal birth advocate. Her passion for teaching has expanded to the Aerial Arts of Silks, Lyra and Pole Fitness and her training has continued to take her around the world. Sophia is committed to building an Aerial Arts Team in Bermuda.
"She will be presenting on Aerial Silks and Lyra as well as demonstrating the athletic and artistic activity on a portable aerial rig."
Read More About
Category: All, Entertainment