Food Box Bermuda has released the February menus, featuring six different box options, ranging from $45 to $110.
The deadline for orders is Monday, February 11th at 7:30pm, with the distribution date set for Monday, February 25 between 6.00pm – 7.30pm.
One option is "Brightside Breakfast Box" for $45.00 which includes 3 boxes of Brown & Serve Sausage Links, 2 boxes of Eggo Homestyle Waffles, 1 box of Hash Browns, 6 containers of La Yogurt, 10oz Mango Chunks, 10oz Whole Strawberries, and 64oz Apple Juice.
Another option is the "Astwood Park Assorted Box" for $110.00 which includes 10lbs of Leg of Lamb, 5lbs Ground Beef, 4 pieces of Organic Ribeye Steak, 7lbs Perdue Chicken Thighs, 20oz Organic Stew Beef Chunks, 2lbs Jade Lion Peeled Large Uncooked Shrimp, 2lbs Great Fish Salmon Fillets, 20oz Waffle Cut Sweet Potato Fries, 32oz Non Pariel Broccoli Florets, and 10 inches of Pumpkin Cheesecake.
The full February menu follows below [PDF here]: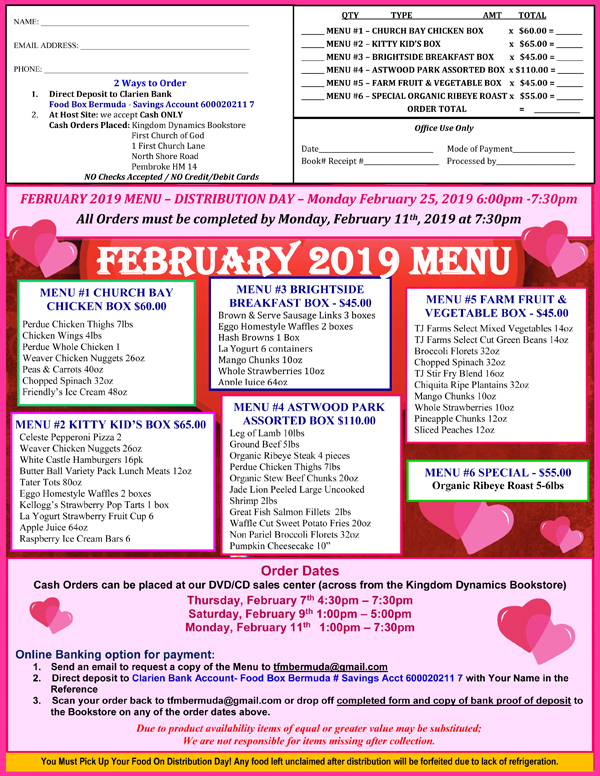 Read More About
Category: All