Bermuda Medical Specialties Group [BMSG] is hosting a day of free, healthcare-events on Saturday, April 6th at Hamilton Princess and at its Reid Street medical practice where members of the public can take advantage of free educational and healthcare-focused discussions.
The day will cover two events. The first will be held in the morning at the Hamilton Princess Hotel featuring info sessions by leading physicians and experts from Lahey Hospital & Medical Center and BMSG. The second event will be an afternoon session for Seniors at the Reid Street premises of Bermuda Medical Specialties Group.
Both events are free and open to the general public. Anyone above 16 years can attend to learn and discuss various health conditions currently impacting Bermuda.
The morning event, 'Let's Talk Health' will be held at Hamilton Princess Hotel starting at 9:30am on Saturday, April 6th in the Princess Victoria Katherine Ballroom.
This event is for people with health concerns, caregivers, family & friends, and anyone interested in meeting and speaking with physicians and medical experts representing a wide-array of chronic health conditions such as, Dementia, Arthritis, Hormonal issues, Sleep disorders, COPD, Asthma, Heart disease, Multiple Sclerosis, Osteoporosis, Parkinson's disease, Menopause, Ageing Male issues, Diabetes, Movement Disorders, and other chronic health issues.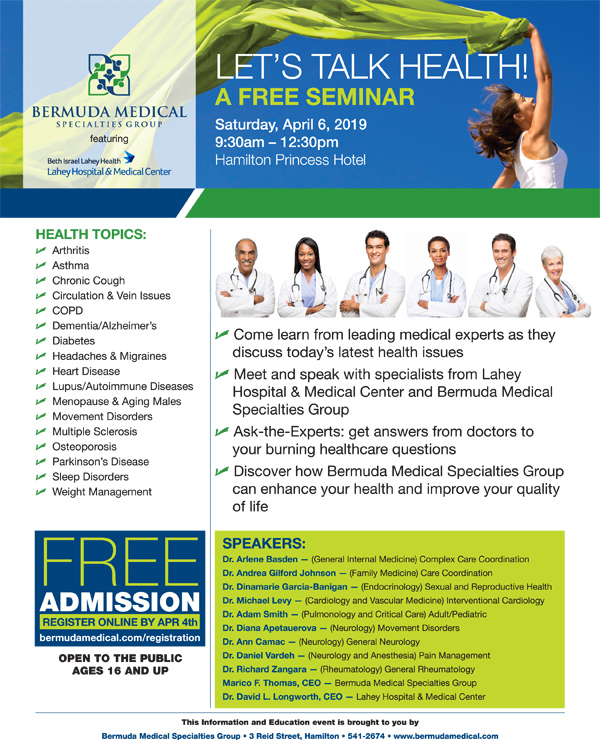 "This is our first year for hosting this event. There will be 10 doctors including the CEO of Lahey Hospital available to talk to with the general public for free. The doctors will discuss the latest advances in modern medicine and what is now available in Bermuda, and then there will be time for the public to speak to the doctors one-on-one," says Dr. Arlene Basden, Medical Practice Director, Bermuda Medical Specialties Group.
"At BMSG, we are very concerned about what people understand about their own health," said Dr. Basden. "Having access to good information and education is very important to living long, living well, and maintaining a general state of good health."
"The forum will feature Lahey Hospital & Medical Center specialist physicians representing numerous areas, including Endocrinology, Cardiology, Pulmonology, Neurology, and Rheumatology. BMSG physicians will also be on hand to discuss complex medicine, care coordination, and advanced approaches to healthcare.
"AT BMSG, we encourage everyone to take charge of his or her health. This event is intended to inform and educate so that the general public will be able to better participate in their health decisions." added Dr. Basden. "This event is significant. Not only are these doctors specialists, several are professors who teach and train other doctors. This is truly something that should not be missed."
The second event, "Seniors Health Fair" will take place at the BMSG Outpatient Clinic on Reid Street from 2:30pm to 4:30pm. This is an opportunity for seniors to meet and have conversations with the team of physicians from BMSG and Lahey Hospital about aging, living well and their specific health issues.
Attendees will receive free health screenings, free blood pressure monitoring, attend free health information sessions, tour the new medical facility, and take home a few product samplings from BGA, Lahey and BMSG.
Persons interested in attending the events should register in advance at www.bermudamedical.com/registration or call BMSG at 541-2674.

Read More About
Category: All