On Sunday, April 7 at 1.30pm at CedarBridge Academy's Discovery Room, seven female writers will be honoured with the Crystal Butterfly Literary Awards, with the awards named after a song written by Bermudian bassist Winfield Davis.
A spokesperson said, "This is the 25th anniversary of the publication of the book Transitions: Voices of Bermuda Women published by Atlantic Publishing House. The book contained an introduction by Dr. June E.G. Hill M.D. and articles from notable Bermuda personalities like: Meredith Ebbin, Laverne Furbert, Georgine R. Hill, Eva Robinson, Jo Carol Robinson, Rhonda Simmons, Shanda Simmons, Dr. Yvette Swan, Carol Lee Trott and the late Kim Young.
"On Sunday, April 7th at 1.30 p.m at the Cedarbridge Academy- Discovery Room [Cafeteria] 7 women writers will be honoured with "The Crystal butterfly Literary Awards." Crystal Butterfly was a song written by Bermudian bassist Winfield Davis.
"The distinguished patron for the event is well-known HOTT 107.5 personality Nikita Robinson and the Triumph of the Spirit award will go to Mrs. Joy Wilson Tucker, a well known North Village historian, researcher, author and playwright."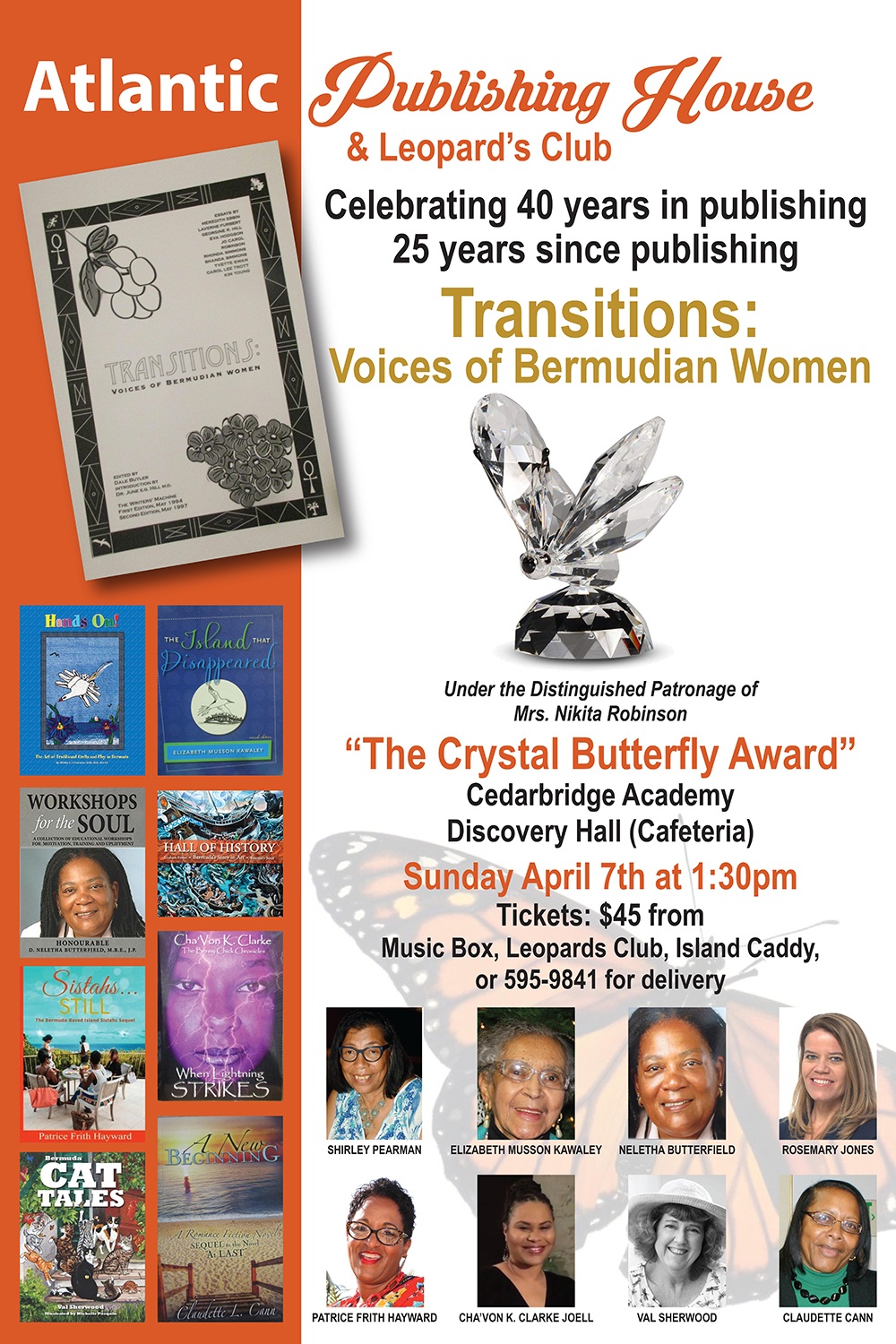 "Receiving awards will be Shirley Pearman, Elizabeth Musson Kawaley, The Hon. Neletha Butterfield, Rosemary Jones, Patrice Frith Hayward, Cha' Von K. Clarke, Val Sherwood and Claudette Cann. This is part one, with part two also taking place at CedarBridge on Sunday, May 5th at 1.30 p.m.
"Entertainment will be presented by United Dance Productions, June Caisey and Friends, Yosefah Williams, The CedarBridge Singers led by Myles Smith, De-Ah Iris and Val Sherwood. Guest speaker Martin Buckley, manager at Bookmart, will give insight into what readers are looking for and women in particular.
"Tickets are $45 and available Tuesdays to Saturdays from 10am at the Music Box and Island Kaddy on Reid Street East and every Friday from 11.30 to 3.30 at the Pie Factory on Parliament Street near the BIU Gas Station. All facilities ask for cash sales."
Read More About
Category: All, Entertainment, News