The second part of the Crystal Butterfly Literary Awards will take place on Sunday, May 5 at 1.30pm at CedarBridge Academy.
A spokesperson said, "Following on the success of the first Crystal Butterfly Literary Awards held April 7 at the CedarBridge Academy Discovery Room, Part 2 will take place on Sunday, May 5 under the distinguished patronage of Dr. Shangrila Durham-Thompson. Guest speaker is lawyer and author Shaunte' Simons and the 'Triumph of the Spirit Award' will be given to nurse, journalist, researcher and author Meredith Ebbin."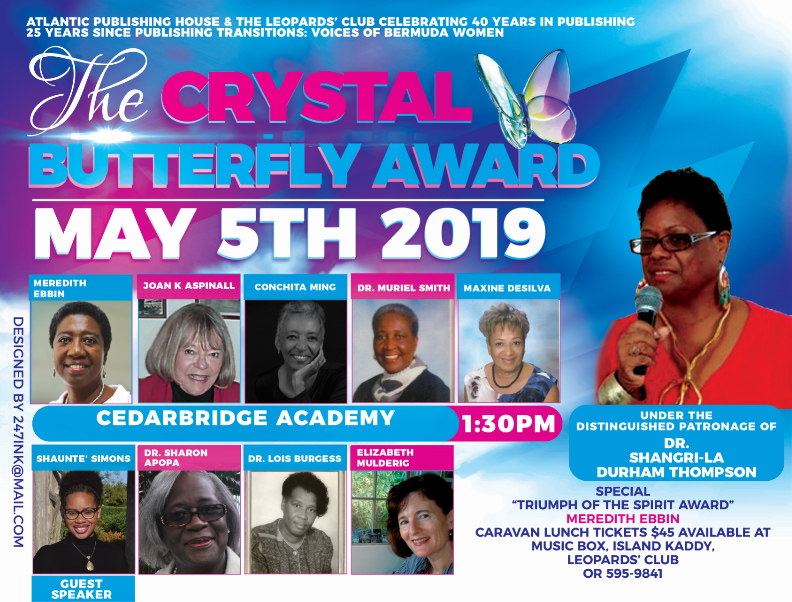 "The event is being hosted by Atlantic Publishing House, which is celebrating its 40th anniversary in publishing, and The Leopards Club International, who have been serving the community for 70 years. Featured entertainment will be presented by 'SHE', the legendary June Caisey, and a musical trio led by Berkeley Institute student Noel Taylor.
"Organizers are excited about the event, having looked at over 70 local works by women. Another anniversary being celebrated highlights the 25th year since the publication of the book Transitions: Voices of Bermuda Women. The Bookmart has prepared a special area for some of the authors to sign their books on Saturday, April 27 from 11.00am to 3.00pm."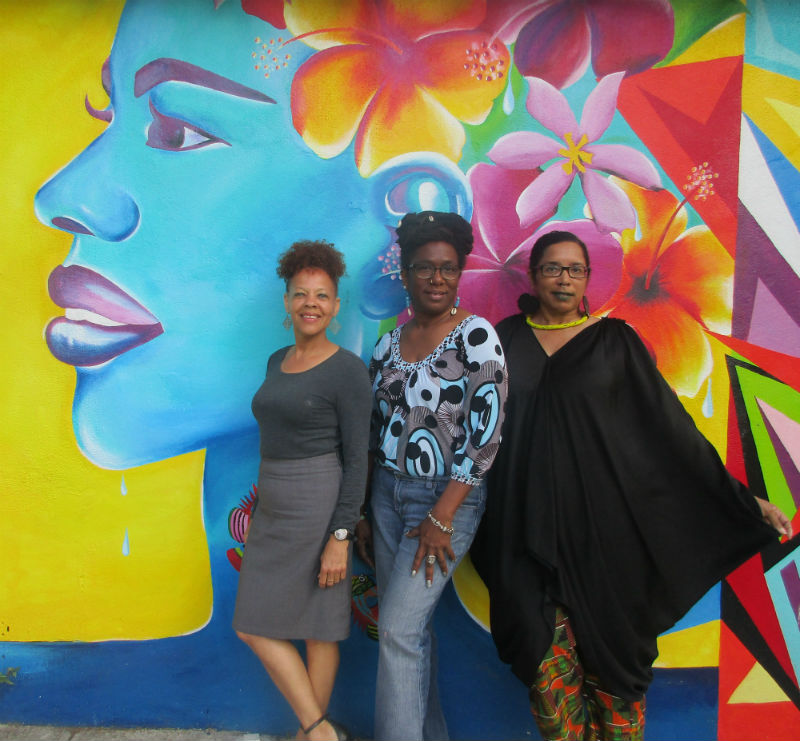 "The group 'SHE' or Sweet Honey Echo are a group of three Bermudian women, Phiemma Caisey, Leoni Junos and Bethanne Thomas, who admired the songs and performance of the USA acapella group 'Sweet Honey in the Rock.' The Bermuda group was formed in 1988 with Patricia Pogson Nisbeth and Maqdas. At that time they did quite a number of charity concerts for Amnesty International, the Bahis, and on Labour Day. They were also known for their outstanding performance in the play 'Wine in the Wilderness' by Alice Childress.
"Receiving awards will be Joan K. Aspinal, Conchita Ming, Dr. Muriel Smith, Maxine Desilva, Dr. Sharon Apopa, and Dr. Lois Burgess. Tickets for this luncheon with entertainment and awards are $45 and can be purchased Tuesday to Saturday from 10.00am at The Music Box and Island Kaddy, both on Reid Street, or from The Leopards Club, or contact Dale Butler at 595-9841 or daledbutler@gmail.com."

Read More About
Category: All, Entertainment