Bermudian author Dr. Mandy-Suzanne Wong's latest novel, Drafts of a Suicide Note, has been named as an Award-Winning Finalist for the American Book Fest's 2019 Best Book Award for General Fiction.
The American Book Fest saw more then 400 winners and finalists in over 90 categories, covering books published from 207 to 2019.
Jeffrey Keen, President and CEO of American Book Fest, said, "The 2019 results represent a phenomenal mix of books from a wide array of publishers throughout the United States.
"With a full publicity and marketing campaign promoting the results of the Best Book Awards, this year's winners and finalists will gain additional media coverage for the upcoming holiday retail season."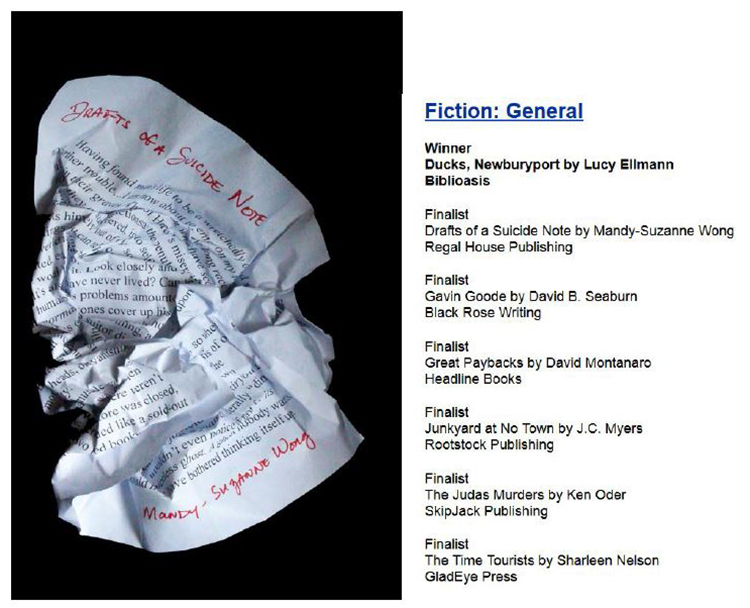 A spokesperson said, "Winners and finalists traversed the publishing landscape: HarperCollins, Penguin/Random House, Simon and Schuster, Houghton Mifflin Harcourt, TarcherPerigee, New World Library, Hay House, Rowman & Littlefield and hundreds of Independent Houses contribute to this year's outstanding competition."
Mr. Keen said, "Our success begins with the enthusiastic participation of authors and publishers and continues with our distinguished panel of industry judges who bring to the table their extensive editorial, PR, marketing, and design expertise."
Dr. Wong was born and raised in Bermuda. Her other books include the award-winning story collection Awabi, published by Digging Press in New York, and the award-winning nonfiction project Artificial Wilderness, which is forthcoming from Selcouth Station Press in London.
To read Drafts of a Suicide Note, visit the Bookmart or Bermuda Bookstore, or order online from RHP, Barnes and Noble, or Amazon.

Read More About
Category: All, Entertainment