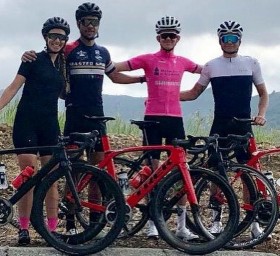 Four Bermuda cyclists began competing in the 20th annual San Dimas Stage Race in California.
Caitlin Conyers, Dominique Mayho, Kaden Hopkins and Nicholas Narraway all competed in a Time-Trial up Glendora Mountain Road in the San Gabriel Mountains.
Finishing 1:04 behind the Women's Pro 1 – 2 Division Stage Winner Holly Breck, Conyers finished 4th with a time of 20:00.
Hopkins competed in the Men's Pro-1 Division and finished 16th with a time of 16:01.
Narraway, competing in the Junior 17 – 18 Category 1 – 2 – 3 – 4 Division, finished the Stage in 27th place with a time of 17:41.
In the Men's Category 2 Division Mayho was 20th finishing 2:17 behind the Stage Winner Brandon Nied clocking a time of 18:11.

Read More About