[Written by CedarBridge S4 Student Tel-Ricka Butterfield]
On April 26th and 27th, CedarBridge Academy will be hosting their annual fashion show entitled, 'Collapsed'. This event is led by Foreign Language teacher, Ms. Chauntée Thompson, who describes this show as a tribute to the victims of the 9/11 tragedy.
This year, the class of 2019 dug deep to find a meaningful theme. Majority of the graduating class was born in 2001- a significant year because of the 9/11 catastrophe. Hence, the students decided that it would be most fitting to pay tribute to the victims at some point in the show.
According to Ms. Theresa Francis, English teacher at CedarBridge Academy, "The theme was chosen by students who were born in the same year a major collapse took place that shook the world. Now over the past 17-18 years, the world has grown and rebuilt itself and the students are a part of that rebuilding process."
"We recognize that this topic is a very sensitive one as this horrific incident changed the lives of so many people around the world, including Bermudians. It is a very risky undertaking, but we hope that we will be able to execute the vision prudently," added Ms. Thompson.
The school has reached out to the families who suffered through this crisis and will be paying their respects to them during the show.
All of the proceeds raised from this event will go towards the graduating class of 2019 fundraisers.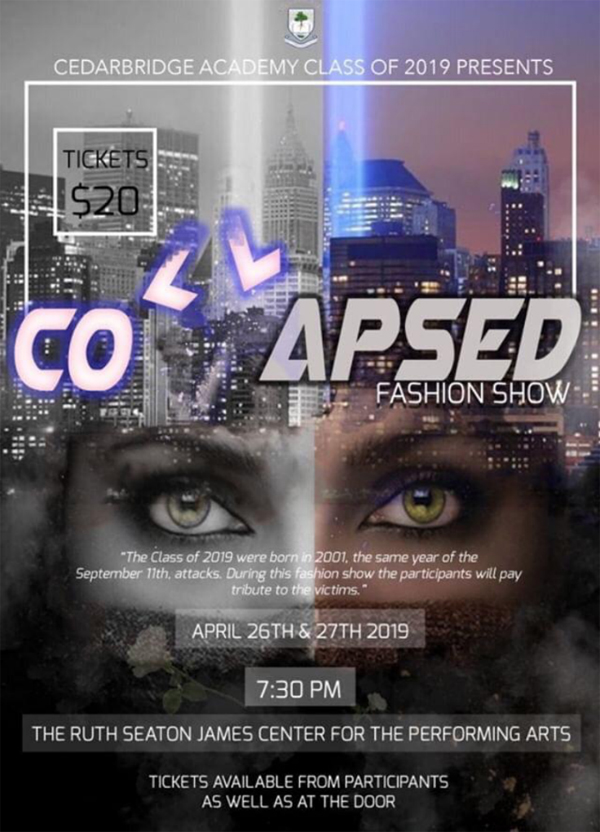 Read More About
Category: All, Entertainment, Style & Beauty