[Written by Dale Butler]
On Saturday, October 3, The Soul Family Revue held a command performance on the West End Sailboat Club's beautiful oceanside terrace under a full moon and before a mature audience of eager, well-dressed and Covid-19 abiding fans.
From the time we were warmly greeted by host Judy Butterfield, it was obvious we were going to be in for a Soul Train treat. There simply was no room for a Harlem Apollo Theatre Amateur Night as every act consistently demonstrated they were already polished and professional.
The 'New' Unit Band, with considerable experience, had to be constrained to a few songs. Had it been their show, it would still be going on without a loss of energy or songs to keep the audience captivated.
With John Lee [Cuba Jazz Festival: 2009] and Derek Simmons [Hubie's] on guitar, followed by the legendary Tony Cox on drums and the incomparable and super cool Bryan Swan on bass, it was evident that the bar was set high as Bermudian musicians and singers took to the stage.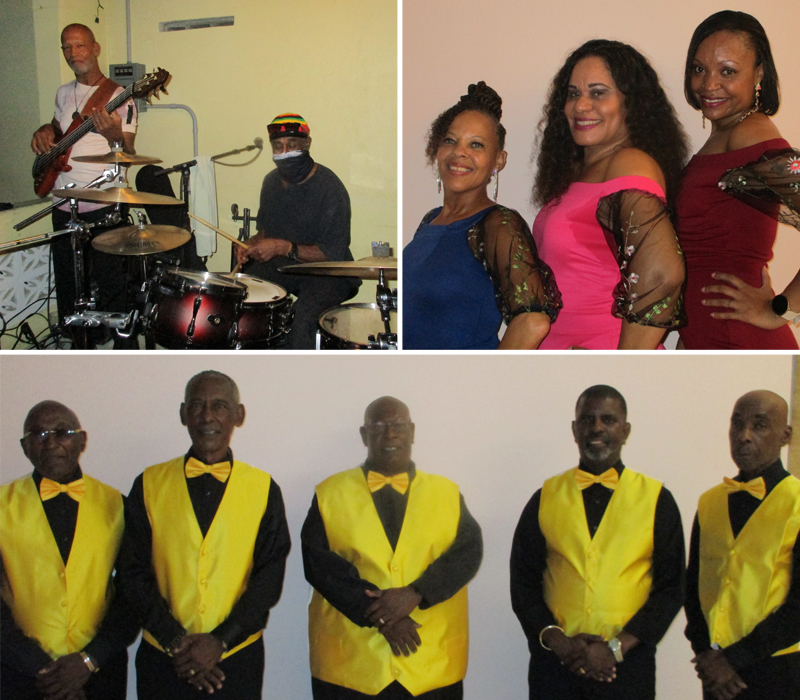 The audience appreciated the excellent service rendered by the waitress together with the club and the punctuality of the organizers. With a packed house, social distance was stressed by the distinguished, experienced and jovial MC, Wendell Dill. He has charisma, is fast on his feet, can gauge every moment and has perfect timing with his homemade jokes.
Wendell started promptly at 7.00pm by guiding us to a scrumptious dinner and in a short space of time, the tables were cleared and the show began.
A 1980s photo of some 30 Bermuda musicians, representing the best that the island had to offer every night of the week, adorns the giant staircase leading to the Southampton Princess Amphitheatre. Many present remembered those good old days and although we could never relive them, The Soul Brothers took to the stage with grace and professionalism to remind us that all was mot lost.
Anthony Darrell warmed up the crowd with songs like "It's Ladies' Night" and "Love Won't Let Me Wait".
Seasoned veteran singers, dancers, and comedians with a wide range of voices from falsetto to tenor and bass, Kenneth "Pop" Simmons, Gerald Swan, Elton Richardson, Randy Edwards and Roger Butterfield were initially the U-fonics, but changed their name to The Soul Brothas.
They have built their reputations with The Age of Soul that produced outstanding music and lyrics in the USA from the 1960s and 70s when so many outstanding groups rose to the top with songs that have lasted to this day.
With that in mind, The Soul Brothas took to the stage dressed in black, with gold bow ties and waistcoats. Without hesitation they set the crowd on fire with songs they knew like:
Don't Take Away the Music [Tavares -1976]
It's Alright [The Impressions - 1963]
Break Up to Make Up [The Stylistics -1973]
You're Still A Young Man [Tower of Power - 1972]
People Get Ready [Curtis Mayfield - 1965]
Working My Way Back to You [The 4 Seasons - 1966]
These songs, and others performed, remain popular to this day and the audience knew every word.
Just when you thought you had received more than enough for your $60 admission, The New Unit took over with songs like:
Smoke and Mirrors
This Masquerade
What's Going On
Just like a meteor across a clear blue night sky, The Soul Sisters arrived in pink, red and blue. They are three of the most accomplished singers in Bermuda – with an extensive repertoire and the skills I needed when they performed in my plays, plus the confidence to appear in Las Vegas or London.
The audience immediately started grooving to songs like "Rock Steady," "You Gotta Be Real," and "Proud Mary," to name but a few. Rickeesha Binns, Charo Hollis and Phiemma Caisey brought back vivid memories of The Three Degrees, an American group that performed in Bermuda.
The trio each had a chance to showcase their beautiful voices as a portamento – passaggio. In other words Tina Turner. There was never a dull moment while they performed and the clapping, singing and dancing from the audience endorsed it all.
Events like these continue to draw music luminaries like Wendy Flood, Darlene Hartley, the legendary June Caisey who still performs, and the Bermuda Entertainment Union, President, Selena "Va Va" Fields, who greeted the audience with remarks highlighting the command performance we had all just enjoyed.
It was a great night with food, a host of stunning musical stars, and some great jokes. They currently tour Bermuda but could easily find themselves overseas. I have no doubt that The Soul Family Revue will continue with their ball of fire that is so much enjoyed and appreciated.
- Dale Butler is the author of "Music on the Rock" and many other books

Read More About
Category: All, Entertainment, Music, News