Once again Bermuda will have representation in the Caribbean Equestrian Association Dressage Challenge as Bermuda's dressage enthusiasts gear up for this year's event to be held on Saturday, 18th May at the National Equestrian Centre, commencing at 9 a.m.
2018 Bermuda Children's Team – Left to Right: Kelsey Amos, Jess Hosier & Kayla Bardgett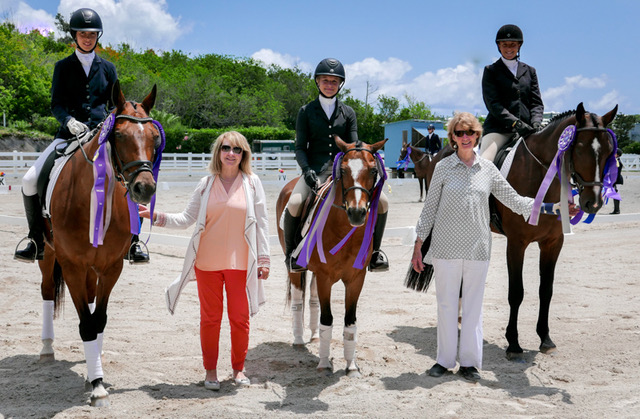 This annual event enables riders from CEA membered countries to compete against each other, without the need to travel overseas. The format of the event, allows for a selected judge to travel from Island to Island scoring each competitor's test at an officially organized show
. Brenda Minor, a Canadian FEI 4* Judge, will officiate at this year's competition. Apart from the Olympics and World Championships, a FEI 4* judge is qualified to judge at all international dressage competitions.
Riders competing in the CEA Dressage Challenge are ranked both Individually and by Country Team. In the 2018 Challenge, Bermuda's Children Team captured the top place whilst the Adult Team placed second to other competing Caribbean countries.
Other Islands competing in the Challenge includes Barbados, Trinidad & Tobago and the Cayman Islands. This year, Bermuda has 14 riders competing in tests ranging from Training to Prix St. George.
Spectators are most welcome and there is no admission fee.

Read More About