[Written by Mikaela Ian Pearman]
I enjoy creative, well thought out events. They excite me and make me want to attend. As much as I love doing regular food/event reviews, I thoroughly enjoy attending unique events that are new to Bermuda.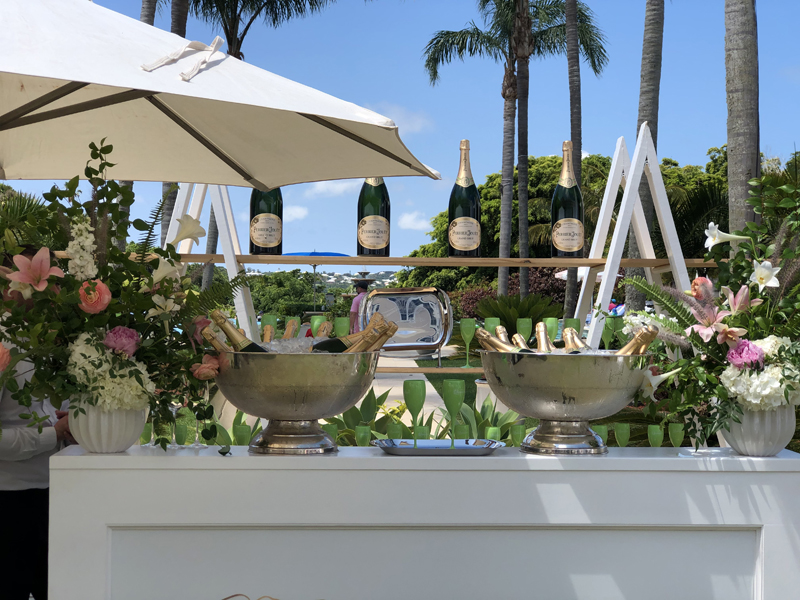 Over the weekend, I was privileged to attend the Perrier Jouet Champagne Brunch at Rosewood Bermuda. It was hosted by Goslings and held on the resort's croquet lawn.
When I arrived, I was blown away by the gorgeous decor and classy vibe. Selange of Dasfete created a beautiful garden party with stunning florals, beautiful blush pink umbrellas and lounge areas. It was so beautiful and girly.
The welcome drink was a glass of Perrier Jouet Blason Rosé. Again, I'm a rosé lover so I was very happy, except when I realized it was a welcome drink and not bottomless.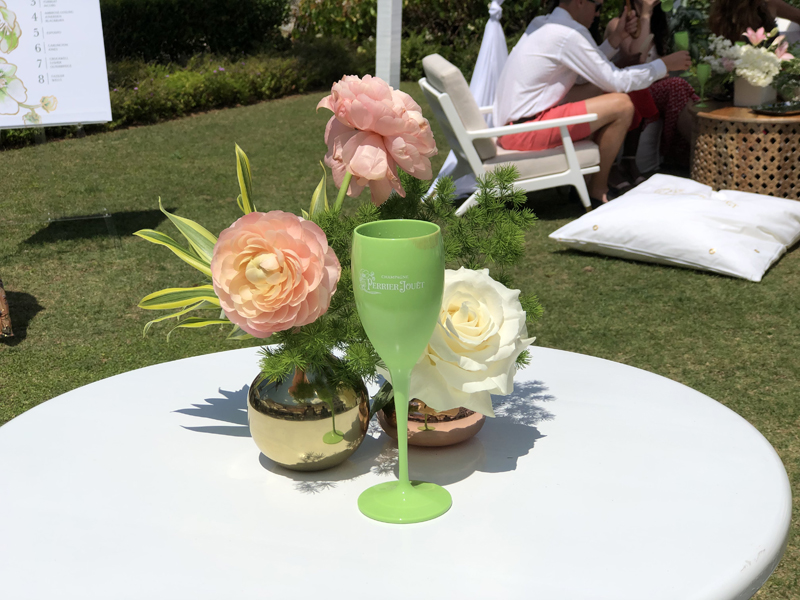 Setting the tone was DJ PM spinning chill, relaxed tunes that totally matched the vibe of the brunch. Because bottomless champagne was on offer, glasses were filled and refilled all afternoon. It was incredible. And there were two kinds of champagne popsicles made on island by Duch Pops – peach and elderflower.
But since it's brunch, let's talk the food. Island Brasserie is one of my favourite places to eat so I had very high expectations re the food. And thankfully, they were met.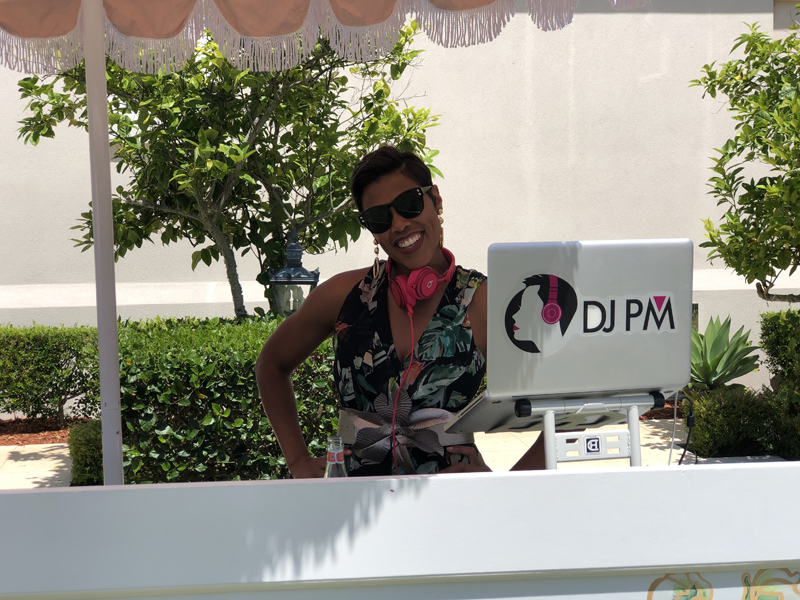 We were all sat at long tables to enjoy family style food. It was a lot of fun to sit with people I'd just met or people I'd known, but never dined with. The company at the table made for a really fun afternoon.
The food was served family style, beginning with a basket of breakfast pastries, bagel chips and pita bread. Not long after came the starters- a beautiful spread of grilled vegetables with local goat cheese and hummus, an antipasto platter and a seafood platter.
I don't eat meat so can't comment on the antipasto platter but the seafood platter was divine. With smoked salmon, fishcakes, eek, sushi rice, ginger sesame tuna and seaweed salad, it was a seafood lovers dream platter. The salmon was beautifully cured and the tuna was incredible, especially when paired with the rice and seaweed salad – basically a deconstructed sushi roll.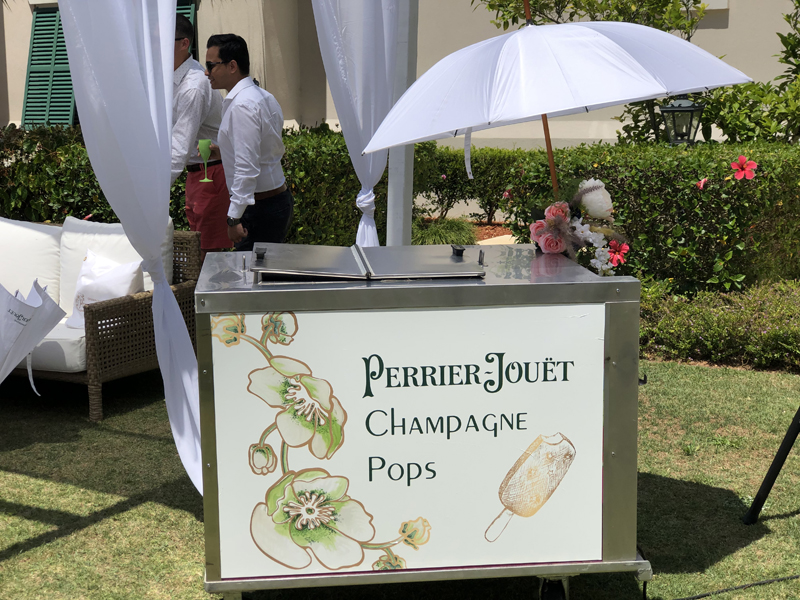 Next up were the main courses and I must say, as a non meat eater, I had plenty of options to enjoy – breakfast frittata with goat cheese and beetroot, avocado toast Benedict, vegetarian fritters, fried fish with rice and peas and spiced potato medley. There was also Chinese BBQ pork with stir fry noodles.
Everything was delicious, especially the frittata, fritters and spiced potato medley. I'm a huge potato fan, especially breakfast potatoes and these were the best I've had in ages.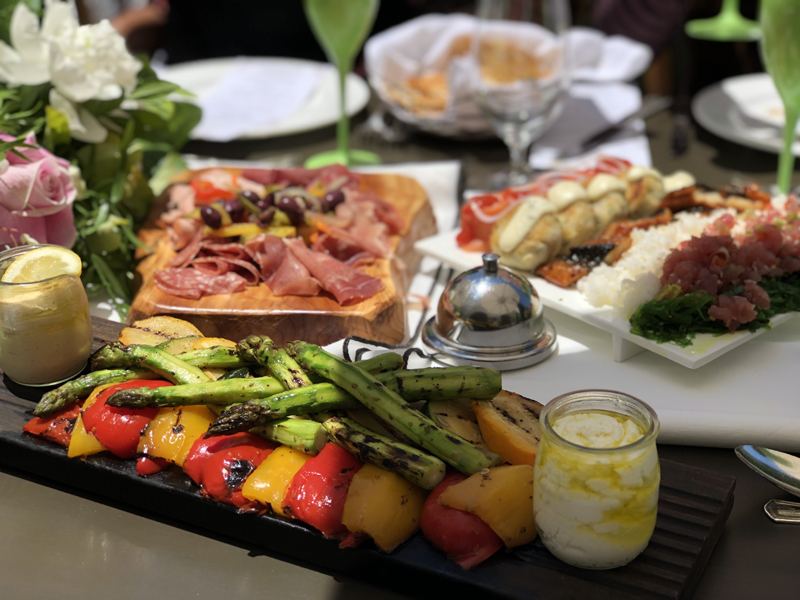 We did have to ask for champagne a few times, which led to the servers placing two bottles on the table at a time for us to enjoy.
Oh, and dessert was light, yet delicious – ricotta, lemon and pine nut tart and seasonal fruit and berries with pastry cream and puff pastry. Both were a delightful end to a delicious meal.
Overall, I thoroughly enjoyed this brunch. The vibe was fantastic and the food was incredible. My only qualm would be the time the food came out. Having arrived at 1145, 15 minutes past the advertised start time, I expected to be eating at least some bread by 12ish considering I didn't eat anything prior to arriving. We didn't get any food until almost 1pm.
But, that didn't damper the afternoon at all and I'm sure it can be fixed for next time.
Speaking of next time, there absolutely needs to be another of these brunches this summer. It truly was the prefect way to spend a leisurely Sunday afternoon.

Read More About
Category: All, Entertainment, News