[Written by Mikaela Ian Pearman]
It was a beautiful Sunday afternoon in an exclusive venue. Music was blaring, drinks were flowing, the décor was stunning and the people were so beautiful.
Rum Punch Brunch Bermuda held its second brunch of the year last weekend at Fort Hamilton and saw hundreds of partygoers enjoying the wonderful weather. The event is the brainchild of DeShae DeShields, party planner extraordinaire.

The Rum Punch Brunch has two sections – brunch from 12 to 2pm and then party from 2pm onwards. As I wanted to enjoy the entire experience to be able to write comprehensive review, I arrived at 12:30 to sample the cuisine on offer.
As I arrived, I was offered a complimentary mimosa to sip. There was also a comp Johnny Walker bar and a Mojito bar until 1:30pm. I also got some henna done while waiting to take a photo in front of the Rum Punch Brunch backdrop complete with hashtag props.
The brunch portion was catered by Take Five Limited and the spread was wonderful – buttermilk fried chicken, waffles, fishcakes, johnny bread, veggie frittatas, scrambled eggs, sausages, home fries, spinach and arugula salad, fresh fruit and carrot and zucchini cake.
The salad was incredible and the potatoes were the best hash browns/home fries I've ever eaten. I'm being super healthy these days since Bermuda Carnival is right around the corner so I didn't have the chicken and waffles, but I heard they were both delicious.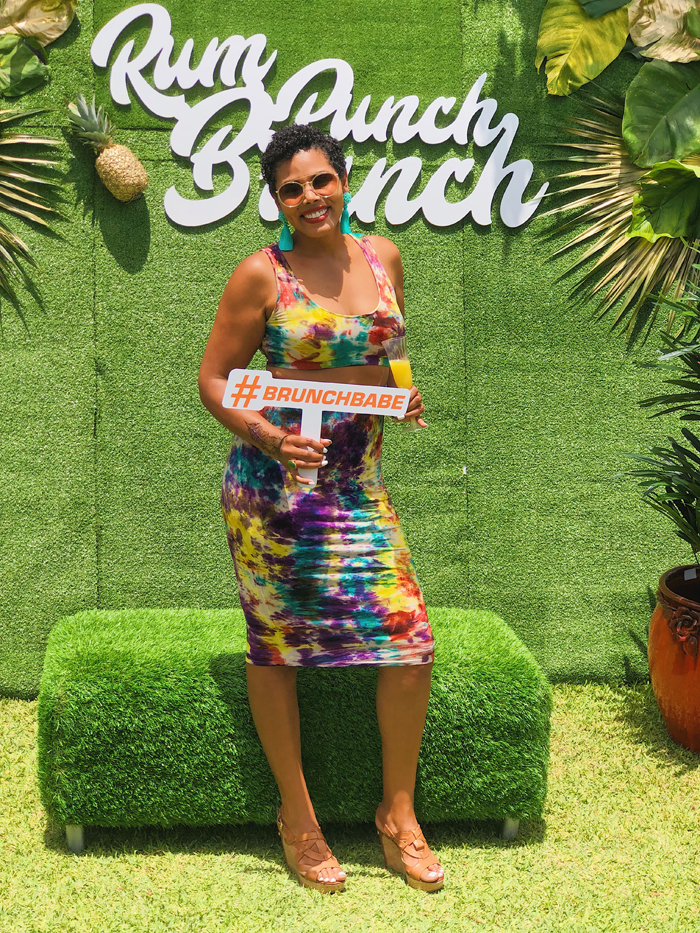 The tables were all under a large tent with tropical décor. Jugglin J spun the tunes while everyone ate. It was warm outside but there was a nice breeze that kept everyone cool.
Now on to the party. Once the brunch portion was completed, there was a selection of items raffled of including a gift basket and bottles of prosecco. DJs for the party were iBreeze and Genius in HD who got the party going playing a variety of hip hop, reggae, dancehall and soca. They even took it back and played hits that were popping when I was in high school, ie the early 2000s.
It was such a fun vibe and great to see so many people enjoying a day party, a concept that hasn't seem to have caught on in Bermuda. Now that I'm older and have two kids, I absolutely appreciate having a good time earlier in the day. Unfortunately I had to leave around 5 because mommy duties call.
Overall, Rum Punch Brunch was a great event. The food was delicious, the drinks were flowing and the party was a good time. DeShae and her entire team did such an amazing job curating a fantastic event. And everyone keeps asking – when's the next one?!

Read More About
Category: All, Entertainment, News