Are you looking for a way to help your student earn money for the summer? Then, look no further. The Bermuda Economic Development Corporation [BEDC] has launched the 2nd Annual Summer Student Entrepreneur Programme.
Following the successful pilot of the programme last year with all 10 participating students gaining valuable insights and earning money, the programme is continuing again this year and will provide students between the ages of 16 and 25 with the resources and support to launch, grow and sustain their own enterprises.
Group photo at 2018 Awards Ceremony for the SSEP [L-R] Jaden Taylor, Snack Spot; Kayunte Ming, His N' Hers Hair & Beauty; Andreaz Glagow, Guess What?; Asah Robinson, BDA Pretzels; Kalir Stevens, SheVenus; Tyler Trott, A Piece of Paradise; Erica Smith, BEDC Executive Director; Minister Without Portfolio, Jamahl Simmons; Asia Atienza, Lucid; Yndia Raynor, The Golden Leash; Former Minister Michael Weeks; Minister of Labour, Community Affairs & Sports Lovitta Foggo; Naeem Alom, Former SSEP Program Manager; Christian Chin-Gurret, Happy Bird Co., Paige Martin, Life Assistance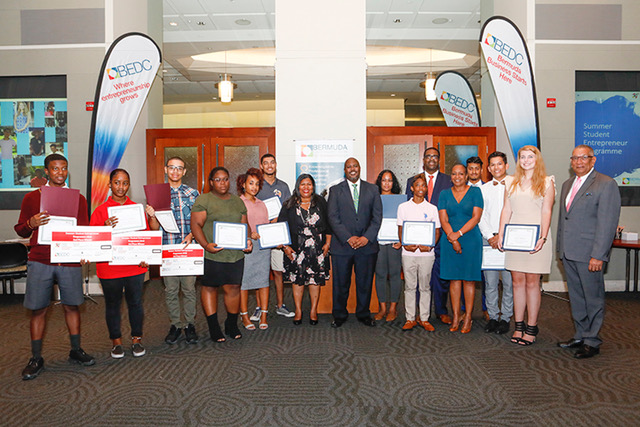 The SSEP is an eight-week programme that will run from Monday, July 8th through Friday, August 30th. The programme is designed to develop young Bermudians into the Island's next wave of entrepreneurs. Foutrteen Students will receive quality educational training, a weekly financial stipend and startup funds to get their businesses started.
In addition to the initial training, BEDC staff will continue to support the students to ensure that they maximize the experience and earn as much as they can during the summer months.
To incentivize participation, a competitive element has also been included. In addition to the money earned selling products and services, the students can compete against each other to earn the most profit. The three participants with the most profits will earn additional 1st, 2nd, and 3rd place financial rewards.
Graduate, Kalir Stevens of She Venus at her booth at Harbour Nights. [L-R], Jamillah Lodge, Dir. of Communication & Development, BEDC; Kalir Stevens, SheVenus; Erica Smith, Executive Director, BEDC; Colina Outerbridge, Business Data & Policy Analyst, BEDC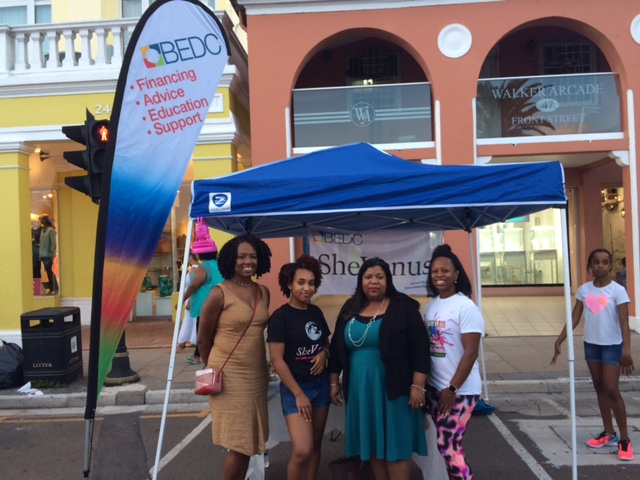 Said, Raymond Lambert, the Director of the MSME Unit at BEDC, "The goal of the programme is not just to assist participants with earning money over the summer, but also to impart an entrepreneurial mindset that will assist them as they prepare for their futures working in the business arena or as entrepreneurs."
Some of the businesses that were started last year by students included homemade skin care products, jewelry, food products, tourism experiences, dog walking and bird boxes and general retail. Graduate of the 2018 SSEP, Yndia Raynor, owner of the Golden Leash, dog walking service, stated "The most I benefited from was learning everything I needed to know to start up and have a successful business."
Paige Martin of Life Assistance and Yndia Raynor of The Golden Leash at their booth in Washington Mall advertising their daily task concierge service and dog walking & pet sitting, respectively; Graduate, Christian Chin-Gurret of Happy Bird Co. demonstrating his handmade Bird Box to a tourist at Harbour Nights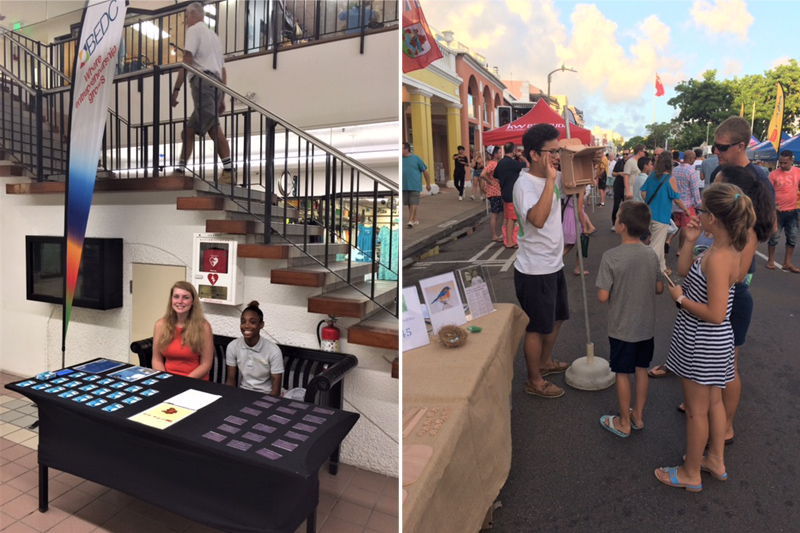 Ondreyah Rochester, Jr. MSME Officer and Programme Manager, stated "The SSEP programme is an excellent opportunity for students with entrepreneurial aspirations to put their business ideas to the test.
"The programme equips them with a week of intensive entrepreneurial training to shift their mindset to prepare them for the weeks ahead of being their own boss. I am looking forward to the submissions and seeing the creative and diverse ideas our youth propose to execute over their summer holiday."
Applications are being accepted now until June 14th. Interested students can apply online at www.bedc.bm, contact info@bedc.bm or call 292-5570 for more information.
Read More About