[Written by Talbot Wilson]
Kiwi Spirit was the line honors leader from start to finish in the 2019 Marion Bermuda Race. The Farr 63 finished off St. David's Lighthouse at 2:27:59 Tuesday. Francis Seldorff's Kinship, a Baltic 52, was second across the line at 5:01:02.
Friends and families and volunteers have all commented on how straightforward this race has been, especially with so many boats finishing in such a condensed space of time. The Finish Line Report, accessed on the marionbrtmuda.com home page, lists boats that have finished and their elapsed times.  Remember that an Anti-Bias adjustment to the ORR handicaps will be made and the adjustment will affect the corrected times.
One of the Prizes of the Day has to go to Abigail, Robert Buck's Aquidneck 52 from Marion MA. She sits first in Class A based on preliminary corrected time results. This is a 52-foot yawl that was designed, built and raced by the owner. The skipper of Kinship, which stands second in Class A, calls Abigail, a nice design with a cold molded wooden hull, a wolf in sheep's clothing. Mark Gabrielson, Abigail's navigator, said she is "just fast."
The classic schooner Tabor Boy from Tabor Academy in Marion MA finished as the winner in the Classic Division. This was Tabor Boy's first Marion Bermuda Race. Photo courtesy of Talbot Wilson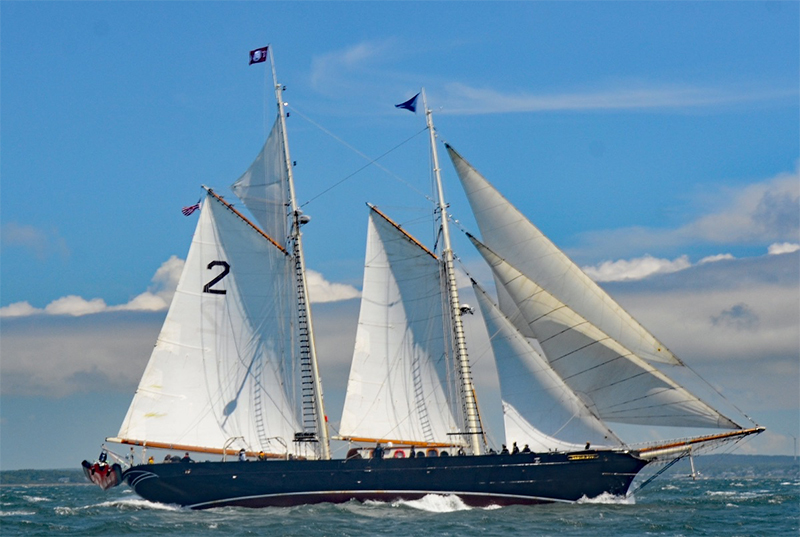 After sailing in second place overall for much of the race, Buck was asked how Kinship had passed them in the last 50 miles. They were both west of the rhumb line with a good angle on the wind coming through the Happy Valley.
"We were working very hard to get the boat going, but it just didn't feel right." Buck said. "After we finished, we started the engine and backed her down. Huge clumps of weeds came up off the keel." It's not an excuse, but weeds on the keel do make for slower going.
Like most of the rest of the fleet, Abigail sailed all the way from Sow & Pigs Reef, a mark of the course at the mouth of Buzzards Bay, on starboard tack. "We didn't tack," Gabrielson said, "but we sure did a lot of work making countless sail changes."
Kiwi Spirit has settled into 'preliminary' seventh place in Class A, but that hasn't daunted Jo Riley's enthusiasm [spirits?] for taking Line Honors. Jo is 18. This is his fourth Marion Bermuda Race. Of his four rides to Bermuda, three have been line honors winners.
Kiwi Spirit was the line honors leader from start to finish in the 2019 Marion Bermuda Race. The Farr 63 finished off St. David's Lighthouse at 2:27:59 Tuesday. Photo courtesy of Talbot Wilson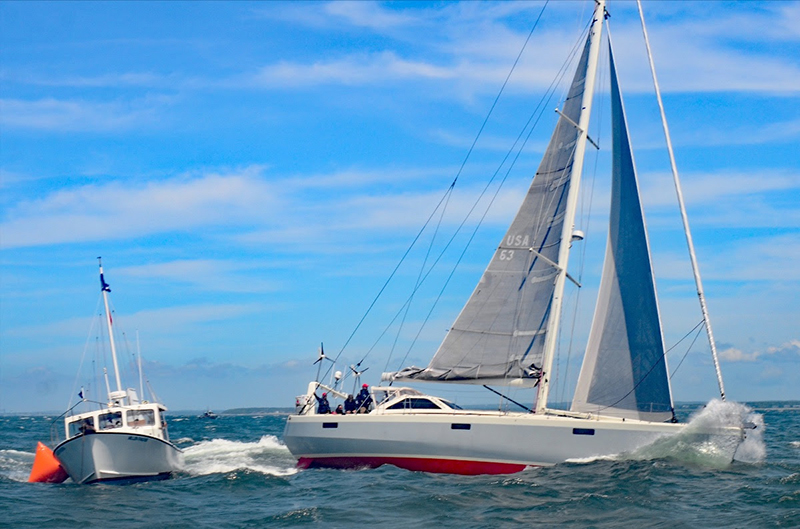 Asked how the trip was this time, he said, "Good. Good weather the whole way, no rain. We never stopped the whole way… It was comfortable."
At one point in the race the wind dropped to about five knots and Kiwi Spirit hoisted their Code Zero. But they forgot to tape the shackle. The shackle came loose after the sail was hoisted and the spinnaker halyard ran up to the masthead.
Jo explained, "After putting up the code zero we lost the halyard… someone forgot to tape it. We had to send someone up. Since I'm the youngest and lightest one, I had to go up. We had to do it right away to get the code Zero going. I was bumping all around…. slamming back and forth on the mast."
Joe commented on beating out of Buzzards Bay in the solid 63 foot sloop. Winds were on the nose gusting to 30 and running against the tide flowing out. The chop was steep.
"We were fairly comfortable looking at other boats. We weren't moving very much [beating against the waves] while the other boats were hobby horsing through it. We were the first boat out, so it was fun."
Finishing first was fun, too. Jo said, "This was my third time to finish first in four races, so my race feels pretty good right now."
Tuesday's estimated winner in Class B was the US Naval Academy's Gallant, a Pearson Composite Navy 44 skippered by Christian Hoffman. Photo courtesy of Fran Grenon, Spectrum Photo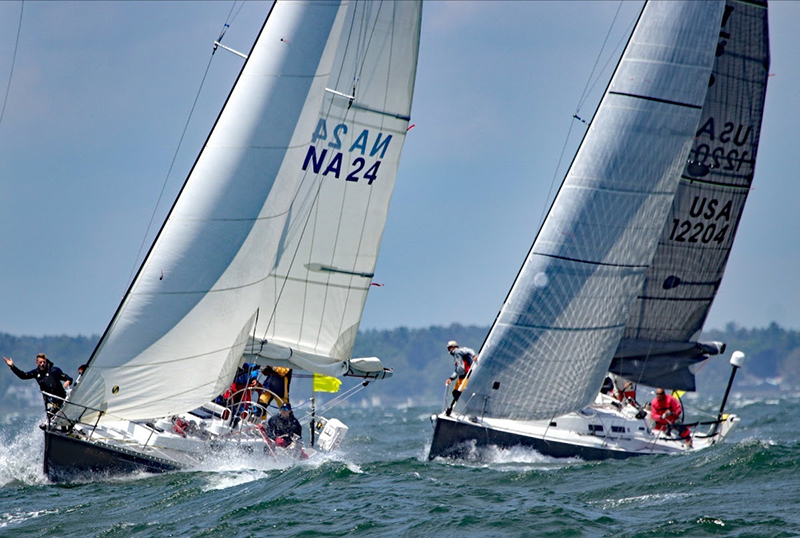 Kiwi Spirit was a family effort… Father, son and daughter plus three cousins and a brother-in-law make up the family part of the crew. Joining them was Chuck Fontaine a lifelong friend who has run the Mass Maritime Sailing Program. Jo says Fontaine is now an adopted member of the Riley family.
The two US Naval Academy teams hold preliminary one-two positions in Class B. Gallant, the Pearson Composite Navy 44 skippered by Christian Hoffman sits in the lead and Defiance, the Navy 44 MK II co-skippered by Mark Navaro and George Hamilton is runner up.
In class C, Escapade II, a Morris 46 skippered by Tom Bowler of Marion is the preliminary leader.
In Class D Concert, a Morris 40 skippered by Levin Campbell and Holly Ambler of North Haven MN and David Caso's Silhouette, a Cherubini 44, are the only boats that have finished. No call can be made at this time, not even a preliminary one.
The remaining boats on the course are caught in a dying and shifting breeze North of Bermuda. Ron Wisner's Hotspur II is still 114 miles from a Dark 'n Stormy.
In class C, Escapade II [8516T], a Morris 46 skippered by Tom Bowler of Marion, is the preliminary leader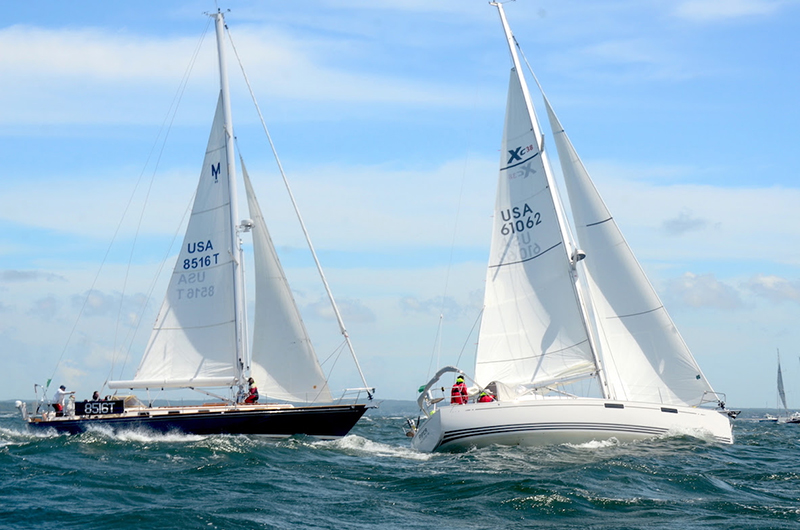 Read More About