[Updated] Governor John Rankin has granted a posthumous pardon to the Reverend Charles Vinton Monk in accordance with Section 22 of the Constitution.
"The Reverend Monk was convicted, imprisoned and fined in 1903 for publishing an article in the press on the living and working conditions of Jamaican nationals employed to work at the dockyard in Bermuda. An account of the Reverend Monk's trial was given in the book 'Freedom Fighters' by the late Ira Philip," the Government noted.
Governor John Rankin said, "Posthumous pardons are only granted in the most exceptional of cases. After careful consideration, I am satisfied however that in exercising his freedom of expression, the Reverend Monk was seeking to serve the public interest. That fact, together with the likely truth of what he wrote and the evident procedural irregularities in the trial, justify the grant of a pardon in this instance.
"This is an historical case and we can recognise today that the act for which the Reverend Monk was convicted was an act of courage in drawing attention to the unacceptable working conditions to which the Jamaican nationals in Bermuda were being subjected. Today is an opportunity to acknowledge Reverend Monk's work in seeking to remove an injustice which was then taking place."
Update 6.30pm: "A significant and historic decision," said Premier David Burt today reflecting on the news of the Governor's grant of a posthumous pardon for the late Rev. Charles Vinton Monk.
The Premier continued, "The injustice of Rev. Monk's trial and the actual injustice he was determined to expose make this decision a landmark recognition of the importance of the rights of workers and of a free, responsible media."
"Advising that he would make a statement to the House of Assembly on Friday, the Premier said: "Today the legacy of a tireless journalist shines even brighter … the late Ira Philip recorded this story and his work has been proven invaluable. Rev. Nicholas Tweed renewed the call for justice and reminded us all, as I told the House last year, 'it is never too late to do the right thing'."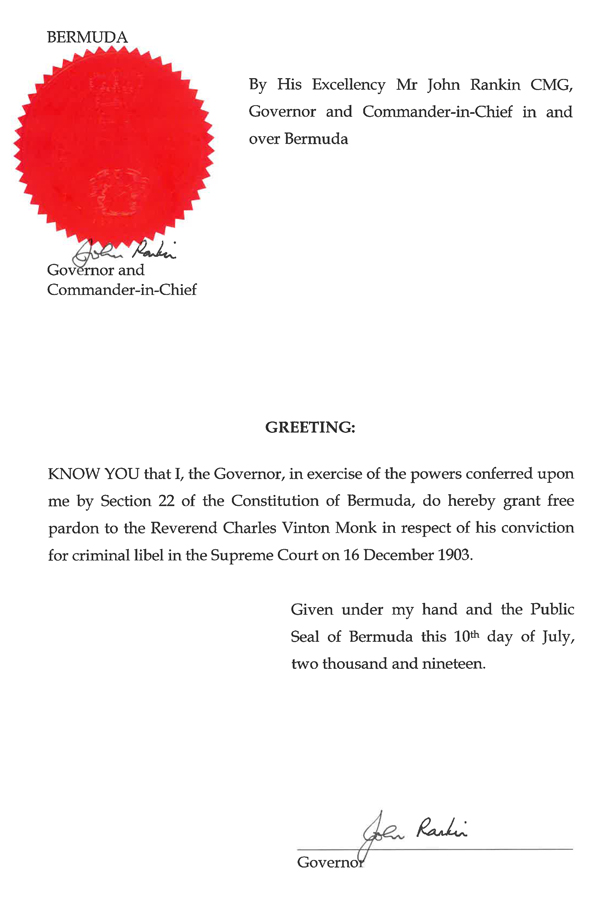 Read More About