The Future Leaders Programme recently held its closing ceremony, where 23 students from various schools around the island and overseas were officially inducted as Future Leaders.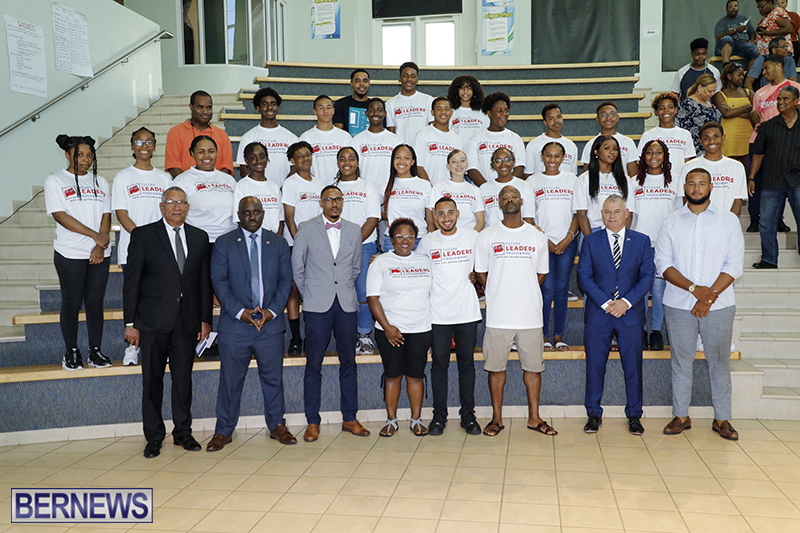 Students had spent the past three weeks on an intensive leadership course which combines academic study, mentorship and community service to enlighten students on a number of topics, ranging from Poverty, Crime and Inequality to Social Activism and Entrepreneurship.
The event took place at the Berkeley Institute, with Programme Founder and Director Ryan Robinson Perinchief addressing the crowd of dignitaries, family members, friends and supporters before students held an interactive presentation showcasing some of the knowledge they gained throughout the month.
Attendees included Senators Joan Dillas Wright and Nicholas Kempe, Minister David Burch, Minister Zane DeSilva, MP Dennis Lister III, and MP Christopher Famous.
The 23 Future Leaders who successfully completed the 2019 Programme included:
Berkeley Institute
1. Nathan Furbert
2. Mya Furbert-Jacobs
3. Roneeyah Jones
4. Kanye' Raynor-Simmons
5. Malay Robinson
6. Sekai Tatem
CedarBridge Academy
7. Zy-Asia Forbes
8. Yukia Hall
Bermuda High School
Bermuda Institute
Somersfield Academy
Saltus Grammar School
12. Vincent Darrell
13. Ywione Darrell
14. Austin Dowling
Warwick Academy
15. Alaiyah Hayward
16. Ajani Richardson
TN Tatem Middle School
17. Shazaria Francis-Brown
Sandys Middle School
Dellwood Middle School
CARE Learning Centre
International
21. Ryan Fleming [Eagle Hill Boarding School, MA]
22. Nije' Hypolite [Kingsway College, Canada]
23. Rio Russell [The Langley School, UK]
After the presentation by Future Leaders, Keynote speaker Cire Bean of PayaKid encouraged the students to "never allow negative thoughts verbalized by others create your reality."
The 77-minute live video replay is below:
Certificates and gift bags were then presented to Future Leaders, followed by impassioned parting words from Ryan Robinson Perinchief, who began to tear up as he acknowledged some of the adverse circumstances some of the students had overcome, and personal truths revealed whilst voluntarily participating in the programme over the past three-weeks.
"It really made me think back to when some of you first came into this programme, and how many of you were scared, didn't want to come, and how shy and insecure some of you were," he said.
"And to see that growth in three weeks – considering the types of things some of you were dealing with everyday – and to still come and show up voluntarily throughout this programme, and then to see you guys give a perfect presentation, we couldn't be more grateful to be a part of this experience with you and to even make a small impact in your trajectories. We are proud of you, we love you, we have so much respect for you, and we can't wait to see where you go from here."
Along with Mr. Robinson Perinchief, the programme was delivered by Ms. Tonisha Key-Holmes, Mr. Colwyn Burchall and a number of community partners and mentors, under the lead sponsorship of the Cabinet Office.
Community partners and mentors included Premier David Burt, MP Tinee Furbert and Minister of Education Diallo Rabain, Eron Hill of Generation Next, The Salvation Army, Cordell Riley of CURB, Senior Magistrate Juan Wolffe and Bermuda Court Services, Midland Heights SDA Church, U.S. Consulate Hamilton, Lorna McGowan of Cranleigh Ltd., Aries Sports Center and Eugene Johnston, with catering for the ceremony provided by Kenny's Kitchen.
For more information, email info@futureleaders.bm or visit their website at futureleaders.bm.
Read More About