[Updated] Premier David Burt is holding a press conference this afternoon [July 22], and we will have additional coverage later on, and in the meantime the live video is below.
Update: The live broadcast has concluded and the 20-minute replay is below
Update 1.55pm: The press conference was to announced that Circle plans to launch a new subsidiary in Bermuda, and a statement from Circle said they are "excited to be opening a new office in Bermuda" and "plan to grow our Bermuda staff to more than 30 people during the next two years."
A statement from Circle said, "Today, we're expanding our global offerings with the launch and regulatory licensing of a new subsidiary in Bermuda. We plan to serve non-US Poloniex customers with our new Bermuda operations, and we expect to offer many new digital asset services from Bermuda over time. We will also continue our existing operations in the US, Ireland, the UK, and Hong Kong.
"While many governments around the world have not kept pace with the regulatory requirements driven by rapid innovation in digital asset businesses and crypto, Bermuda has leapt forward with an exceptionally well designed and comprehensive regulatory framework: the Digital Assets Business Act of 2018 ["DABA"]. DABA provides a comprehensive framework for the regulation and oversight of crypto financial services including digital asset issuance, sale and redemption, exchange operations, and custodial services.
"Circle is the first major crypto finance company to receive a Class F ["Full"] DABA license that covers the operation of payment services, custody, exchange, trading and other financial services that use digital assets. As a result, we'll be able to deliver new innovations, including asset listings and trading services, to global customers while also staying true to our commitment to compliant, well-supervised operations and customer protections.
"At the heart of DABA is the recognition that digital assets represent a new class of assets that cannot be shoehorned into legacy regulatory frameworks. A digital asset may function simultaneously as an investment contract, a commodity, a utility in a service, and a payment currency. This versatility is powerful. It creates novel forms of incentive alignment, financial returns and value for users. It even empowers organizations to re-think corporate structures and governance.
"While the Bermuda regulatory framework enables technical and business innovation, it simultaneously enforces high regulatory and supervisory standards. DABA protects customers with stringent requirements for managing enterprise, cybersecurity and custody risks. The framework also actively guards against international criminal activity with one of the strongest regimes in the world for anti-money laundering [AML] and combating the financing of terrorism [CFT] in ways that are compliant with Financial Action Task Force [FATF] standards.
"Bermuda's pioneering approach is the kind of regulatory framework we've long advocated to unleash growth in the crypto industry. Moreover, we've witnessed first hand that the Bermuda government is prepared to iterate and evolve new regulatory rules alongside the pace of technical innovation in the crypto and blockchain field.
Unlocking Value for Customers
"We believe digital asset and crypto innovation will create a new global financial system that is more efficient, equitable, and empowering. Breakthroughs such as fiat stablecoins, non-sovereign crypto currencies, tokenized securities, and smart contract platforms are already improving the financial system and hold incredible promise for the future. With our new operations in Bermuda, we're accelerating our pursuit of this vision.
"In the near term, non-US customers will use Poloniex through our new Circle International Bermuda entity. This transition will open the door for non-US customers to access an exciting roadmap of new capabilities we plan to release in the coming months including new crypto asset listings, advanced trading products, and other innovations.
"Unfortunately, because of US regulatory limitations, we will not be able to offer many of these new services to US persons for now. However, we're committed to serving US customers as best we can despite the constraints. We will also continue to advocate for changes to US policy and regulations so the US economy is not left behind by opportunities created from digital asset and crypto innovation.
Working With Bermuda
"We're excited to be opening a new office in Bermuda. We plan to grow our Bermuda staff to more than 30 people during the next two years, with roles including general management, risk, compliance, finance, trading, and customer operations.
"In the course of selecting Bermuda as a new base for expanded international operations, we've had the privilege of working with Premier David Burt as well as a number of officials in the government and the Bermuda Monetary Authority. We've been deeply impressed by their embrace of the digital asset industry and their deep knowledge of our sector.
"With a background in finance and technology, Premier Burt has boldly championed innovation that stands to make the global financial system more trustworthy, inclusive and empowering for billions of people. We're confident that working with a visionary and highly-respected government partner will open the door to more growth and innovation."
Update 11.30pm: Premier David Burt said, "For two years this government has worked to diversify our economy and bring new streams of economic activity to Bermuda. One of the avenues for economic diversification has been to build on the strength Bermuda has in financial services – to establish a FinTech ecosystem that is best in class and which would attract FinTech companies to domicile in Bermuda.
"Our goal is to drive businesses to establish a physical presence in Bermuda and drive jobs and economic impact for Bermudians. This is not a simple process. Companies need to be sold on why Bermuda is the right fit for their business. They need to incorporate, apply for a license and demonstrate that they meet the Bermuda Monetary Authority's high standards for managing risks in alignment with our Digital Asset Business Act. Only then are they likely to make the investment to establish a physical presence and create jobs.
"As a result of our efforts, companies are applying for licenses, co-working spaces have emerged, several conferences have been hosted in Bermuda, and the awareness of Bermuda as a home for Blue Chip Fintech companies is increasing.
"To date 7 companies have established offices in Bermuda 12 work permits have been approved for key stakeholders to start building their businesses and 7 Bermudians are employed so far.
"20 months after we launched our Blockchain task force, there is a now a general acceptance in Bermuda that FinTech will be one of the drivers to grow our economy in the near term.
"At the same time, we have invested heavily in training Bermudians to prepare themselves for the opportunities that are being created. We have offered a wide range of training courses, boot camps, certification programs as well as free online training that is available to all Bermudians.
"However, with all this said, you are not here for just a simple status update.
"Though there has been criticism from many quarters, this Government has never taken its eye off the ball, and as we are 10 days away from Cup Match, the saying "Stick to the wicket and the runs will come" could not be more appropriate.
"As you see I am not alone at the podium today, and I wish to extend a special welcome to Bermuda our partners from Circle; Mr. Jeremy Allaire, Sean Neville, Gus Coldebella. It is great to have you here today.
"Members of the media, ladies and gentlemen, as a result of their confidence in Bermuda's high regulatory standards, our level of sophistication and our business development efforts, I am pleased to announce that Circle is the latest company to achieve a Digital Asset Business License with the intent of establishing Bermuda as the Headquarters for its international operations and clients outside of the United States.
"Circle is a global crypto financial services company, founded by Mr. Jeremy Allaire and Mr. Sean Neville. Circle offers individuals, institutions and entrepreneurs a digital assets platform to trade, invest and raise capital. Circle is a new kind of financial services company backed by top tier financial institutions including Goldman Sachs, and is one of 39 Fintech unicorns in the world, valued at over a billion dollars.
"Circle was founded in 2013 on the belief that open blockchain technologies would replace the world's closed, proprietary financial systems, allowing everyone everywhere to participate in an economy that is fairer, more inclusive and more accessible.
"Circle was one of the key opportunities that developed out of my trip to Davos this past January. One of my objectives while I was in Davos was to meet Jeremy Allaire, to speak to him personally and let him know that Bermuda is a place he should consider. We exchanged information then, we followed up, his team investigated and in the spring his team came to Bermuda for a visit – and now we are here.
"I am grateful that I had the opportunity to meet Jeremy and convince him that Bermuda should be on his radar. In recent months and through the dedicated efforts of our Fintech Team, the Bermuda Business Development Agency, and the Bermuda Monetary Authority we succeeded in convincing Jeremy and Sean that Bermuda was the jurisdiction that best fit their company's vision for global expansion.
"As a result, Jeremy has not only committed to establishing a presence in Bermuda but he has also become a true ambassador for what we've achieved with our Digital Asset Business regulatory framework and has been selling others on why they too should come to Bermuda.
"Circle's ethos is consistent with the goals, aims and objectives of the Government. We envision a Bermuda that is fair, inclusive, accessible, where every Bermudian has an equal opportunity to earn a living, get a good job, build a career, develop a business and grow wealth; regardless of race, creed, colour or legacy.
"This is a proud day for this Government, and I want to ensure the people of Bermuda know that this is just this beginning. Circle will start recruiting for positions immediately, and I am looking forward to working with them to not only grow their international operations, but as we look to make financial services work in Bermuda work better for the people who call this island home.
"I have always said that I am committed to transforming this country, Jeremy, Sean, and Gus, I am thrilled to have you as our latest partners on this mission."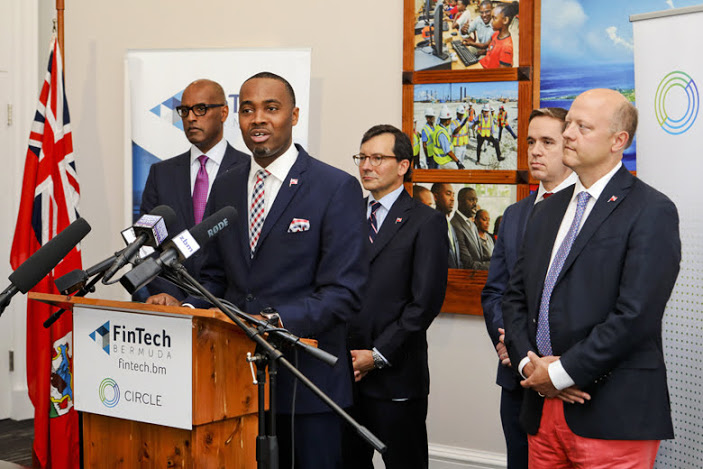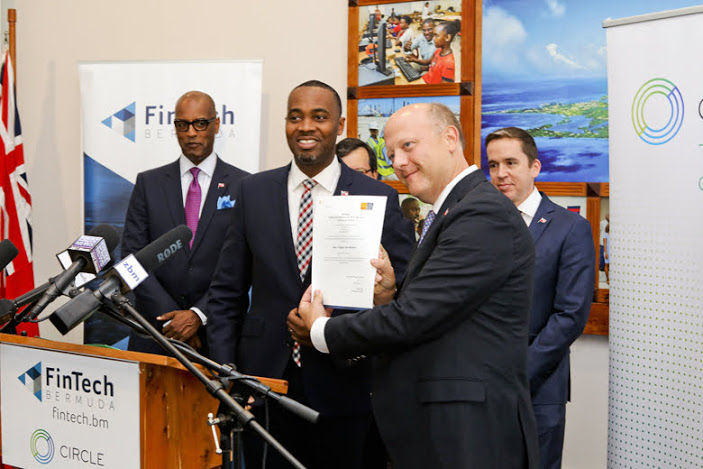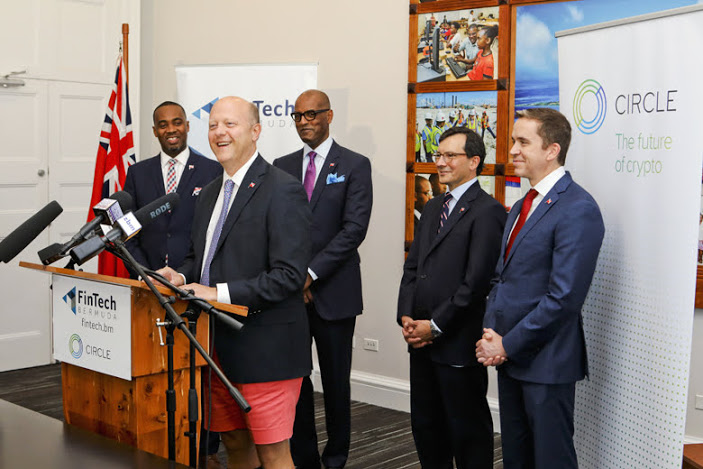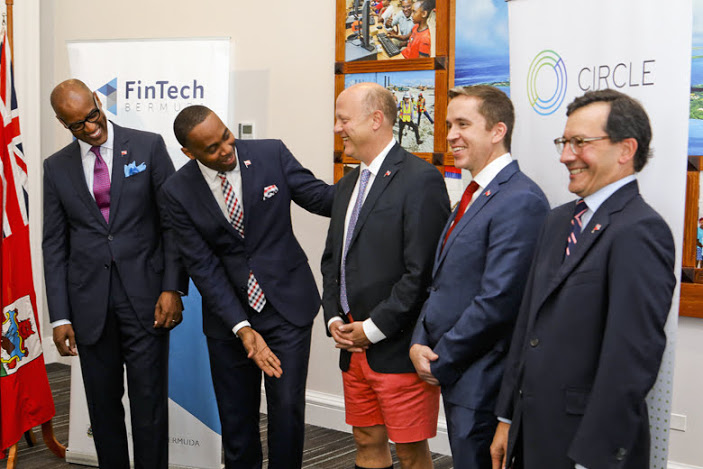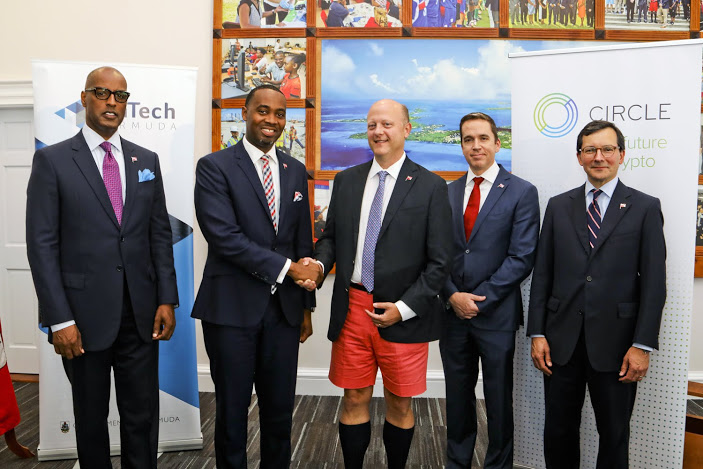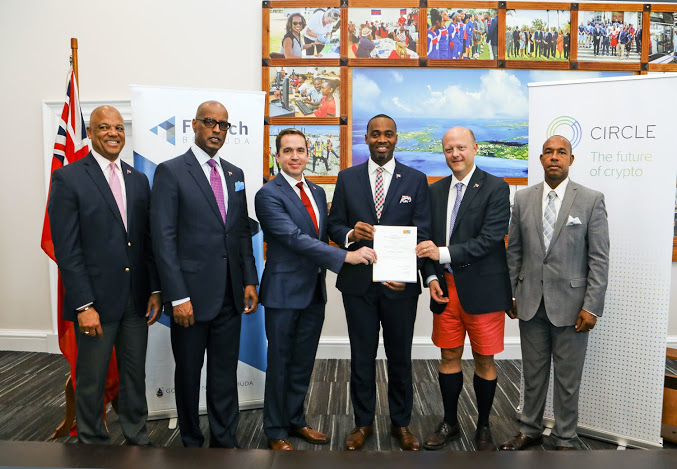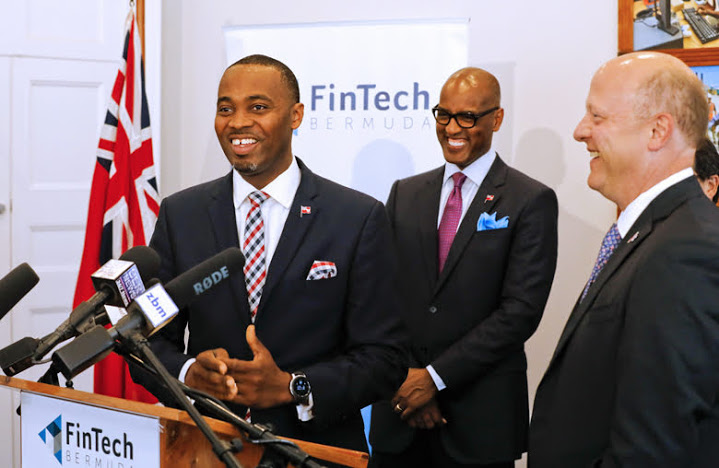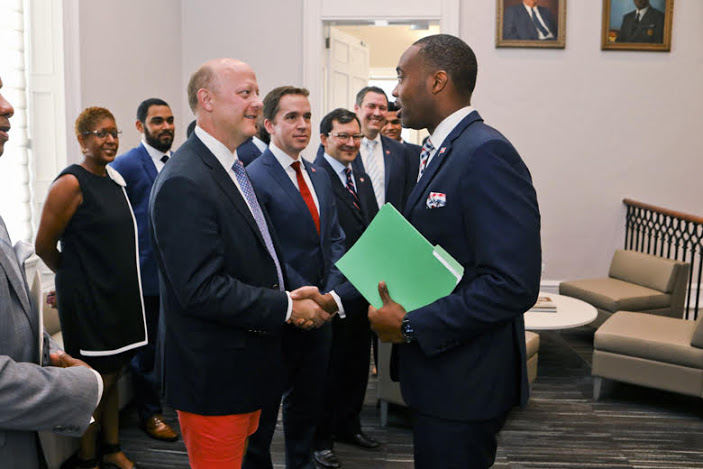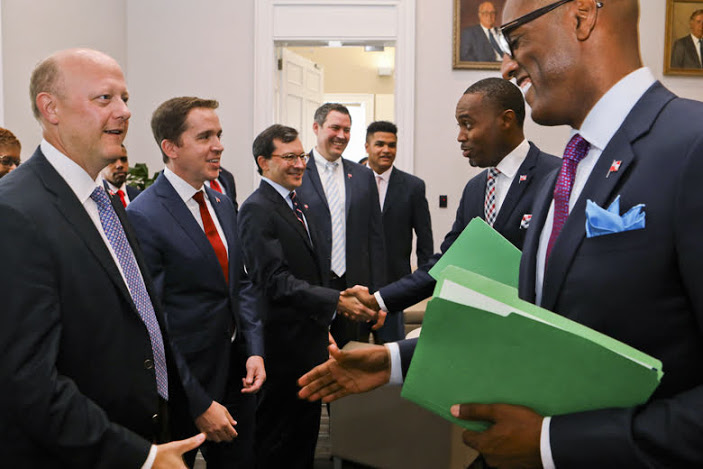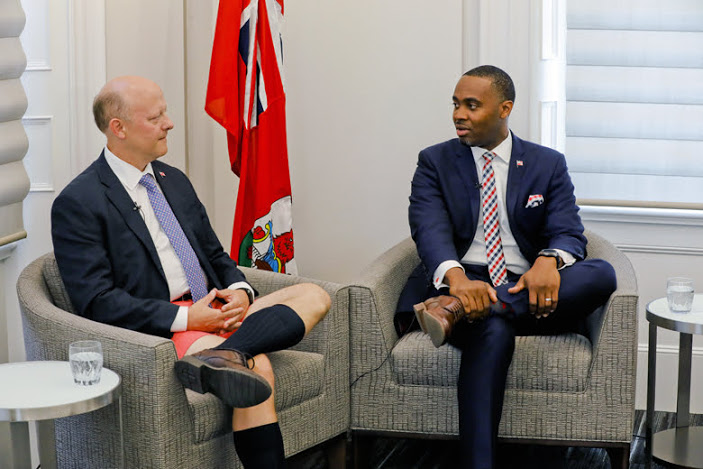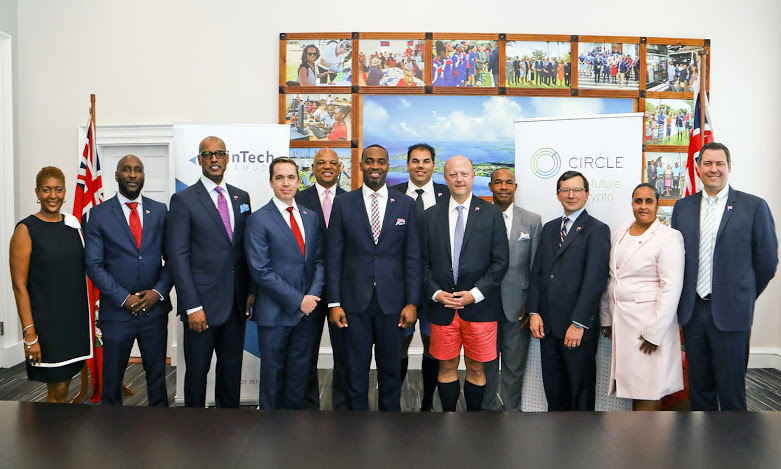 Read More About
Category: All, Business, News, Photos, Politics, technology, Videos