The Panama National Football Team that will match up against Bermuda on September 5th as part of the Concacaf Nations League has been named.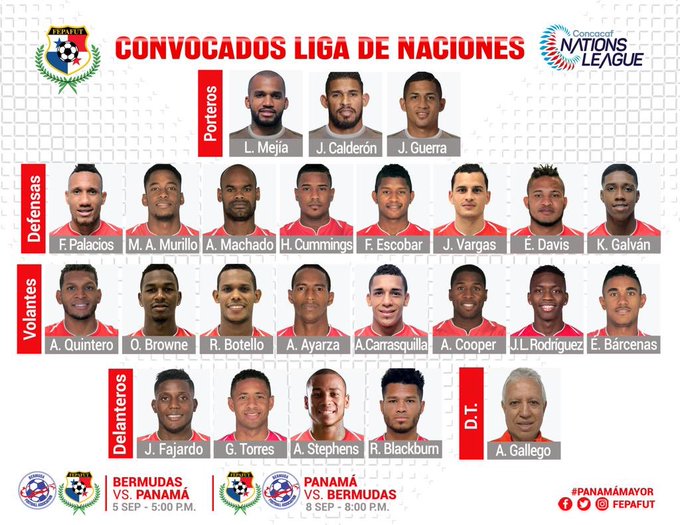 Panama's team will include Luis Mejía from National Football Club [URU], José Calderón from CSD Comunicaciones [GUA], José Guerra from CAI La Chorrera [PAN], Francisco Palacios from San Francisco FC [PAN], Michael Amir Murillo from New York Red Bulls [USA], Adolfo Machado from ADR Jicaral [CRC], Harold Cummings from San Jose Earthquakes [USA], Fidel Escobar from Córdoba CF [ESP], and Jan Carlos Vargas from Tauro FC [PAN].
Additional players will include Éric Davis from FC DAK 1904 Dunajska Streda [SVK], Kevin Galván from Sporting SM [PAN], Alberto Quintero from University CD [PER], Omar Browne from CAI La Chorrera [PAN], Rolando Botello from Tauro FC [PAN], Abdiel Ayarza from CAI La Chorrera [PAN], Adalberto Carrasquilla from FC Cartagena [ESP], Armando Cooper – s / c, and José Luis Rodríguez from Deportivo Alavés B [ESP].
Further players will include Édgar Yoel Bárcenas from Real Oviedo [ESP], José Fajardo from CAI La Chorrera [PAN], Gabriel Torres from Independiente del Valle [ECU], Alfredo Stephens from CD Santa Clara [POR] and Rolando Blackburn from Port FC [THA].

Read More About