[Updated] Minister of Education Diallo Rabain is holding a press conference this morning [Sept 6] to "honour Dr. Muriel Wade-Smith and make an announcement regarding her work." We will have additional coverage later on and in the meantime the live video is below.
Update: The live broadcast has concluded and the 8-minute replay is below
Update 2.47pm: Minister Rabain said, "Today we are here to honour someone who has embodied what it means to exhibit Bermudian, academic excellence in every way. We are not here to judge the actions of others in the past. We are here to recognize Dr. Wade-Smith's contributions to the academic field here in Bermuda. She has been a pillar of strength in our community, and has shown what it means to advocate for children and education in Bermuda.
"I'd like to welcome Dr. Muriel Wade-Smith.
"Dr. Wade-Smith has made many significant contributions to the academic community here in Bermuda, and has also worked diligently to spread her knowledge and expertise internationally. Despite setbacks, inequality, perusing her doctorate while being married with two young sons, she never gave up her goal to educate and inspire young children.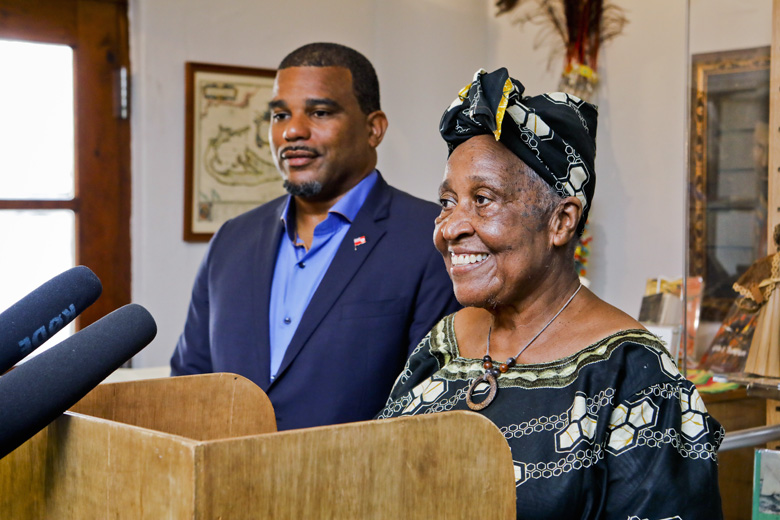 "Dr. Wade-Smith served as Principal and co-founder of the Bermuda Christian Deliverance Academy in 1994- after which she was appointed the national ACE representative for French and English- speaking islands in the Caribbean. She later went on to pursue opening other Christian schools in the Caribbean.
"In April 2018, Dr. Muriel M. Wade-Smith was appointed the AYA International Education Ambassador and will serve as the official AYA representative in Bermuda. AYA is a high-tech and high touch web-conference-based school founded in November 1998 that has provided educational objectives for youth and adults.
"Dr Wade-Smith apprenticed at Berkeley Institute in 1960 after which she became an educator at a Bermuda primary school.
"In 1971, Dr. Wade-Smith received her first degree from Miami University, a Bachelor of Science in Elementary Education. In 1974, she continued her studies at Miami University where she went on to receive her Master of Education Degree. Dr Wade-Smith also received her Doctor of Philosophy degree in Elementary School Administration and Early Childhood Education from Miami University. Part of her doctoral degree requirements was a written dissertation, at which time Dr. Wade-Smith submitted her dissertation entitled 'A Study to Identify and Prioritize Goals for the Bermudian Educational System'.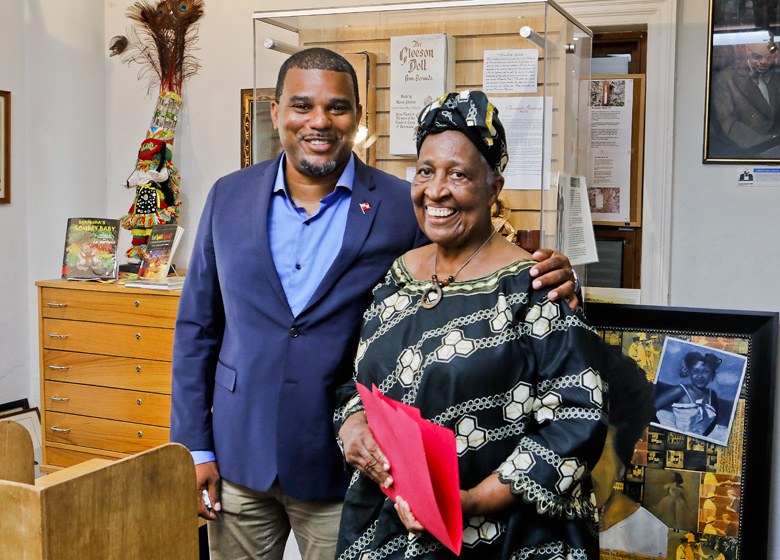 "Today, I am pleased to announce that Dr. Wade-Smith's dissertation is available online to all Bermuda library card holders and can be accessed at www.bnl.bm website. I encourage everyone to read her inspiring and thorough academic work.
"I would also like to note the September is The Bermuda National Library card sign up month. Additionally, September is the Bermuda National Library Amnesty month as well. Any persons having late fees owing for overdue books, can be forgiven for those fees if they donate any non-perishable goods, toiletries or cleaning products to the Bermuda National Library. All donations will be given the Centre of Abuse.
"It is important to this Ministry that Bermudian contributions to academics are not forgotten or lost to history. Our aim is to glean insight and knowledge from present and past works of academia, to inspire the course of Bermudian education moving forward.
"I'd like to thank Dr. Muriel Wade-Smith for allowing her work to be placed in the Bermuda library database and allowing us the opportunity to recognize her work and contributions here today. Thank you."

Read More About