Bermudian author, keynote speaker, podcaster and founder of G.A.M.E. Changing Industries, Gaynete' Jones has an upcoming free web training for "women who have side-hustle businesses that they're looking to turn into their full-time job. "
The training is entitled 5 Steps to Build Your Side Hustle So You Can Ditch Your Cubicle.
Mrs Jones, who currently resides in Canada, assists women world-wide to "dream big and do bigger things to create a life of comfort, fulfillment and freedom" through her e-courses, membership, VIP programs and podcast.
She has been featured in MSN Money, Yahoo!, Huffington Post, Refinery 29, Medium, Thrive Global and many others.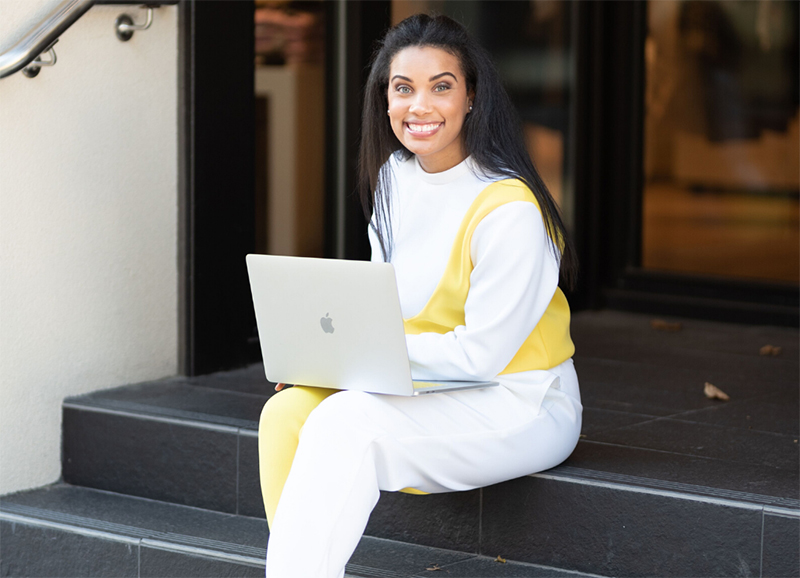 While her Freedom Slay Podcast has had star guests like Beyoncé's stylist Tyrone Hunter and Cardi B's publicist Patientce Foster, Mrs Jones has made it a mission to highlight local Bermudian talent where she can as well.
She has featured Gold, The Label founder Perri Furbert and The Glow Up Podcast host Lene Furbert in her Black Enterprise column, content creator Rachel Sawden on her podcast, and photographer Kondwani Williams in Huffington Post as well.
Mrs Jones left her 12-year career at a local bank to focus on her career, and is passionate about teaching women who have an entrepreneurial spirit to do the same.
Her podcast and programs share branding, marketing and out-of-the-box strategies that are described as helping to "amplify modern-day business women's success."
She is bringing some of this to her free web training on November 26th at 9pm Bermuda time.
Mrs Jones says: "While getting weekly massages and not having to worry about where my next dollar comes from is great, it's not about that for me. It's about crafting a life for myself and others that allow the time freedom to do what we love, with who we love, when we wish to. Money can be made back, time cannot."
In her upcoming webinar, she will be sharing "five steps to conquer fear/self-doubt, how to ensure that your offer is a perfect fit for your audience and how to more than three times what you're currently bringing in with a proven strategy that has worked for herself and many of her clients."
She said the webinar is suitable for women who have product or service based businesses, along with those who simply have an idea to begin a business.
She continued: "I get that cubicle-living isn't for everyone. Life is too short to sit at a desk, doing a job that doesn't light you up when you deeply desire to do what you love full-time. So many of us seek time and financial freedom and just don't know where to begin. I want to assist with that."
November 26th also marks the launch of her new signature program Cubicle Ditch Academy.
Mrs Jones added: "Running a business is about so much more than making a buck. Impact over coin is my philosophy. Successful businesses solve problems for their clients. Successful business owners focus on the results their offers provide their clientele."
Register for her free web-based training here and follow her on Instagram @Gaynete for updates.
Read More About