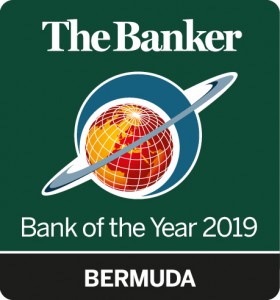 International banking industry publication, The Banker, has named The Bank of Butterfield Aas the "Bank of the Year 2019" in Bermuda.
This is the seventh year in a row that Butterfield has received the award.
Butterfield also received the Bank of the Year 2019 award for the Cayman Islands; the fifth time it has received the award during the last seven years.
The Banker, a Financial Times publication, is a UK-based periodical that each year selects banks in over 100 countries to receive its Bank of the Year Awards.
In making their selections, The Banker's global editorial team considers not only a bank's financial performance, but also strategic initiatives, innovative use of technology and service delivery channels, and efforts to extend banking services to all parts of the community.
A full listing of Bank of the Year 2019 Award winners will be published in the December edition of The Banker.
Michael Neff, Butterfield's Managing Director in Bermuda, said "Having earned the Bank of the Year distinction for seven straight years in Bermuda is a point of pride for all of us at Butterfield.
"The last few years have been a period of strategic growth and change for Butterfield Group, during which we've expanded our ownership base and extended our geographic reach. But our focus on serving the needs of our clients in Bermuda has been unwavering, and our international growth has enabled us to enhance the financial solutions we're able to offer here.
"This award reflects our commitment to Bermuda, and the efforts of our dedicated team of banking, trust and investment professionals who strive to exceed clients' expectations every day, at every point of service. I would like to take this opportunity to thank them, and also thank our clients for their ongoing loyalty to the Bank."
In addition to being named The Banker's Bank of the Year, earlier this year Butterfield was Best Private Bank in Bermuda by PWM/The Banker.
Read More About