British writer, stand-up comedian and radio/TV host Viv Groskop will travel to the island to host an event next month hosted by WeSpeak Bermuda, the organisation dedicated to building female public-speaking skills and opportunities.
Ms Groskop will host an interactive theatre performance February 6 at the Hamilton Princess, showcasing the oratorical skills of a variety of impressive women, from Virginia Woolf and Joan Rivers to Michelle Obama.
Her show will pinpoint ways each speaker captures attention and connects with audiences and provide attendees with tips and takeaways. Registration for the event is now open on a first-come, first-served basis.
"We are thrilled to announce this first event on WeSpeak's 2020 calendar and we know it will prove inspiring and empowering," said Kathleen Faries, WeSpeak Chair.
"Viv has been a keen supporter of WeSpeak's mission since we launched last year, so we look forward to welcoming her to Bermuda to meet our community's fabulous women and share her humour and expertise."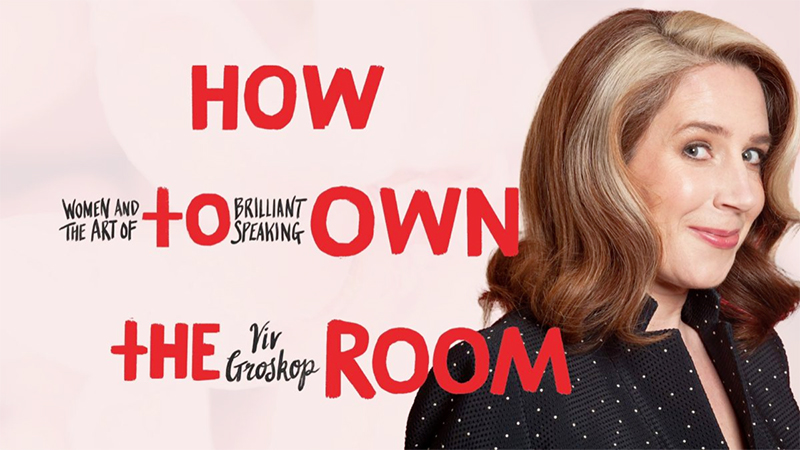 Ms Groskop connected with WeSpeak early last year after the group's board member Jo Stanton heard the comic on BBC Radio 4.
"She was talking about women and public speaking, and I found her so inspiring, I contacted her to discuss our new organisation," said Ms Stanton. "To my delight, she was enthusiastic about our plans and offered her support."
Ms Groskop sent video welcome messages to both WeSpeak's 2019 boot camps, and copies of her guide How to Own the Room: Women and the Art of Brilliant Speaking were given to inaugural event attendees.
A stand-up comedian, executive performance coach, and TV and radio presenter, Ms Groskop is also host of the Top-10 iTunes podcast How to Own the Room, based on her best-selling book whose companion volume, Lift as You Climb: Women and the Art of Ambition, will be published in March.
She has performed five one-woman shows at the Edinburgh Fringe Festival, including I Laughed, I Cried [2014], Say Sorry to the Lady [2015], Be More Margo [2016], Anchorwoman [2017] and Vivalicious [2018], and is a Funny Women Finalist [2012] and So You Think You're Funny semi-finalist [2012], as well as a regular guest presenter on BBC Radio 4.
Ms Groskop also appears on Front Row, Saturday Review, Saturday Live, Woman's Hour, Today, The World Tonight, Quote Unquote and Where's the F in News? She is known for her exhaustive and entertaining blogs on Downton Abbey, Poldark, Indian Summers and Strictly Come Dancing. A fluent Russian speaker, Ms  Groskop is also a trustee of Pushkin House, the independent centre for Russian culture in London.
"We are so excited to bring Viv to the island for this special event aimed at demonstrating how women in Bermuda can also 'own the room'—whether that's a boardroom, an auditorium, or a far less formal environment," said WeSpeak's co-founder Kirsten Beasley.
"WeSpeak is now a year old, and we've come a long way, so this is a fantastic opportunity to celebrate our journey and share our mission with a greater number of people."
Over 100 women from diverse industries, careers and backgrounds took part in both WeSpeak's successful Speakers Boot Camps last year, in April and October. The group officially incorporated last fall as a local company and non-profit.
The idea for WeSpeak was the joint brainchild of Ms Faries, Ms Beasley, and fellow Bermuda-based insurance executive Kathleen Reardon. All three have participated in the sold-out boot camps, along with female counterparts from other industry sectors, government departments, and community non-profits.
WeSpeak's genesis followed a survey it conducted in 2018 that identified reasons for female reluctance to speak publicly. These included a lack of formal training, limited opportunities to practice, and little access to talented peers or mentors. Notably, most women in the poll recognised effective public speaking was integral to their career advancement and success, but wanted to build and practice skills outside the workplace.
Today, WeSpeak is providing coaching and presentation skills via boot camps and a group of trained volunteer Bermuda-based female executives, public speakers and panellists/experts from various backgrounds who are matched with boot-camp attendees to provide further development of their skills and build confidence. The group also promotes inclusion of more women on industry panel discussions and as event keynotes.
Corporate supporters of WeSpeak in 2019 included EY, as Platinum Founding Partner, Association of Bermuda Insurers & Reinsurers [ABIR], Butterfield Bank, Deloitte, Estera, KPMG, Marsh, and MUFG Investor Services. The Association of Bermuda International Companies [ABIC] also supports WeSpeak via its Diversity & Inclusion Committee, along with Walkers and The Whitfield Group.
Tickets for the Viv Groskop event are $75 per person, or $275 for a group of four. To find out more about WeSpeak, email events@wespeak.bm.
Read More About