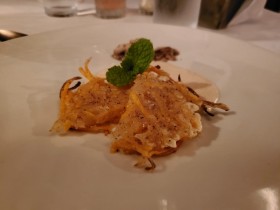 [Written by Mikaela Ian Pearman]
For my third stop for Restaurant Weeks, I decided to head to Tempest Bistro because it's a great spot for amazing food and they had vegan options on the RW menu. I'm not vegan but I love well-executed vegan food.
Tempest had a vegan special for each course, which is incredible as most restaurants don't even have a vegetarian option.
I started out with Butternut Squash Rosti with cashew cream and sautéed mushrooms. This dish was incredible to say the least – the rosti was crispy and well-seasoned, the sauce was creamy and the mushroom had a nice savoury flavour. All together it was a perfect bite.
I also tried the Deconstructed Codfish and Potato dish, which was also a winner. The codfish was sautéed and served with avocado mousse, grilled banana, a poached egg, tomato sauce and fried potato sliced. It worked really well, but my only complaint was the potatoes should've been crispy based on how they were sliced.
For my main, I opted for Sweet Potato and Black Bean Cakes with Scotch Bonnet Sauce. The cakes were a similar texture to a fishcake with lots of potato in it. They paired well with the sauce, even though it was a bit spicy. I thought the dish was creative and a great offering for vegans or vegetarians. It came with a side of roast potatoes and veggies.
For dessert, I decided not to go vegan and tried the new Carrot Cake with tangy orange icing. I love carrot cake but I find it's often heavy and has tons of cream cheese icing. There were two small slices of cake with a smear of icing on the plate. The cake had great spices and was light. The icing was a great compliment with the tanginess and orange flavour. I basically inhaled this dessert.
Overall, I really enjoyed this dinner. I appreciated the creative vegan options that were delicious and not just something basic like a lot of places do.
If you're looking for delicious vegan options, check out Tempest. And if you're a meat eater, there's plenty options for you too: Jerk Pork Tenderloin and a Rockfish Dinner are also on the menu.
A three-course dinner for Restaurant Weeks at Tempest if $52 per person plus grats.

Read More About
Category: All, Entertainment, News