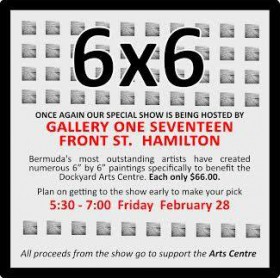 The Bermuda Arts Centre at Dockyard [BACD] is getting set to hold its annual 6×6 show on Friday, February 28 at Gallery One Seventeen from 5.30pm to 7.00pm.
A spokesperson said, "The Bermuda Arts Centre is holding their annual 6×6 show. Once again the show will be held in Hamilton at Gallery One Seventeen for one night only on Friday, February 28 from 5.30pm to 7.00pm.
"From Saturday, February 29 to March 19, any remaining paintings will be moved to the Bermuda Arts Centre at Dockyard and may be viewed and purchased.
"All paintings are 6″x6″ and have been donated by local artists. All paintings are $66. Works are in all media.
"Paintings that are purchased are removed right from the wall and go out the door with you. There are 140 paintings to choose from.
"The show is important as all paintings have been donated by artists and is a huge fundraiser for the Bermuda Arts Centre, allowing everyone that attends to own a piece of local art.
"BACD wishes to publicly thank all participating artists, for, without their support and art donations, this event would not be possible.
"Get there early to own a painting by one of Bermuda's leading artists at an unbelievable price of $66.
"One rule for the show: only two paintings per person per purchase. Once you have purchased your two paintings you may return to purchase another two. This gives everyone a fair chance at this one time incredible offer.
"We suggest that buyers bring cash. We will have two lines for payment, one for cash and one for credit cards. Credit cards always take longer – waiting for signatures or PIN numbers to be entered. If you have cash, you'll sail right on through the line and be back to the wall to purchase another painting in minutes.
"This is a fundraiser for the Bermuda Arts Centre at Dockyard.
"Anyone wishing to view the paintings on sale can visit BACD's Facebook page; the page is updated daily as artwork comes in."

Read More About
Category: All, Entertainment