Two senior Bermudian police officers, Assistant Commissioner of Police, Antoine Daniels & Superintendent, Na'imah Astwood, have successfully completed the Strategic Command Course, administered by the U.K. College of Policing, making them qualified to be appointed Commissioner of Police.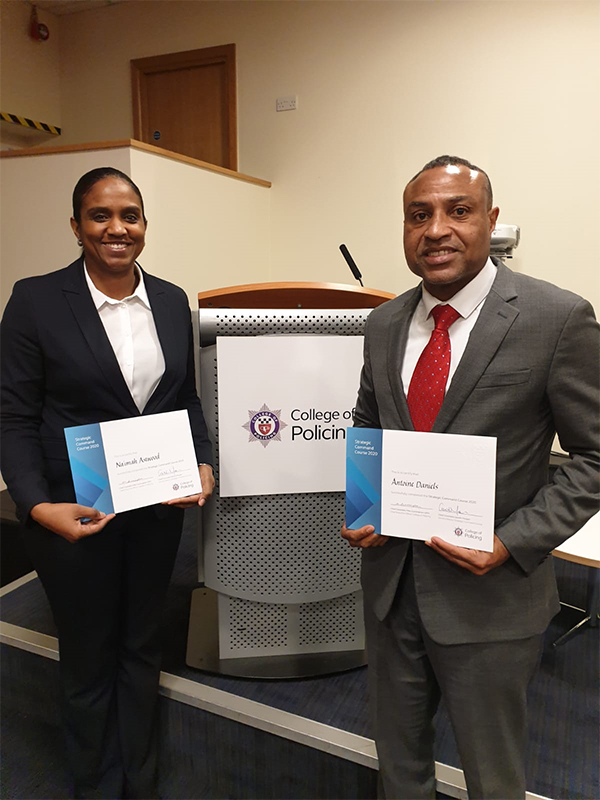 Both officers graduated with distinction, the highest grading possible, with exceptional praise from their course directors. The course was conducted during the period January 6th, to March 16th, this year and covered three marked assessment elements:
Operational Assessment
Business Skills Assessment
Personal Leadership Assessment
Governor John Rankin remarked: "The fact that both graduated with distinction from what I know is a demanding course is huge testament first and foremost to their abilities and leadership skills."
"It is also confirmation of the qualities in the members of the Bermuda Police Service which I have seen throughout my term in office as Governor, and which continue to stand Bermuda in good stead.
Commissioner of Police, Stephen Corbishley added: "Alongside DCOP Simons [who achieved the same graduation assessment in 2019] this reflects 3 Bermudian Police Officers who have performed exceptionally well against the most talented senior officers from the UK and overseas.
"I look forward to ACOP Daniels and Supt Astwood bringing back their developed leadership skills and experience to the BPS."
Read More About