The 70th Bermuda Gold Cup has been rescheduled for October 25 to October 30.
A spokesperson said, "When the calendar turned January 1, 2020, organizers for the Royal Bermuda Yacht Club's Bermuda Gold Cup match racing regatta were eyeing this week, the 19th week of 2020, as a celebration of the storied regatta.
"This week was to be the week that the 70th regatta for the Bermuda Gold Cup, an event of the World Match Racing Tour, was held. A dynamite lineup that included past champions, world champions and World number one-ranked skippers was secure and racing on Hamilton Harbour in May is one of the more idyllic settings the sailors could enjoy. It was going to be a week worth remembering.
International One-Design sloops race upwind on Hamilton Harbour during the 2019 Bermuda Gold Cup [Photo courtesy of John Singleton]: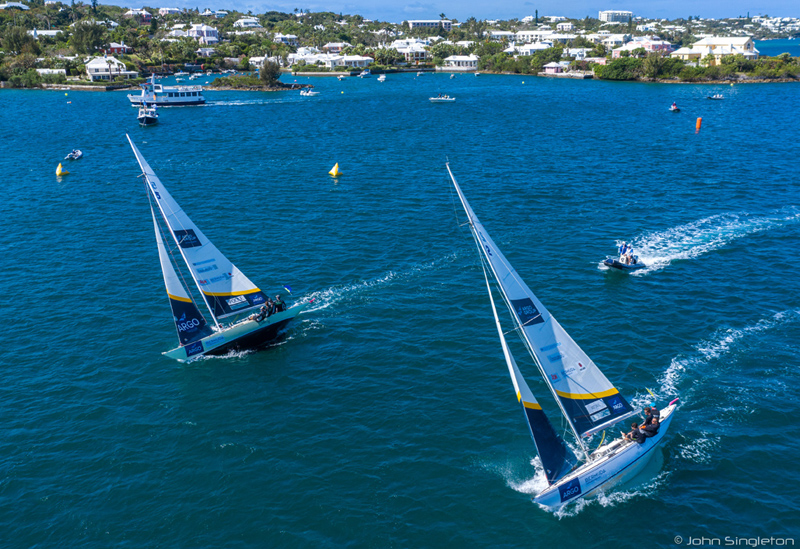 "Then the calendar rolled into mid-March and the western hemisphere came to a grinding halt due to the novel coronavirus. Social distancing is the primary means to tamp out spreading of the highly infectious disease and the Bermuda government banned all foreign travel to the island on March 20.
"Now, as Bermuda begins Phase 1 of its reopening protocol, the promise of International One-Design [IOD] sloops battling bow-to-bow has been rescheduled to Oct. 25-30. With a dash of luck, the 70th Bermuda Gold Cup, presented by Argo Group for the benefit of the Bermuda Institute of Ocean Sciences [BIOS], will still occur this year."
"The Gold Cup has a history of surviving through hurricanes, but this is probably the most fluid and uncertain situation we've ever had to contend with," said Leatrice Oatley, the regatta chairperson and a Past Commodore of the Royal Bermuda Yacht Club.
"The coronavirus is unlike anything the world has ever seen and its effects are startling. We're planning to hold the 70th Gold Cup in October, but there are a number of obstacles still to overcome. We certainly hope they'll all be met and we'll enjoy close racing come October."
The spokesperson said, "The Bermuda government has outlined four phases for reopening the country, each lasting approximately two weeks. The current Phase 1 allows for limited business. Phase 2 provides for an expansion of services, Phase 3 a move towards normalcy and Phase 4 normalcy. The final phase is the most important as it allows for the reopening of Bermuda's L.F. Wade International Airport."
"Given the timeframe of each phase, we probably won't know what travel will look like until late June," Oatley said.
"So, although we're still in a holding pattern, we are eager to welcome all to our beautiful Bermuda blue halo for the 70th Gold Cup in October."
The spokesperson said, "The Royal Bermuda Yacht Club wishes continued safe passage to all navigating their way through the pandemic."

Read More About