[Opinion column written by Glenn Fubler]
During the press conference on Friday, May 1, Premier David Burt reminded us that Government is collaborating with the Opposition in response to the multiple challenges of the pandemic. To reinforce that point, he invited Opposition Leader Craig Cannonier to share remarks.
Responding to a reporter's question, the Premier admitted, given the political history between himself and Mr. Cannonier, that it had been difficult for him to shift to collaboration mode. Mr. Burt's transparency hopefully inspires us all to explore our ability to shift and open to others in negotiating these challenging times.
May 1st happens to be International Workers' Day, which began over a century ago, a shift involving American workers' struggle for the 8-hour day. It subsequently – another shift – became a global platform for promoting employment rights generally, fostering solidarity. Over decades, this movement has widened, a shift potentially leading to human solidarity, generally.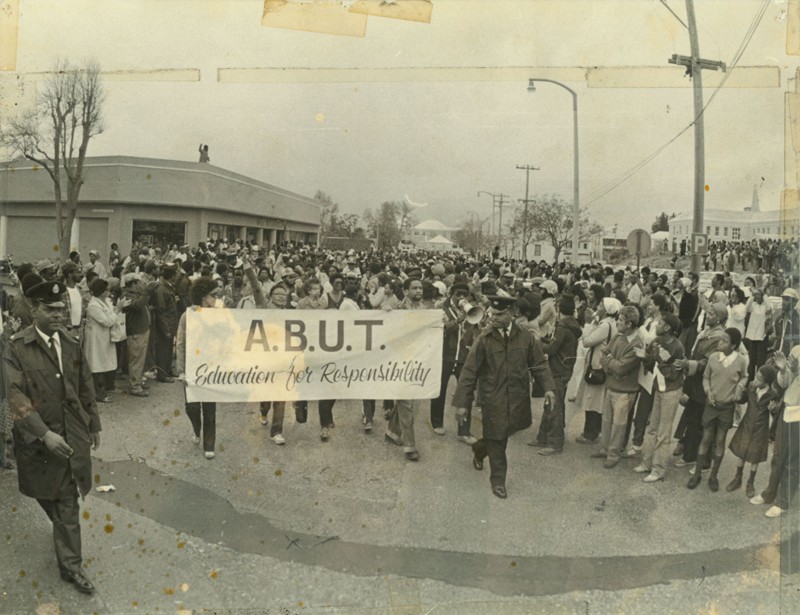 Tuesday, May 5th marks the 39th anniversary of a pivotal event in 1981 – a shift to include others. That day, two unions – the Bermuda Union of Teachers [BUT] and the Electrical Supply Trade Union [ESTU] – joined the entire Bermuda Industrial Union to support the BIU's Hospital and Government Divisions. That General Strike marked a shift, the first occasion that members of one union acted in solidarity with others.
The media announcement on May 4th, 1981, that the BUT had voted to act in solidarity with BIU's Hospital and Government employees, surprised most people. This was a breakthrough shift, involving teachers – who had rarely taken action on their own behalf – acting in solidarity with others – blue-collar employees.
When the BUT contingent – led by some older, seemingly conservative members, arrived at Union Square on Tuesday, May 5th, they were greeted by hundreds of BIU members inspired by the obvious shift. They were followed by the surprise arrival of the members of BELCO's ESTU, led by their white President Chuck Renaud, exemplifying another shift.
ESTU's Renaud had acted unilaterally to promote solidarity. Chuck met with BELCO's CEO Alf Oughton, informing him that a representative group of ESTU members would march to Union Square, demonstrating their solidarity with the BIU, without endangering electricity supplies. This action – a shift – implicitly facilitated a healing given the thorny legacy of the 1965 industrial crisis involving the BIU at BELCO.
These local examples of shifts are reminiscent of iconic global stories. In May 1963, after Martin Luther King led a successful movement in Birmingham, in spite of dogs being unleashed on peacefully protesting young people, there was a reaction to the positive transformation.
The home of MLK's brother, A.D. King, was dynamited and subsequently the motel in which MLK had been staying was also bombed, leading to a riotous reaction by movement supporters. Thankfully, A.D. and other clergy were able to calm the waters.
At the mass meeting the following day, Martin categorically addressed the pent-up anger, pointing out: 'This is not a struggle between black people and white people – this is a struggle between justice and injustice. We're looking to enlist consciences, not skin colours.'
A few days after that tragedy, King honoured an invitation by Ohio's Episcopalian [Anglican] Bishop to a rally in Cleveland. With so many, mostly white, people attending – 10,000-plus – neighbouring churches rallied to assist. A record $15, 000 was taken in collections. In spite of challenges, the movement had leveraged a shift, promoting the inclusion of others.
Nelson Mandela and colleagues were sentenced in 1964 to life imprisonment at one of the world's most notorious prisons – Robben Island. Those icons regarded that challenge as an opportunity for self and collective renewal.
They made use of possibilities for distance-learning for themselves and mentored those general population prisoners. They exemplified a shift by encouraging even the wardens – the others – to take up the opportunity to re-invent themselves. The rest is history.
The press conference on May 1st demonstrated the inclusion of others during the current challenges. Here in 2020, it is obvious that we face existential threats to the global family. Our Premier has offered us an example of a shift and we can maximize our collective potential by being open to include others, thus sustaining current and future generations.
- Glenn Fubler

20 Most Recent Opinion Columns

Opinion columns reflect the views of the writer, and not those of Bernews Ltd. To submit an Opinion Column/Letter to the Editor, please email info@bernews.com. Bernews welcomes submissions, and while there are no length restrictions, all columns must be signed by the writer's real name.
-
Read More About