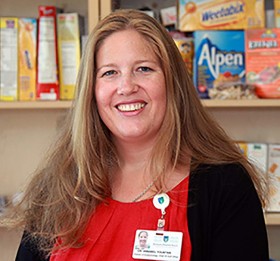 [Column written by Dr. Annabel Fountain]
Bermuda is now under a 24 hour 'Shelter in Place' until May 2nd. There have been concerns about gaining access to food and other necessities. However, despite this state of emergency, the government has reassured us that supply chains have not been disrupted; food and medication will be available as necessary.
This does not mean that you can and should go out. You should ensure that you have enough food and medication to last you a few weeks, only leaving the safety of your home if absolutely necessary.
In this article, I have collaborated with Hannah Jones, Registered Dietitian and owner of Island Nutrition to give you a few suggestions on foods you should keep that will help you manage your diabetes and help you feel good during this unprecedented time.
Many of my clients comment that they don't know how to cook or don't have time and so they eat take out and fast food for most of their meals, particularly during the work-week. These options are not currently available. It is possible to make simple, healthy meals which aren't difficult, even if you're not a great cook.
If you're trying to control your blood glucose, watching others who do not have diabetes loading up with pasta, rice, cookies or chips at the grocery store can be frustrating. Our goal during this time of lockdown is not just to survive. We must also be maintaining our health, or even improving it! We want to have nutrient-dense foods that aren't going to disrupt our metabolism causing weight gain and increased glucose levels.
This means stocking up not on just the high-carb favorites everyone else might be going for, but on low-carb, nutrient-dense foods that keep you well, keep your body healthy, and won't adversely impact your blood sugar.
If you have not received education about your diabetes and healthy nutrition, please do reach out to a Registered Dietitian, preferably one who has specifically been trained in diabetes education, such as those at Island Nutrition or the Bermuda Diabetes Association. If you have other conditions like kidney disease or hypertension, a Dietitian will be even more useful in helping you to choose what to eat. Very simply though:
Check labels for total carbohydrate, sugar, sodium and fibre whenever possible.
Eat above-ground vegetables [versus root vegetables]. Many of these are available frozen.
Avoid processed foods as these won't fill you up and tend to be less healthy .
Limit simple sugars and carbohydrates.
If you're at risk for blood-sugar lows, you'll want to have simple carbs around. These include sodas, juice boxes, honey, jam, hard candies, or popsicles.
You'll notice that there's no breads, potatoes, pasta or rice [starches] on my list and those are often inexpensive staples. It's not that you can't have them at all but they should be limited for anyone who has issues with their sugar or their weight.
However, because you're not out and about you're not as likely to have that sweetened latte and a muffin at break time and you're not going to hit the buffet for lunch. This means you can get away with a little more starch with your meals. Of course, we recommend complex or whole grain starches [not cookies].
Starchy foods should take up a quarter or less of the space on your plate. Fill up on vegetables and make sure you have enough protein so that you don't get hungry and search for those unhealthy snacks!
Foods that keep well in the fridge:
Dairy: butter [6 months], hard cheese [lasts 2-4 months unopened], cream cheese [e.g. Philadelphia], plain yogurt [about 2 months], eggs
Fermented foods: kimchi, sauerkraut, tofu, pickles.
Veg/Fruit: grapefruits [last about 6 weeks but be careful if you're on certain cholesterol medications], carrots, cabbage, green apples.
Condiments: aim for low carb unsweetened options like mayo, mustard and hot sauce
Frozen foods:
Low-carb vegetables: cauliflower, broccoli, Brussels sprouts, spinach, kale, collard greens, asparagus, artichoke hearts, green beans, edamame
Low-carb fruit: raspberries, blackberries, strawberries, clementines, watermelon and avocado
Meat and entrées: whole, pieces or ground chicken, pork, beef or lamb, fish, seafood e.g. shrimps
Shelf-stable foods that are low carbohydrate:
Dairy: powdered milk and buttermilk; unsweetened soy, coconut, and almond milk; crunchy snacks made of 100% cheese
Protein sources: nuts like pecans, pistachios, walnuts, macadamia nuts, peanuts, and almonds; nut butters; seeds; cans or pouches of fish and seafood [tuna, salmon, mackerel, sardines, anchovies, clams, mussels]; meat – beef jerky, meat sticks, and some salami, canned ham, spam, chicken; canned chili [look for under 10 grams of carbs per serving]; dry lentils and beans [all varieties]. Watch the sodium of canned foods.
Cans and jars of vegetables [choose low sodium varieties whenever possible]: tomatoes, green beans, mushrooms, artichoke hearts, olives, roasted peppers, pickles [unsweetened], sauerkraut, bamboo shoots, spinach, beans [source of protein and fiber but do have some carbohydrate].
Sweets: fruit cups [drained], sugar-free gelatin and pudding, sugar-free chocolate or candy bars [labelled low carb or keto]. Sweeteners such as stevia or Swerve. Be careful with tinned fruits which are often in syrup. Even the ones in juice are often very sweet.
Other: onions and garlic, spices, tomato paste, vinegar, and other condiments, cooking oils [olive oil and coconut oil]; shirataki noodles, chicken and vegetable broth, hot sauce and salsa, coffee, tea, coconut water.
So you can see that almost everything that you'd like can be bought and stored for when you need them. Some of these options are less expensive than what you may usually buy [frozen vs fresh for example] and certainly will be less expensive than eating out.
You might need to get creative in order to cook things from scratch, but there are lots of online resources to help you with this. Or maybe during the shelter in place you're with family members who have been longing to teach you how to cook. Bon appetit!
If you have questions about COVID-19 call the Bermuda Government COVID-19 helpline at 444 2498, available 9:00am to 9:00pm daily. If you are encountering a medical emergency call 911.
- Dr Annabel Fountain is a Bermudian physician who is board certified in Endocrinology, Diabetes and Internal Medicine. She is the Owner/Medical Director of Fountain Medical Group. Dr Fountain offers the following Endocrinology services, Diabetes Prevention, Education and Management, Thyroid Disease – Hypothyroidism, Hyperthyroidism, Nodules and Cancer, Obesity and Weight management, Disorders of Calcium and Bone including Osteoporosis, Hypertension and Cholesterol disorders, Adrenal and Pituitary Disease, Infertility and Menopause, Other glandular disorders. Dr Fountain is available for telemedicine appointments during the COVID-19 isolation recommendations. Please call your primary care physician for a referral or 232-2027 to make an appointment.

20 Most Recent Opinion Columns

Opinion columns reflect the views of the writer, and not those of Bernews Ltd. To submit an Opinion Column/Letter to the Editor, please email info@bernews.com. Bernews welcomes submissions, and while there are no length restrictions, all columns must be signed by the writer's real name.
-

As the island and world deals with the Covid-19 pandemic, we are doing our best to provide timely and accurate information, and you can find more information on the links below.
Read More About