[Updated] Given the Government guidelines in place due to the ongoing Covid-19 pandemic, camping is "strictly prohibited" on WEDCO property during this year's Cup Match holiday.
The Royal Naval Dockyard tweeted, "Please note that due to Government guidelines and restrictions in light of the pandemic, camping is strictly prohibited on WEDCO property during the Cup Match holiday this year. WEDCO property spans from Watford Bridge to The Keep. Thank you for your understanding."
A spokesperson added, "We only allow camping via application process for Cup Match each year and this year it will not be allowed in light of the pandemic."
Update: Camping is now permitted, The Royal Naval Dockyard tweeted, "Good news y'all… The Government has lifted the prohibition on camping during Cup Match!!! Camping is permitted on WEDCO property at pre-specified camping plots between Wed, July 29, 2020, to Sun, Aug 2, 2020, only. Plots are awarded on a first-come, first-served basis."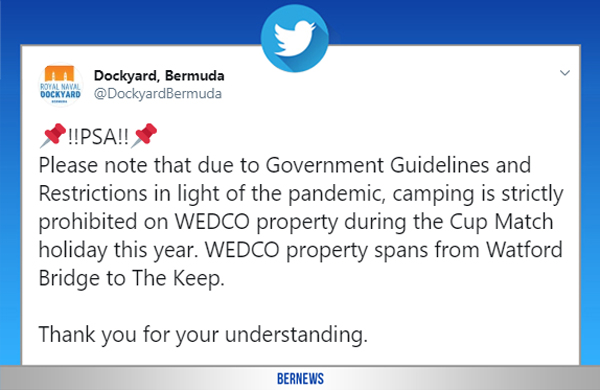 As the island and world deals with the Covid-19 pandemic, we are doing our best to provide timely and accurate information, and you can find more information on the links below.
Read More About
Category: All