[Updated] Legendary Bermudian actor Earl Cameron – one of the first black actors to be regularly cast in British films and television programmes – has passed away at the age of 102.
Mr. Cameron, largely resident in the United Kingdom since he arrived there as a merchant seaman in 1940, made his film debut in 1951. He went on to appear in such movies as the James Bond blockbuster Thunderball [1965] and, more recently, the Sean Penn-Nicole Kidman political thriller The Interpreter [2005], and Inception [2010], in which he was featured alongside Leonardo DiCaprio.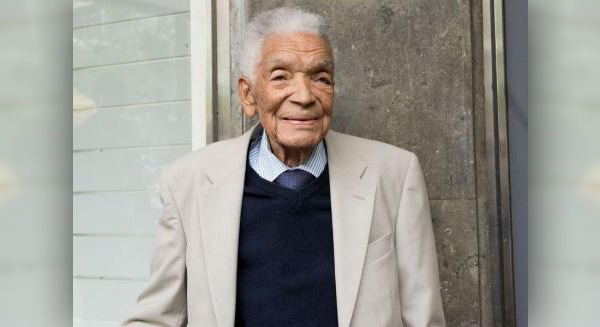 During the course of an acting career which began on London's West End stage at the height of the Nazi blitz in 1941, Mr. Cameron has also appeared in such classic British TV series as Dr. Who, Dangerman and The Prisoner.
One of the first black actors to be regularly cast in British films and television programmes in the 1950s and '60s, Mr. Cameron is widely credited with having almost single handedly integrated those branches of the UK's entertainment industry.
Premier Burt tweeted the photo below, saying: "I am deeply saddened to hear of the passing of iconic #Bermudian actor Earl Cameron. I join the Bermuda community in celebrating his long and remarkable life. On behalf of the Government and people of Bermuda I express my sincerest condolences to his wife, children and family."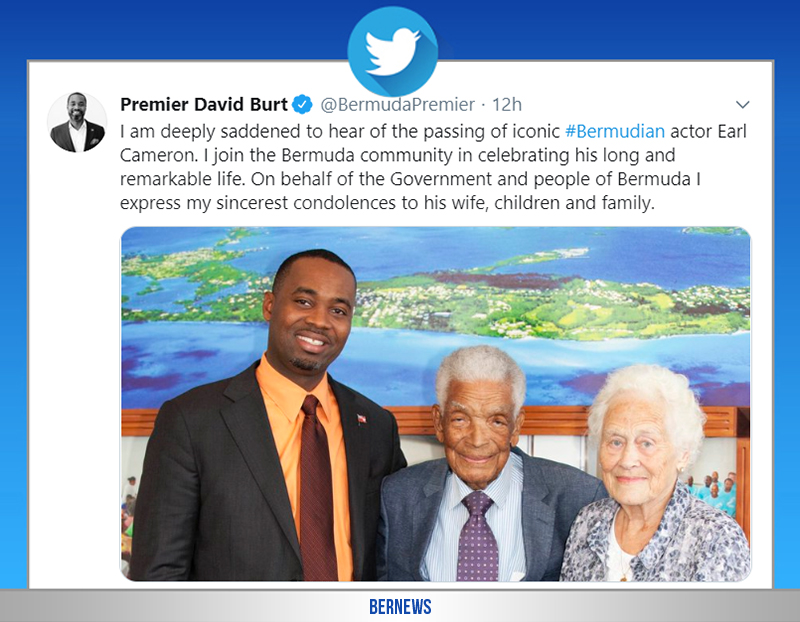 A Guardian story said, "Earl Cameron, who with his debut role in the 1951 film Pool of London, became one of the first significant black actors in British cinema, has died aged 102. His agent confirmed the news to the Guardian, saying "he passed away peacefully at home surrounded by his wife and family" on Friday in Kenilworth in Warwickshire.
"Cameron's significance to the current generation of black British actors was underlined by tributes on social media. David Harewood described him as "a total legend", while Paterson Joseph wrote: "His generation's pioneering shoulders are what my generation of actors stand on. No shoulders were broader than this gentleman with the voice of god and the heart of a kindly prince."
"Born in Bermuda in 1917 and arriving in the UK in 1939 after a spell in the British merchant navy, Cameron ended up with a small role in 1941 in a stage production of the musical Chu Chin Chow.
"More theatre work followed after the war, and Cameron was then cast in a substantial role in Pool of London, a thriller set in the London docks in which he played Johnny Lambert, a merchant seaman. Cameron's character is also involved in a mixed-race relationship, generally acknowledged as the first such portrayal in a British film.
"Cameron was married twice; his first wife Audrey died in 1994, and he is survived by his second wife Barbara. He was awarded the CBE in 2009."
Update: Minister Lovitta Foggo said, "I was extremely saddened to learn of the passing of Mr. Earl Cameron CBE, a Bermudian film legend with a career that spanned decades and broke barriers. As the first black actor to star in a British film, he became a pioneer in his field and was often recognised as Sidney Poitier's British-based counterpart, opening doors for other black actors in the field.
"Hailing from Princess Street, Pembroke, Mr. Cameron rose to great prominence as an internationally recognised and acclaimed film, television and stage actor.
"Even in his advanced age, Mr. Cameron remained the gracious, charismatic and gentlemanly icon that made him a star.
"The Department of Community and Cultural Affairs was honoured to host Mr. Cameron twice in recent years — for an evening of conversation in 2012, and most recently in 2017 to celebrate his 100th birthday.
"And recognising his many contributions to film, the Department's Bermuda Arts Council established a new award in his honour last year, the Earl Cameron Award, intended for a Bermudian professional who has demonstrated exceptional passion and talent in the field of theatre, cinematography, film or video production.
"The Ministry of Community Affairs and Sports honours and remembers Mr. Cameron's creative legacy and contributions. We extend our sincerest condolences to his wife Mrs. Barbara Cameron as well as the rest of Mr. Cameron's family, loved ones and friends. May he rest in peace."
Read More About