[Opinion column written by Glenn Fubler]
The passing of widely-respected film actor Earl Cameron a month before his 103rd birthday represents the passing of an era, both for his homeland – Bermuda – and his adopted home, Britain.
In spite of his global notoriety, this pioneer maintained humility. His nephew, Neville Cameron, notes that his uncle was always concerned about the welfare of others. Neville was able to comfort the family patriarch in a phone call just last week, allaying his uncle's often expressed concerns about his safety on the roads – given his own aging – reporting that he had given up driving his taxi.
Born in 1917, this proud, back 'o town boy grew up on Princess Street, the youngest of six children, who received a solid foundation from Central School [Victor Scott]. Cameron survived that difficult period when segregation compounded the impact of the Great Depression on our small, remote island. He was among those of that era who won jobs on the ships serving the island.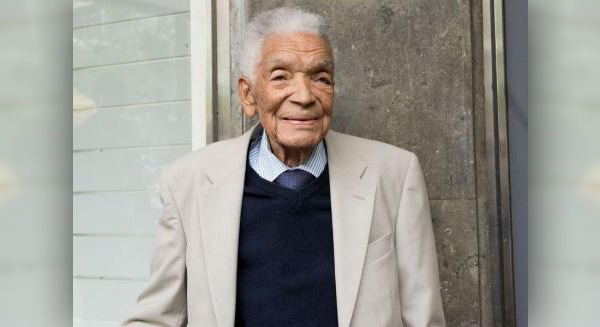 It was as a merchant mariner that Earl ended up stranded in London in 1939, on the eve of World War II. He survived on a number of hustles before securing a dishwashing job at a restaurant near London's West End.
In 1941 a friend of Earl's who had secured a role in the chorus of a musical revival – Chu Chin Chow – piqued the Bermudian's interest in acting. When one of the cast members went missing, Earl, who had no stage experience, took his breakthrough opportunity. From there, Cameron was able to secure other small parts, leveraging what Londoners considered to be a Yankee accent. This secured him a part in the American play, Petrified Forest.
Cameron was able to parlay that success with a variety of dramatic and singing roles on stage during the 1940s. In 1951 he made his breakthrough in film, securing the leading role in the movie Pool of London, a ground-breaker; the first mainstream British movie featuring interracial romance.
In 1959, Cameron took a lead role in the crime film Sapphire, which received the BAFTA Award's Best Film that year. This began a long journey in film and TV. It included a total of 27 movies – such as Guns of Bantasi, Simba, and a cameo role in James Bond's Thunderball. He had roles in a number British TV productions, including Doctor Who and popular BBC series The Dark Man.
During the early 1960s Earl became a committed member of the Baha'I Faith. This, along with a sense of rootedness, guided this actor through the notorious challenges of that profession. That said, in an interview regarding his life with The Guardian, Cameron revealed that during his heydays he wasn't fully aware that he was a trailblazer, but he expressed frustration for how black actors were marginalized in the movie industry.
In light of his principles and spiritual commitment, Earl Cameron traveled with his family to the Solomon Islands for an extended sabbatical, a period of service, returning to the UK in 1994, just before the death of his first wife – Audrey. Having completed four decades on screen, Earl's later years involved some just rewards as he took a new wife – Barbara.
Cameron received some limited but significant screen roles, including a key character in The Interpreter and small parts in The Queen and Inception.
Earl was awarded a C.B.E. in the 2009 New Year's Honours. In 2012, the theatre at City Hall was renamed The Earl Cameron Theatre in his honour. In 2013, the University of Warwick awarded Earl with an Honourary Doctorate. In 2016, he was inducted into the British Screen National Hall of Fame.
In response to Cameron's passing, the noted British actor Paterson Joseph captured in a tweet the legacy left for current generations, by this giant.
- Glenn Fubler

20 Most Recent Opinion Columns

Opinion columns reflect the views of the writer, and not those of Bernews Ltd. To submit an Opinion Column/Letter to the Editor, please email info@bernews.com. Bernews welcomes submissions, and while there are no length restrictions, all columns must be signed by the writer's real name.
-
Read More About
Category: All, Entertainment, News