The Bermuda Economic Development Corporation [BEDC] will be holding a free webinar entitled "How Business Etiquette Can Turn A Customer Into A Client" on Wednesday [July 8] from 3.00pm to 4.00pm.
A spokesperson said, "Join us to discover how learning and implementing business etiquette can help you turn a customer into a client!
"This webinar will be lead by Lorene Phillips, the founder of Clarendon Wallace, an executive coaching and consulting firm. As well as Philip Sykes, founder and Principal of The British School of Etiquette.
"Lorene Phillips is an Executive Coach & Etiquette Trainer, Facilitator, Speaker, and Author. With over 25-year track record of success as a [RE]insurance executive, Lorene engages her clients in practical real-world application that distinguishes her delivery from her peers. Lorene thrives in highly visible engagements with high performing individuals. She empowers leaders and guides them through the steps needed to make an impact on their personal and professional lives. www.clarendonwallace.com
"As founder and Principal of The British School of Etiquette, Philip's passion for etiquette, manners, quality, and service has led him from the wine hills of South Africa's Cape to the world's most dynamic cities in a career spanning more than 25 years. From his early days working in prestigious hotels and owning one of South Africa's top ten restaurants to setting up The Heritage Academy with HRH Prince Charles as the patron, Philip has always believed the adage "it's not what you do but how you do it".
"Set up in 2013, The British School of Etiquette was born out of Philip's desire to help people become the very best versions of themselves to achieve success in both their personal and professional lives. Philip brings his outstanding interpersonal and motivational skills to every course he runs and effortlessly puts people at ease with his charismatic approach. It is testament to his enthusiasm and relentless drive that the school is the only one of its kind to become accredited by CPD, Investors in People, and ILM.
When? Wednesday, July 8th
What Time? 3:00pm – 4:00PM [ADT]
How Much? Free
"How Do I Join?
"Please register here for How Business Etiquette Can Turn a Customer Into a Client on July 8th, 2020 3:00 PM ADT."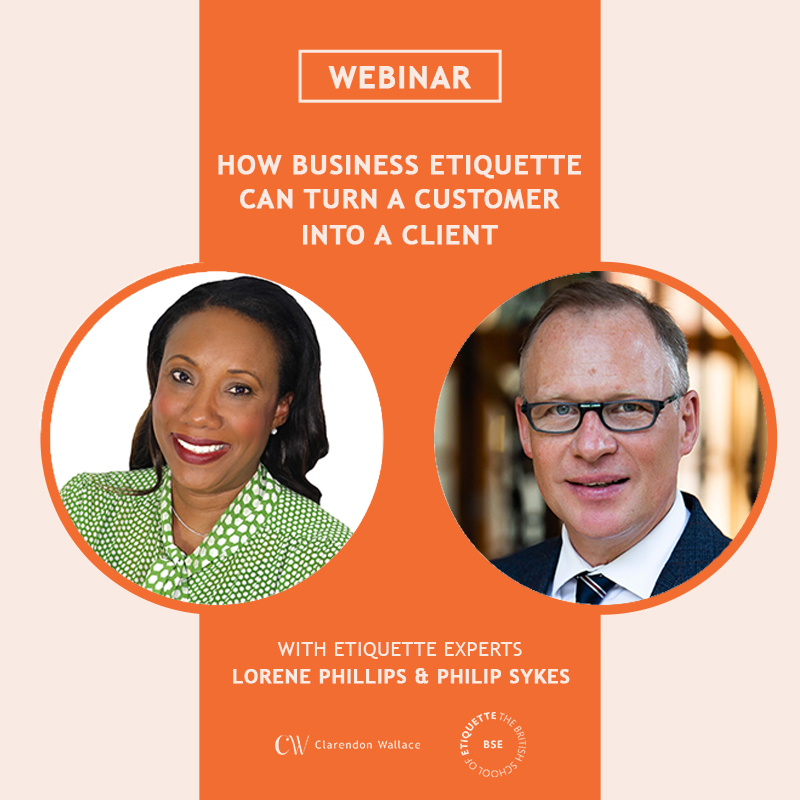 Read More About