[Updated] Black Lives Matter Bermuda sent an open letter to the Police Commissioner expressing their disappointment on the lack of action regarding an officer who made an offensive online post, asking "why, 61 days later, are we still waiting for something to be done?"
In an open letter to Commissioner Stephen Corbishley, Black  Lives Matter Bermuda's Jasmine Brangman and Dynera Bean said, "It was 7 days ago when Bermudians honored our Ancestors' legacy on Emancipation Day. The significance of our Ancestor's freedom being restored cannot be understated; and to truly understand Bermuda, one must fully recognize that the island we enjoy today was built on the backs of our Ancestors. For centuries they showed strength, resilience, and a drive that we today could only hope to conjure up when necessary.
"This year, the holiday weekend was even more significant as we honored a legacy worth celebrating, that of Mary Prince. If there was ever a trailblazer born on this island, it was her. Not only did she survive despite the horrors of slavery, she also told her story; a story that quite literally changed the world. It was 6 days ago that we honored her.
"In the same spirit of recognizing the significance of Black lives, Bermudians from all different backgrounds came together and marched against racism, both here and abroad. 60 days ago, we marched in honor of those who have lost their lives to police brutality in the United States, but we also marched with a recognition that racism here in Bermuda was in need of eradication too.
The Black Lives Matter march on June 7, 2020: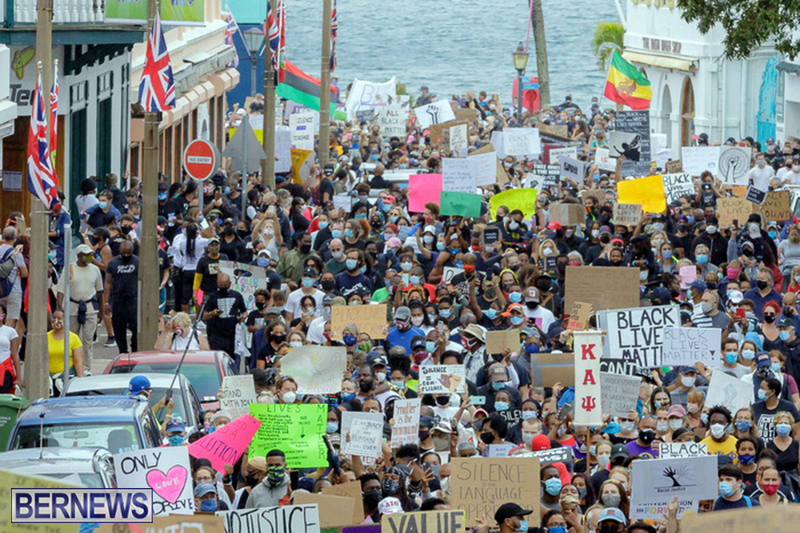 "With this in mind we wanted to write to express our profound disappointment over the handling of this matter. We struggle to understand why something posted for anyone with an internet connection to see could cause such an extended investigation. Why, 61 days later, are we still waiting for something to be done?
"After the officer made the post, you swiftly came out and stated on June 7th that "Several officers brought the matter subject to investigation, to the attention of the BPS, Professional Standards Department. That reflects the commitment to address acts of misconduct by the service at all levels." You further noted that the "image is not in line with the core values and ethos of the BPS."
"After over a week with no action, and with your department not commenting on the matter further, we were forced to question the validity of your claim that your actions reflect a commitment to address acts of misconduct.
"We subsequently reached out to the Office of the Director of Public Prosecutions on June 19th. We laid out for Mr. Mussenden the specific law your officer's actions contravened. He got back to us over a week later noting that he had forwarded our letter to you upon receipt, that you had appointed an Investigation Officer, and that your departments were liaising about the matter. Our subsequent e-mail to his office has yet to receive a response, however, at the time we remained optimistic that the situation was near being resolved.
"We then heard yesterday, August 5th, while you were trying to be "appropriate" on Facebook, that there is a "process of presenting that information and the person has a right to respond". You further expressed that "there is legitimacy to that", and that "there is due process which is the same as anything where someone was accused". This is unacceptable, and if it takes 61 days to get a response and deal with this the BPS policies and procedures clearly need an overhaul. Further, the Employment Act in Section 25 gives you the authority to fire your officer over "serious misconduct". Yet, this has not been done.
"At this point, it has become clear that the BPS and the Community do not see the actions of your officer in the same light. Unfortunately, the BPS has chosen to feign accountability and hide behind an "ongoing investigation". This is becoming eerily reminiscent of the cover- ups that we see in the United States; the very same cover-ups that have caused civil unrest and protests across the world.
"We deserve better. We demand better. While many Black Bermudians are still struggling to live dignified lives in their country of birth, we are now faced with the grave reality that so long as this officer remains on your employ, the BPS is complicit in her racism.
"The letter forwarded to you by the DPP laid out our position quite clearly, and we hope that some action will be taken to deal with your officer so that we can move past this abhorrent chapter in Bermuda policing history."
Update 2.40pm: A police spokesperson said, "In response to the open letter from Black Lives Matter Bermuda, which addresses a situation involving a member of the Bermuda Police Service, [BPS], having been suspended from duty, the BPS can advise that a file on the matter is now with the Department of Public Prosecutions, [DPP].
"The BPS understands and appreciates the public's concerns about this situation. However, due process must be allowed to take place, as everyone has a right to legal recourse no matter how serious the nature of their offence.
"Whilst the BPS does not agree with the comments made in the post highlighted in the open letter from BLM Bermuda, we must abide by the dictates of Bermuda laws as they exist and will now await a decision from the office of the DPP, before we determine our next course of action.
"In the interim, we will not engage in any public discussion on the matter so as to ensure any impending legal action is not undermined by claims the officer in question could be denied a fair hearing due to excessive and / or biased commentary in the media.
"The Commissioner of Police looks forward to meeting representatives of Black Lives Matter Bermuda to further discuss this situation."
Read More About