The island's first Alfresco Dining Festival will be launching tomorrow [Sept 17] with three-dozen local restaurants taking part.
A BTA spokesperson said, "Bermuda's safe and spectacular outdoor restaurant venues will be the focus of the island's first Alfresco Dining Festival, launching tomorrow with three-dozen local restaurants and two spectacular open-air events playing up Bermuda's desirable fall temperatures.
"The 10-day festival [September 17–26], conceived by the Bermuda Tourism Authority [BTA], aims to put the spotlight on Bermuda's abundance of open-air food establishments. The objective is to encourage residents to support restaurants as they are doing with hotels in the overwhelming local response to this month's staycations campaign.
"Simultaneously, BTA wants to win the attention of visitors, a group especially attracted to alfresco dining amid the pandemic. In New York, for example, restaurants are restricted to 25-percent capacity indoors, and with temperatures dropping as fall approaches, eating outdoors will be curtailed for many in northern climes.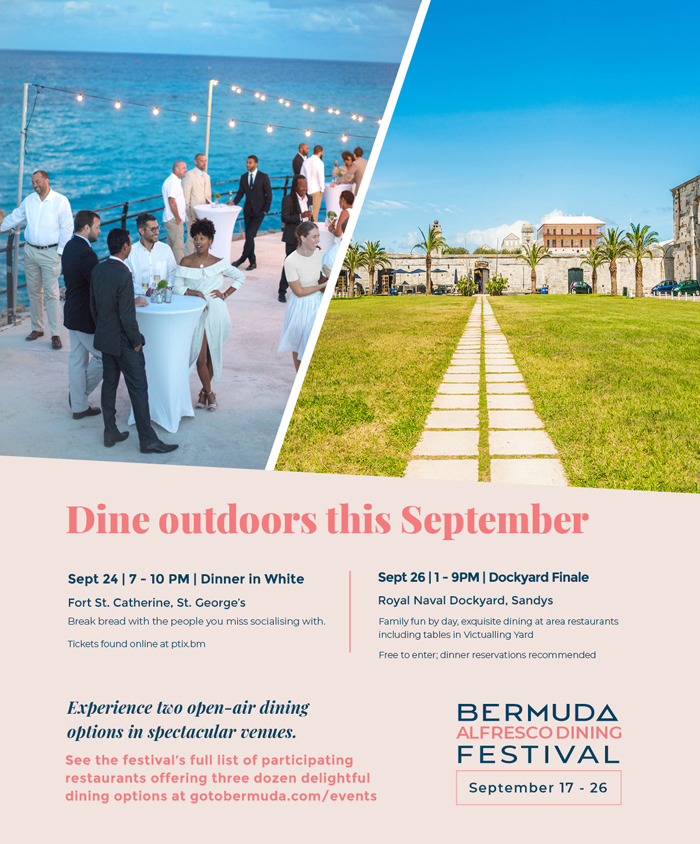 "The Alfresco Dining Festival is our opportunity to show travellers that Bermuda's health-safety record and mild fall season make us an excellent choice for travel right now," said BTA Interim CEO Glenn Jones.
"The pandemic's restrictions have amplified the value of the island's fantastic outdoor dining options, and we think this will resonate with travellers in New York, Boston, Toronto, London and every other place diners are forced indoors by cold weather. Residents can help us make the case for choosing Bermuda by filling restaurant tables across the island over the next 10 days."
"Beachside bistros, harbourside eateries and terraces with sweeping views of golf courses are among the restaurants taking part and many are offering special deals. Additional establishments are signing up, demonstrating Bermuda's resiliency just days after a direct hit by Hurricane Paulette, a Category 2 storm.
"Two signature events—spotlighting both ends of the island—will punctuate the Alfresco Dining Festival:
Dinner in White [Thursday, September 24]—rescheduled from September 17 due to Hurricane Paulette, this elegant, farm-to-table culinary experience, hosted by Just Dreams Events and catered by Tempest Bistro atop the panoramic ramparts of Fort St Catherine, St George's, will welcome group reservations for a safe environment respecting Bermuda's health-and-safety protocols. Tables available for booking will sit up to eight people; a limited number of physically-distanced tables for two can also be reserved.
Dockyard Finale [Saturday, September 26]— a day and evening of entertainment and delicious food and drinks for families and friends to wrap the festival. Participating venues accepting reservations include Anchor, Bonefish Bar & Grill, Frog & Onion Pub, and Snorkel Park. Follow dinner with a 9:15 pm outdoor movie in the Victualling Yard screened by Media Lounge, which reminds movie-goers to bring their own lawn chair.
"The Alfresco Dining Festival is part of the BTA's inside-out marketing plan, designed to stimulate spending from residents while simultaneously engaging visitors at a time when traveller volume remains low. Other initiatives have included Bermuda Racquet Week, launched last month, and Staycation Month, which continues throughout September at 10 participating hotels."

Read More About
Category: All, Business, Entertainment, News