A congressional investigation blames a "culture of concealment" at plane-maker Boeing and a "fundamentally flawed" regulatory system for two crashes involving Boeing's 737 Max aircraft, including one that took the life of the family of Bermuda resident Paul Njoroge.
In the Ethiopian Airlines crash on March 10, 2019, Mr. Njoroge lost his his wife Caroline Karanja, 7-year-old son Ryan Njoroge Njuguna, 4-year-old daughter Kerry Paul Wanjiku Njuguna, 7-month-old daughter Rubi Wangui Njuguna, and his mother-in-law Ann Wangui Karanja.
Mr. Njoroge went on to provide testimony before the U.S House Subcommittee on Aviation in July 2019, appealing for greater oversight and aviation safety procedures.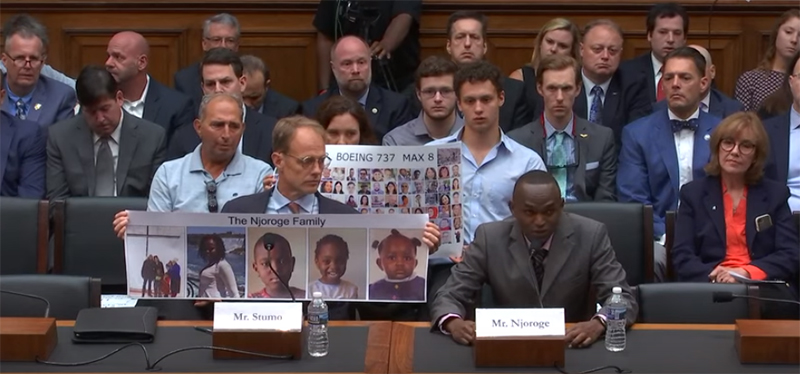 A BBC story said, "Two fatal crashes of Boeing 737 Max aircraft were partly due to the plane-maker's unwillingness to share technical details, a congressional investigation has found.
"It blames a "culture of concealment" at Boeing, but says the regulatory system was also "fundamentally flawed".
"Boeing said it had "learned many hard lessons" from the accidents.
"But families of the victims accused the company and the regulator of continuing to hide information.
"The US report is highly critical of both Boeing and the regulator, the Federal Aviation Administration [FAA].
"Boeing failed in its design and development of the Max, and the FAA failed in its oversight of Boeing and its certification of the aircraft," the 18-month investigation concluded.
"The Boeing 737 Max has been grounded since March 2019 after two crashes, in Indonesia and Ethiopia, caused the deaths of 346 people."
Read More About
Category: All