Paul Njoroge – a resident of Bermuda whose family was killed in the Ethiopian Airlines plane crash in March — provided testimony before the U.S House Subcommittee on Aviation last month, appealing for greater oversight and aviation safety procedures.
Mr Njoroge tragically lost his his wife Caroline Karanja, 7-year-old son Ryan Njoroge Njuguna, 4-year-old daughter Kerry Paul Wanjiku Njuguna, 7-month-old daughter Rubi Wangui Njuguna, and his mother-in-law Ann Wangui Karanja in the plane crash.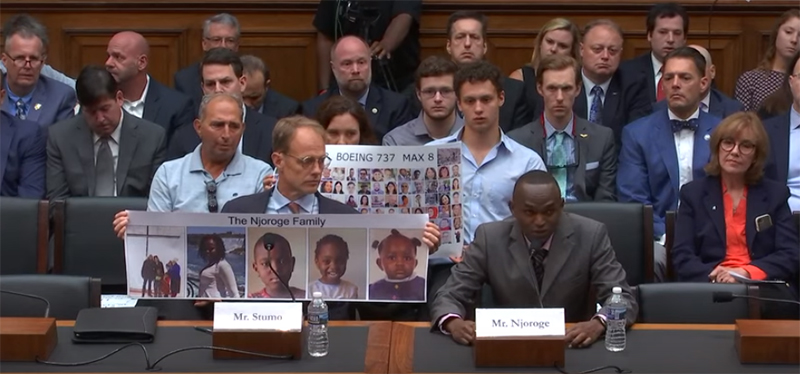 Speaking before the Committee, Mr Paul Njoroge said, "I come before you with a broken heart. It is not something that this Committee or that Congress can fix, but I push myself every day to try to do something in the memory of my family, my entire family that was killed in the second Boeing crash in Ethiopia.
"My wife, Carolyne, a wonderful mother to our children, and who we talked about getting old together. Our three children, Ryan, six years old with the whole world ahead of him as he dreamed of being an astronaut one day. Kelli, just four years old, and the light of everyone's eye. And little nine-month-old Rubi, a baby who sat on her mommy's lap who I wish I could hold just one more time.
"I have nightmares about how they must have clung to their mother, crying, seeing the fright in her eyes as they sat there helplessly. And there was nothing I could do to save them. My mom in law sat beside them with tickets I had purchased for them that was to be a trip of a lifetime.
"I paid for plane tickets that was to be a safe flight. I did not know all of the information of which Boeing knew about how dangerous that plane was yet the corporation allowed 157 people to board that dangerous plane that could not land safely. I never knew it would be the last time I would ever see them. "
Mr Njoroge added, "FAA should establish an effective system requiring manufacturers, airlines, pilots and others in the industry to report potential safety problems or defects as an 'early warning system.'
Mr Njoroge's testimony follows below [PDF here]
Read More About
Category: Accidents and fires, All, News