[Updated] A group called 'Community Voices for Democracy' said they have invited the island's political leaders to take part in a debate at 8.00pm on Monday, September 28th.
The group — which consists of Qian Dickinson, Rick Richardson, Dana Selassie, Charles Jeffers, Ywion Darrell and Ajai Peets — said it would take place at the Bermuda Broadcasting Company studios; the BBC is the only local private sector media with in-house television, radio and digital distribution capability; with the PLP having already stipulated that any debate must be broadcast across all three mediums.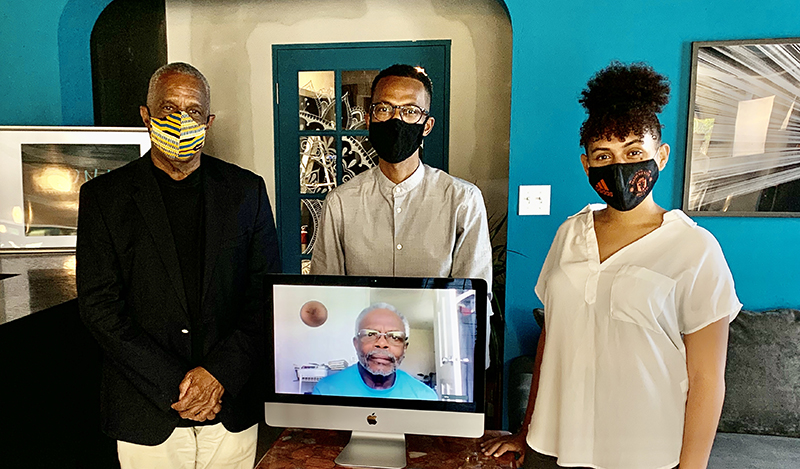 Community Voices for Democracy spokesperson and organizer Qian Dickinson, one of the team behind the popular social media group Bermemes, said, "For clarity for those of you who may feel apprehensive about why we are here today, this is not an attack on leadership or any party.
"This is not about who to vote for, but an invitation to our leaders by the community to inform the people of this country about what they are voting for to enable us to clearly compare policies, ideals, and visions using a standard format used around the world, a debate.
"Although young people have led in asking for this debate, to our seasoned voters we ask you to also stand with your children and grandchildren who are the immediate and future beneficiaries of what will come out of this election.
"If you need a reminder of how much is at stake, whether it be growing the economy, healthcare, social issues and even our environment, please reference 2020. Our ancestors made sacrifices to give us the right to vote, but it is time we empowered this process to be an informed decision.
"To our leaders we ask that you listen to the people, that you don't forget that leadership is about service. There are no losers in a debate and we all stand to gain by evolving this part of the democratic process of empowering you to represent us."
Community Voices for Democracy Senior Media Advisor Rick Richardson, who previously served as the CEO of the Bermuda Broadcasting Company, said: "Today we have come together with a common cause and, common objective in support of Democracy, and by extension in support of a debate between the leaders of those persons asking for our votes.
"As one who has been asked to assist in the process I can tell you that we are in the midst of a sea-change, as this call for accountability has come from the young of all races, religions, and all financial backgrounds, it's a youth movement and is something we as parents, political and civic leaders, and past leaders have asked for. They are now saying, come on dad, mom, grand-dad, etc, this is why you send us to school, college, university and the like. We are here!! Protect your investment and support us.
"As you hear from these community voices we ask that you consider a few very basic things:
Will the televising of a debate over platforms; political ideology; and key components of our Democracy, particularly during these times of social distancing etc, assist in your decision making, or hamper your decision making?
Will the scrutiny of where Leaders stand on matters of vital importance to the future well being of all those who call Bermuda home, enhance or hinder the Democratic Process?
Are you fully aware of the leaders' views on the National Debt; How they will diversify the economy; decriminalization of drugs/Cannabis; Immigration……Health care reform…. & Education reform?
"I suggest to you that a debate will assist in your decision making; that scrutiny of the policies will help the process and ensure accountability; that each of you will be better served by open remarks on immigration reform; health care and insurance; and the much talked about education reform.
"Having staged the only televised leaders debate prior to an election in Bermuda I can also disclose that the lone debate took place with the emergence of a third party, the National Liberal Party.
"The ruling party, with Sir John Swan at the helm, made the decision to debate the issues. So the precedent has already been set, but now its coming from, and driven by, the next generation.
"So lets ask a rhetorical question of our leaders: If not now why not? If not now, when? And the answer cannot be 'after you have cast your vote.'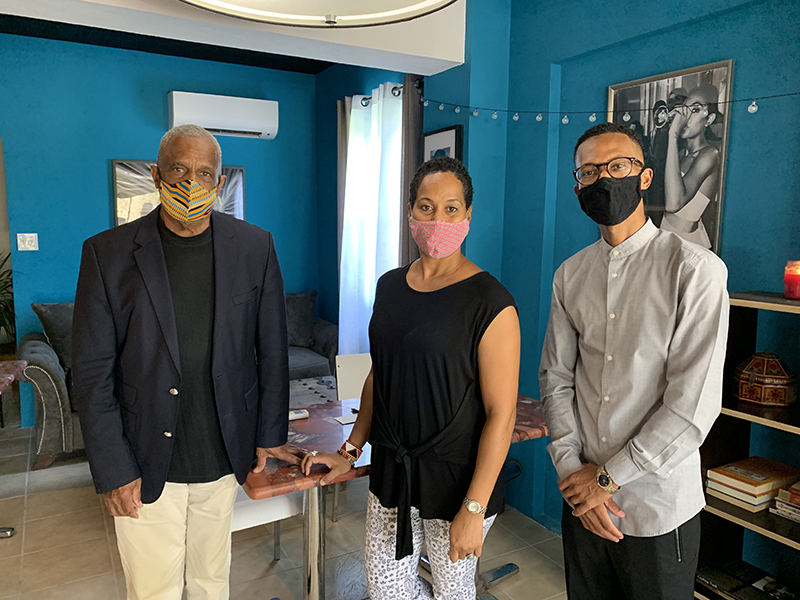 Community Voices for Democracy Youth Representative Ajai Peets said, "Bermuda Youth Connect is a youth led youth organization, whose mission is to bridge the gap between the young people of Bermuda and our leader. I am here today in full solidarity and support of the Leader's Debate.
"Today marks a new chapter in my life, and in the 21 years I have lived on this island, now couldn't be the most perfect time to call on our leaders for this debate. As a first time voter like many others, I sit down and I do not know where to turn to. On a global scale, debates play a crucial role in democracy, why should Bermuda be any different? A debate at this level allows the public of Bermuda to see the character and leadership that is needed to move our country forward.
"Furthermore, I can speak for many young people, when I say we have evolved from the traditional door to door canvassing scheme, what we need from our leaders is something that we can all participate in together.
"In the words of Joseph Joubert, 'it is better to debate a question without settling it than to settle a question without debating it.' And I believe it shouldn't be a question of why this debate should not take place."
The PLP has previously stated that they "will accept offers for a national leaders' debate between leaders of political parties that are capable of forming government after the October 1st election," which in effect would not include the recently formed FDM, which is fielding 15 candidates. The Premier was asked about it at this evening's Covid briefing and said "that position has not changed and will not change."
The group said that they have reached out to the PLP, OBA and FDM, and we have reached out to all three organisations to see if they plan to take part and we will update with their responses if able.
Update Sept 23, 8.24am: At the PLP event last night [extract below], the host said "contrary to what is being reported, the PLP has accepted every single debate and forum invitation."
We are also still awaiting replies from all three parties, however we did only ask them somewhat late last night, so hopefully can update with responses today.
Update 1.16pm: While not a specific response to this, per se, the PLP has released a statement on debates saying, "The PLP would like to correct the record and reiterate our commitment to any debates being organized by local media. As we have stated repeatedly, our candidates would be glad to debate the Party's record and our vision for the future against any candidates on the ballot in their constituency.
"Furthermore, our Leader welcomes the opportunity to participate in a debate between Party Leaders that have fielded sufficient candidates to form a government."
"While much work remains, we are making steady progress on tackling the issues that matter most to Bermudians; rebuilding our economy post Covid, reforming our education system and making healthcare more affordable."

For comprehensive coverage of the 2020 Bermuda General Election and past elections, you can find more information and statistics on the links below.
Read More About