Bermudian triathlete Flora Duffy won the 2020 Karlovy Vary ITU Triathlon World Cup today [Sept 13] in the Czech Republic.
The report on the International Triathlon Union website said, "Sunday afternoon in Karlovy Vary saw Bermuda's Flora Duffy back on an Olympic-distance course for the first time since the Lausanne Grand Final, and putting in a performance to prove beyond any doubt that her injury troubles were finally behind her.
"Duffy took the tape for the first time in a World Triathlon race in two-and-a-half years, the 90-second margin of victory over newly crowned World Champion Georgia Taylor-Brown highlighting the dominance of her display on a demanding course. The Netherlands' Maya Kingma's joy was evident for all to see as she rounded off a storming run to score her first ever World Cup podium with bronze.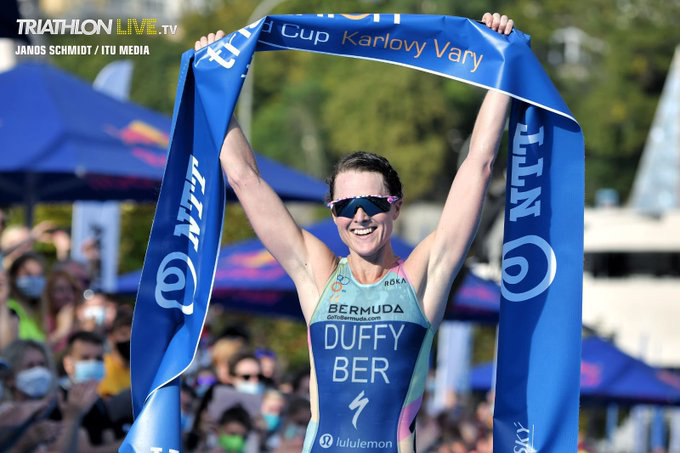 "Wow! It was so hard, man that was a shock to the system," admitted a thrilled Duffy. "A first Olympic distance of the year and on such a challenging course and with such a stacked field.
"Jess is unbelievable in the swim and I was just trying to recover from that for most of the bike to be honest, which isn't easy on this type of course. I wanted to ride strong but not over-extend myself and the run just felt like survival. I'm just so thrilled to win, it has been a while since I've done it at this level and it's a huge confidence boost and something I feel personally I've really needed."

Read More About