The First Devonshire Brownie Pack recently visited the Town of St, George's for a historical walkabout in preparation for earning their local history badge.
A spokesperson said, "On Saturday, September 26, the First Devonshire Brownie Pack visited the Town of St, George's for a historical walkabout in preparation for their local history badge.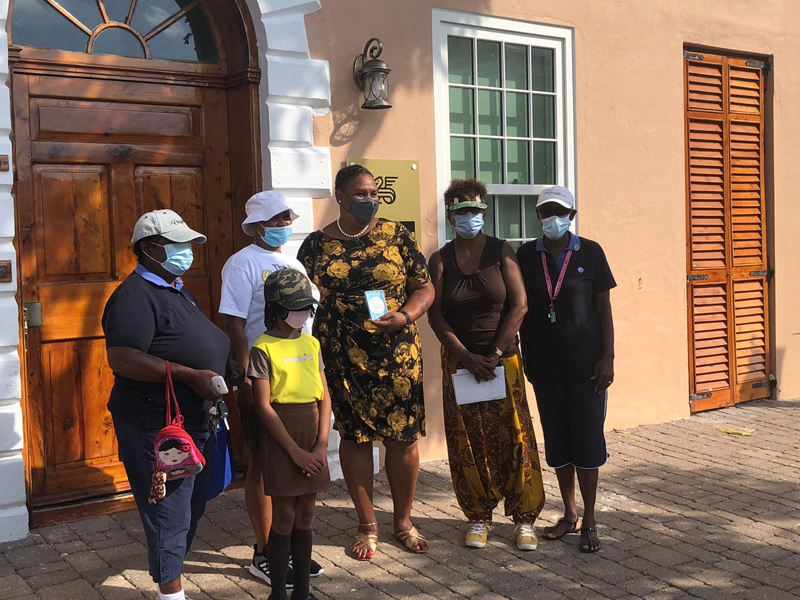 "Brownies were accompanied by parents and their First Devonshire Brownie Board of Directors, Nekesha Holdipp, Idalia Fox, and Vanessa Sta Maria, Assistant Commissioner of Guiding in Bermuda Vergeinia Wally Simmons, Brown Owl Cathy Bassett, Snowy Owl Juneia Jeffers, and Nana Owl Ingrid Romaine also accompanied the group.
"Former Brownie, MP Renee Ming, who was an exemplary Brownie under the guidance of Brown Owl Connie Esdaille Francis at the Salvation Army Brownie Pack in St. George's, gave the Brownies a lesson on leadership and commitment to excellence as their keynote Speaker.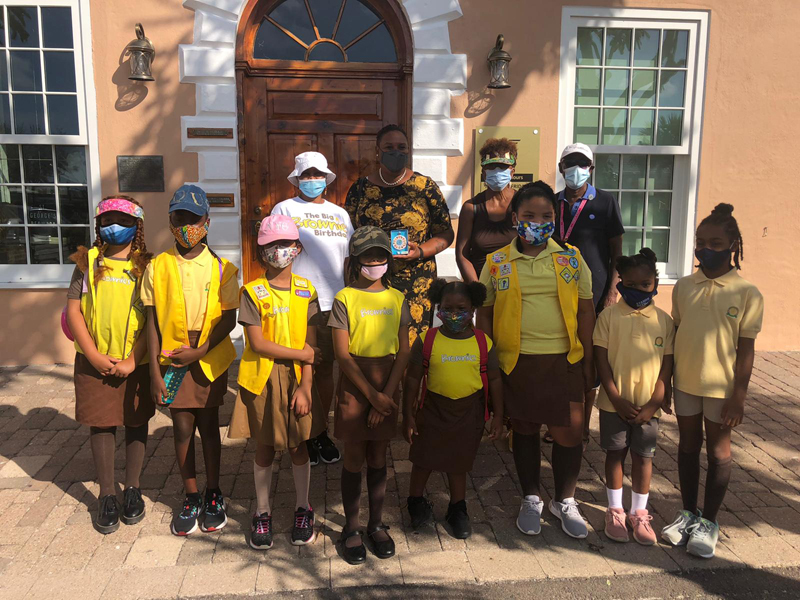 "She stressed to them the importance of developing their leadership skills as they move up the Guiding ladder and give back to the community not only as Brownies, but as Girl Guides and adult leaders.
"She encouraged them to strive to become leaders in Bermuda, making a difference in our island home. She encouraged them to aspire for excellence in all that they do and always remember women can make excellent leaders. Her talk was both motivational and inspiring to both Brownies, Brownie leaders, and parents.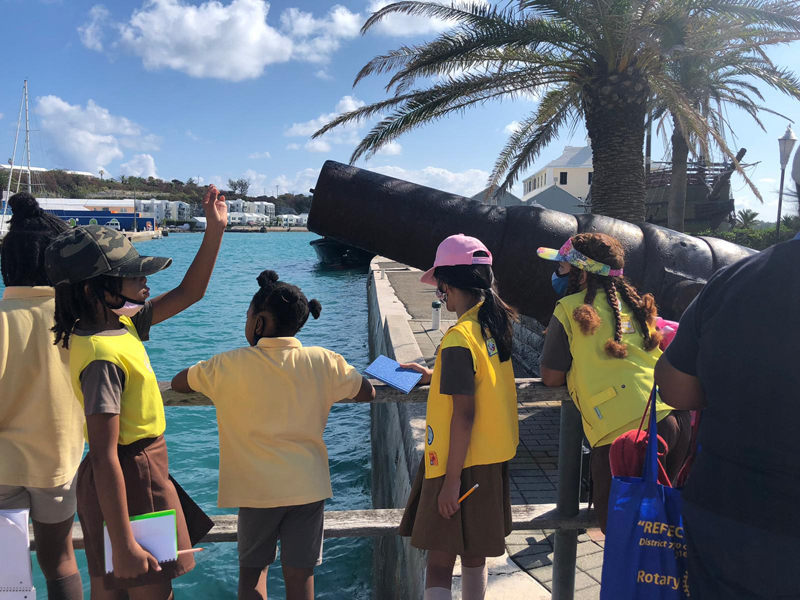 "The Old Town of St. George's was the setting of the start of the historic walkabout in Kings Square.
"The girls were working toward their local history badge, with emphasis on landmarks, culture, and significant people. This newly introduced badge enables Brownies to discover their historical buildings, statues, parks gardens, shops and cafes, traditional foods from past and present, significance of names of streets, and achievements of people from their past.
"The Brownies had been meeting via Zoom before the summer break and resumed meetings on Zoom in September. They were exposed to various activities to help them relieve anxieties and just hang out in their homes and have fun catching up and designing recyclable outfits using paper bags, trash bags, dried flowers and yarn. They hosted an online eco fashion show under the guidance of Nan Owl Ingrid Romaine.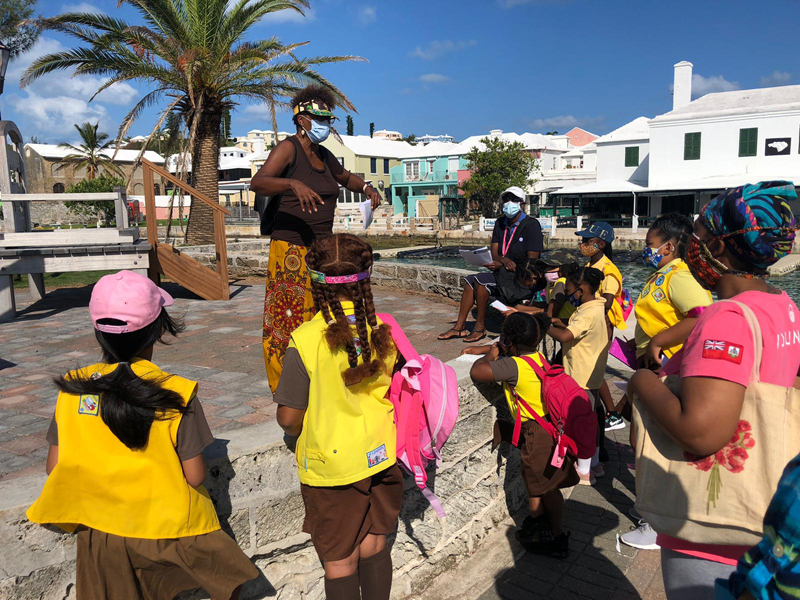 "The history landmark project headed by historian Snowy Owl Juneia Jeffers of Pink Pillars Vision, coupled with the talents of local historian and founder of Treasures Bermuda Maxine Esdaille, was well researched and presented to the Brownies and parents, who were able to attend the walkabout.
"With masks in place for all participants, the Brownies understood the theme: Square to Square. A brisk walk from The Town Square highlighting familiar and new points of interests including the Stocks, the Deliverance, the Towne Hall, St. George Somers statue, and Esten House.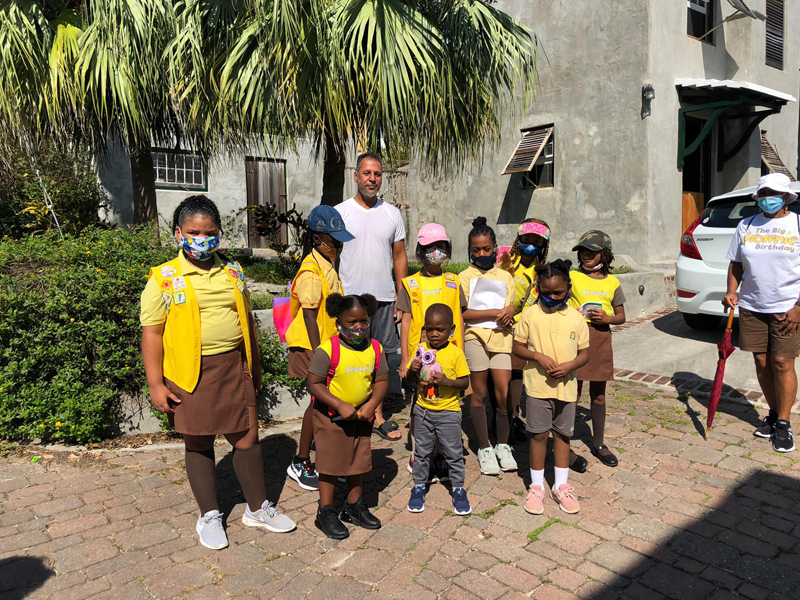 "The tour guides introduced the girls to the culture of the past. They learned about the consequences of petty crime and gossiping and discovered how slaves were punished in Bermuda.
"They were taught about the brilliance of many of the slaves who demonstrated diligence in ship building, industry and trade. As they strolled down Water Street, Mrs. Esdaille was able to convey to them significant facts about slavery in Bermuda and out of that experience came perseverance, ambition, and drive within the African / Bermudians residing in Bermuda during that era.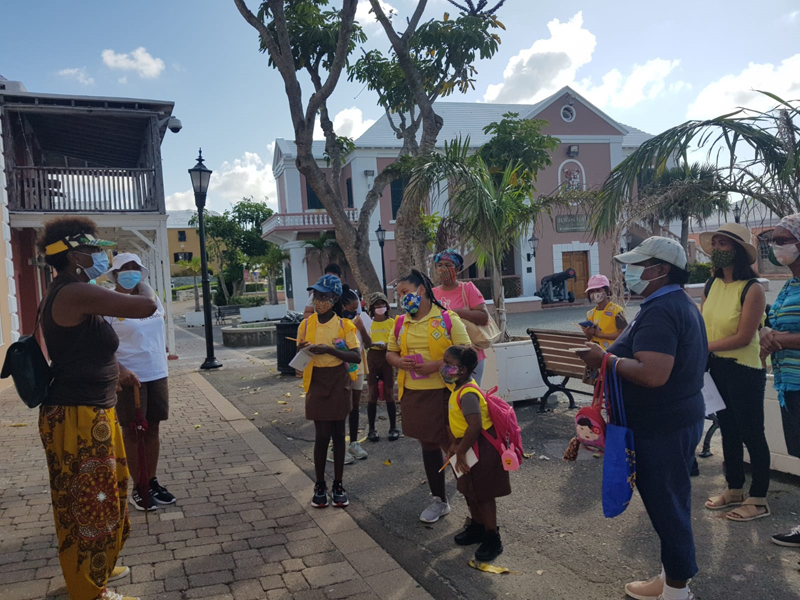 "Other vantage points highlighted by Snowy Owl Juneia included the first verandah in Bermuda on the corner of King's Square and Water Street, which now houses The Perfume Shop and the St. George's Post Office, which was a jail in the Old Town.
"Further on the walk, the Brownies saw the beautiful family-owned Smith Garden, a place of tranquility and beauty. Here they learned not only about beautiful plants, but also edible and medicinal plants such as cochineal, which was used for inflammation and as a blood cleanser.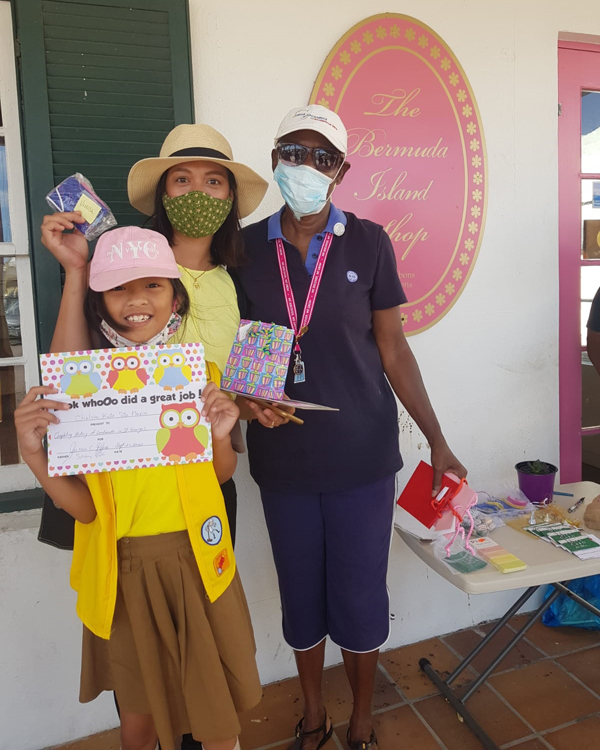 "The second square and highlight was the personal visit to meet R. Rameriz, seventh descendant of the famous King's Pilot James 'Jemmy' Darrell. The Brownies were mesmerized by the Darrell family cats, Dark and Stormy. What a joy!
"The Brownies had earlier researched and gained knowledge of Pilot Jemmy Darrell, so it was awesome to see his homestead and learn more about him and how his piloting ability and commitment to excellence won him his freedom from being a slave. he built both his home and adjoining cottage, which was used for quarantine purposes.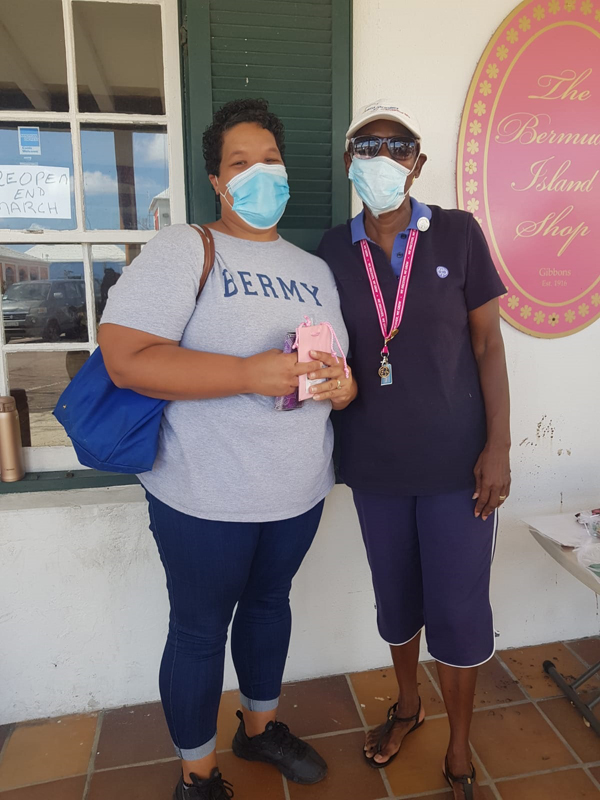 "Mrs. Esdaille toured the burial ground of St. Peter's Church, where slaves, both free and bond were laid to rest, including the children of the bond and the free. The Brownies were reminded that the spot need not be one of gloom, but a spot of rest, reflection and solitude.
"The Brownies were introduced to Barber's Alley and learned about Joseph Hayne Rainey and his contributions as a barber in Bermuda, who went on to become a member of the U.S. House of Representatives, the first African American to be elected to this position in the U.S.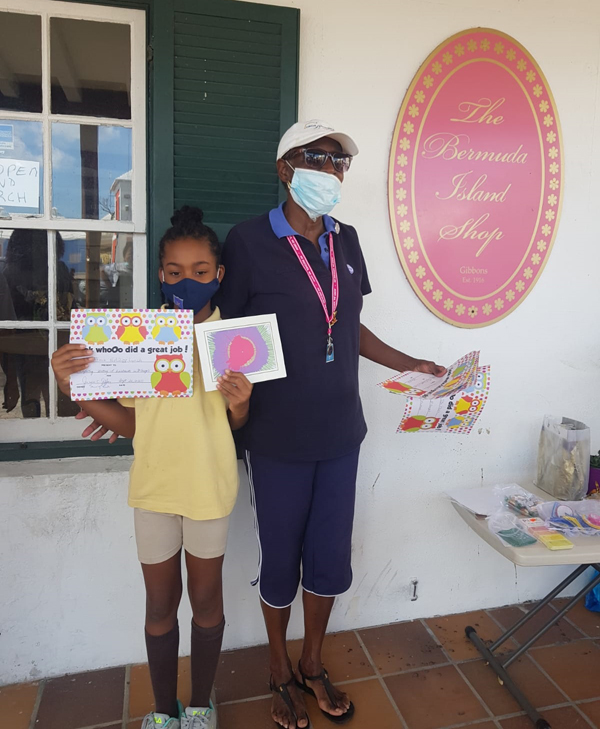 "The fun part of the walkabout, earlier termed by Brownie Rikki-Lee Pitcher as a Brownie field trip, was bubbles and art work on the sidewalk of Surprise Scrapbooking Boutique on Duke of Kent Street. Aunt Corrine Parris accommodated eight little excited girls, leaders and parents, who experienced much fun and excitement catching bubbles from a bubble machine and creating artistic designs with colourful paints.
"Former Brownie, M.P. Renee Ming, let the Brownies and their parents who joined them know that St. George's is in the process of creating beautification on its grounds and encouraged the girls to come back again and to tap into the many, many other important people, places, events, which enhance the cultural awareness and identity of the Towne of St. George's.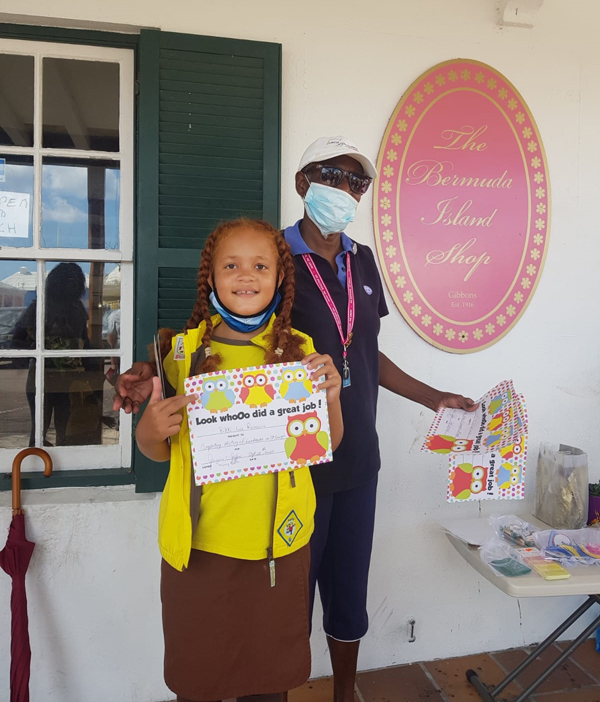 "Brownies is an excellent avenue to develop the leadership in girls aged 7-10. Brownies have produced so many Members of Parliament, members of the legal fraternity, doctors and nurses, business executives, social workers, Bermuda College lecturers and administrators such as the Director of the Pace programme, teachers and principals, fashion designers and book editors and a wide variety of leaders, both locally and globally.
"As leaders retire, move abroad or transition from the Guiding movement, we are always in need of new leaders. If there are women interested in becoming a leader [Guider] for Rainbows [5-7], Brownies [7-10], Guides [10-14], or Rangers [14-18], please contact Brown Owl Bassett at cibassett54@gmail.com. Your request will be forwarded to our Guide Commissioner and her assistant."
Read More About