The Bermuda Hospitals Board [BHB] Stroke Centre is recognizing Stroke Awareness Week by highlighting the risks and symptoms of strokes for the public.
A spokesperson said, "The Bermuda Hospitals Board Stroke Centre is focusing on stroke awareness for the public this week. Many Bermuda families are impacted by stroke every year.
"In recent years the number of stroke cases has increased significantly in Bermuda," said BHB consultant neurologist and Stroke Centre Director Francene Gayle, MD.
"Stroke is considered an epidemic on the island. An average of four to five people present at the hospital every week with stroke."
The spokesperson said, "Stroke is one of the leading causes of adult disability in Bermuda."
"The good news is that there are actions we can take to reduce our stroke risk," said BHB Stroke Centre Coordinator Jamie Farrell. 
"These include keeping our blood pressure at safe levels, lowering our cholesterol, following a heart healthy diet, exercising regularly, not smoking, limiting alcohol intake and controlling diabetes.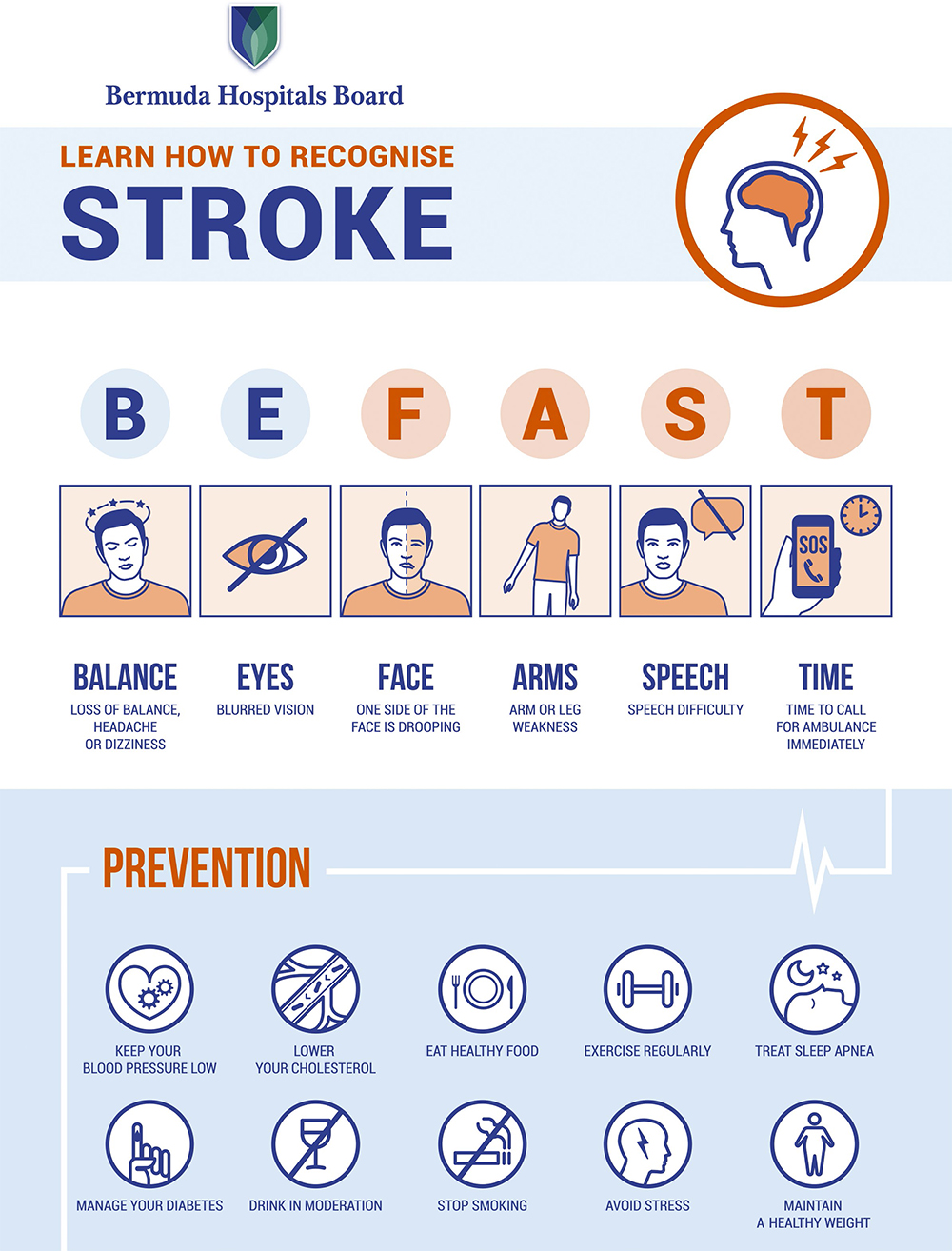 "To determine your stroke risk you can use the Stroke Risk Scorecard which we have provided."
"Recognising the symptoms of stroke is vitally important," said Dr Gayle.
"Every second counts and fast action can actually save lives and often greatly reduce disability. Everyone needs to know the simple acronym BE FAST and what it stands for."
The spokesperson said, "During the week, Bermuda Hospitals Board will be handing out wallet-sized BE FAST cards. The cards are an easy-access reference guide if you suspect someone is having a stroke.
"BHB invites the public to take the daily Stroke Awareness quiz on the Bermuda Hospitals Facebook page. The quiz questions appear at 8am each day until Friday. Answers to the morning questions appear at 6pm each day.
"On World Stroke Day, Thursday 29 October, BHB encourages the public to do a physical activity, as regular exercise is key to a healthy lifestyle that reduces the risk of chronic disease including stroke.
"Tag BHB in your Stroke Day activity Facebook posts. The Stroke Centre team would love to know what you did."
The National Stroke Association's Stroke Risk Scorecard follows below [PDF here]:

Read More About
Category: All