The Bermuda Public Services Union [BPSU] announced four new appointments and changes involving Edward Ball, Kevin Grant, Lloyquita Symonds, and Joan Wagacha.
BPSU President Armell Thomas said, "On behalf of the Bermuda Public Services Union, I am pleased to announce the following Secretariat staff appointments: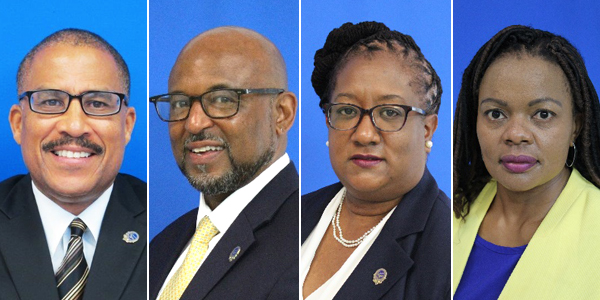 Bro. Edward G. Ball Jr., JP, LLB, FCMI
"Effective October 1, 2020, Bro. Edward G. Ball Jr. will serve in a consultative role for the Bermuda Public Services Union [BPSU].
"Bro. Ball joined the Bermuda Public Services Association as a member in November 1980 and subsequently as Shop Steward and Divisional Chairperson for Division 5 [Hospitals]. He also served on the BPSU Executive in every Vice-President position before being elected President in March 1988.
"During his tenure as President [1988 – 1990], Bro. Ball was instrumental in the formation of the Women's Committee and spearheaded many educational forums for the membership on matters such as on matters such as the Human Rights Act 1981, What Makes News, Drug Testing in the Workplace, Pension Reform, Health & Safety, etc.
"Bro. Ball was re-elected President in 1990 but relinquished the position to accept a full-time position as Assistant General Secretary. He held this position until he succeeded Bro. Eugene A. Blakeney as General Secretary in November 1997.
"As General Secretary, Bro. Ball oversaw all BPSU's negotiation teams, arbitrations, tribunals and managed the day-to-day operations of the Union. He has served as member of the Economic Forum, the Base Lands Development Corporation [BLDC], the Immigration Board and the reform of the Workers Education, Long Term Residency Policy, Appeals Board, Bermuda Social Insurance, Labour Advisory Council, the Public Services Superannuation Board and Government Employees Health Insurance to name but a few. He also served as member of the drafting team for workers for the Employment Act 2000.
"The BPSU thanks Bro. Ball for his decades of dedicated service to the Union, its membership, and all workers.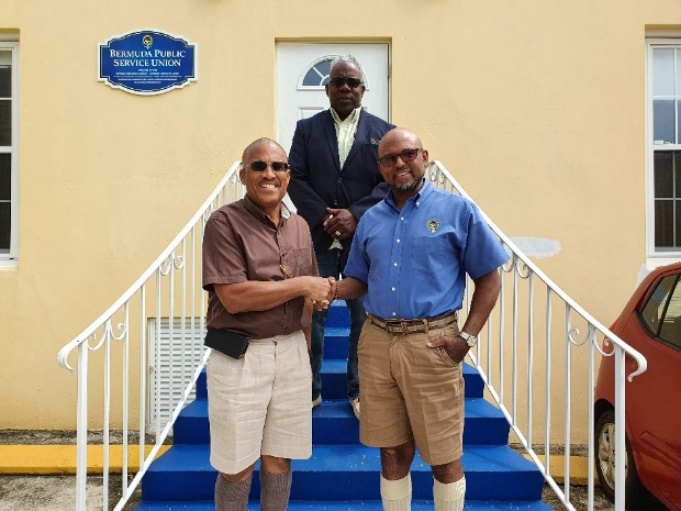 Bro. Kevin S. Grant, MMHRM, CMGR, MCMI
"The BPSU is pleased to report that effective October 1, 2020, Bro. Kevin S. Grant will assume the role of General Secretary Designate.
"Bro. Grant has an impressive record in Bermuda's trade union movement having served in various capacities within the BPSU. In 1994, he was elected as Shop Steward for the Department of Planning. In 1997, he was selected to participate in BPSU's Leadership Development Program and served as an Executive on the Youth Committee. In 1999, Bro. Grant was elected the Chairperson of Division 11. As a part of his on-going development, Bro. Grant attended the New Union Leaders Course at George Meany University of Labor in Baltimore, Maryland in 2000 and participated in the prestigious Commonwealth Study Conference in Australia and New Zealand in 2003.
"Bro. Grant was elected as 3rd Vice President [2005-2008] and 1st Vice President [2008-2011] before ascending to the post of President [2011-2014]. During his tenure as President, the relationship between the BPSU and the Bermuda Industrial Union was rejuvenated resulting in the BIU joining the Bermuda Trade Union Congress in 2012. As President, he participated in the historic round of negotiations between the Bermuda Government and the BTUC in 2013 and was instrumental in forging the Memorandum of Understanding for furlough days.
"In October 2016, Bro. Grant was appointed as the Assistant General Secretary, a position later re-named Labour Relations Advisor. In 2018, he obtained a certificate in Labour Relations through Queen's University. In 2019, he received his Chartered Manager status from the Chartered Management Institute
"Bro. Grant has served on various Government boards and Committees including the Immigration Board, Labour Advisory Committee, Joint Grading Panel, GEHI Management Committee, Public Service Superannuation Board, and the BHB Compensation Governance Committee.
"Married to Dorothea and father to son Dakai, Bro. Grant has been very active in the community having served on the Pembroke Parish Council, in various positions on the North Village Community Club Executive and as the Treasurer for North Village Community Trust [St. Monica's Neighborhood Action Group].
"The BPSU wishes Bro. Grant much success in his new role.
Sis. Lloyquita H. Symonds, ACSW, MSW
"On October 1, 2020, Sis. Lloyquita Symonds will be promoted to the role of Assistant General Secretary.
"Sis. Symonds is a dedicated and committed trade Unionist and joined the BPSU in a fulltime capacity as a Labour Relations Advisor in April 2020. Sis. Symonds has an extensive Union background having served as a Shop Steward and General Officer. Most recently she served on the BPSU Executive Committee as the Recording Secretary, 1st Vice-President and is the Immediate Past President. Previously, she has served on the BPSU Education Committee and as Chairperson of the Public Relations Committee.
"Sis. Symonds has represented BPSU at numerous conferences both locally and overseas. She has attended the Northeast Regional Summer School for Union Women at the University of Connecticut where she received formal training in Collective Bargaining and Parliamentary Procedures. In addition, she has completed a three-year developmental program through Public Services International where she conducted research, completed position papers and made presentations on Privatization, Good Governance, Collective Bargaining and Trade Union Renewal.
"Sis. Symonds is a member of the Academy of Certified Social Workers having received a Masters Degree in Social Work from Boston College. Prior to her full-time employment with BPSU, she was employed for over 16 years with the Bermuda Government as a Social Worker in the Department of Corrections.
"Sis. Symonds is a recipient of a 2005 BPSU Delegates' Award in recognition of her commitment to professionalism and the advancement of workers' rights. She is an alum of the Caribbean-Canada Emerging Leaders Dialogue.
"The BPSU is appreciative of the Union-centric experience and unique skillsets that Sis. Symonds brings to the Union and the membership.
Sis. Joan Wagacha, BA[Econ], CPA, TEP
"As the Treasurer, Sis. Joan Wagacha has primary responsibility for managing the company's finances, including financial planning, management of financial risks, record-keeping, and financial reporting and coordinating annual audits. She directly assists the Finance Committee on all strategic and tactical matters relating to budget management, cost–benefit analysis and forecasting needs. She is also responsible for managing the office.
"Prior to joining the Union as a full-time employee, Sis. Wagacha worked as a consultant with Island Employment Partners [IEP] assisting the Union with bringing the union's financial audits up to date.
"She also worked with Conyers Dill and Pearman Limited as a Manager in Codan Management Limited where she was responsible for overseeing preparation of financial statements for various clients. She was also employed with Lombard Odier Trust [Bermuda] Limited as an Assistant Manager where she was responsible for the administration of a portfolio of trust clients as well as preparing financial statements.
"Sis. Wagacha holds a Bachelor of Arts degree in Quantitative Economics from University of Nairobi. She is a Certified Public Accountant [CPA] in Kenya from Strathmore University and in the United States with the California Board of Accountancy. She is also a Trust and Estates Practitioner [TEP] holds a Diploma in International Trust Management [STEP] from The University of Manchester, Central Law Training.
"Sis. Wagacha brings extensive knowledge and experience to the Union."
Read More About