The Minister of Education Diallo Rabain announced that Bermudian student Katherine Grainge is the recipient of a full scholarship to the University of St. Andrews in Scotland.
Ms. Grainge is the first student to receive this prestigious scholarship made possible by the generous donation of long-time Bermuda resident, Mr. Chris Maybury and Mr. Karim Alibhai, founder and principal of GenCom.
In 2017, Mr. Maybury approached the Premier with the idea of making a lasting investment in Bermuda, namely the introduction of a scholarship for a promising young Bermudian with leadership potential.  Mr. Maybury was soon joined by Mr. Alibhai in making this gift to Bermuda allowing for the scholarships to be offered.
"Investing in future leaders of Bermuda is a duty of non-Bermudians who are afforded the privilege of living on the most beautiful island on earth and a way to put something back into this vibrant community. This was the conclusion of Mr. Alibhai and myself and we encourage others to get involved in helping young Bermudians," said Chris Maybury.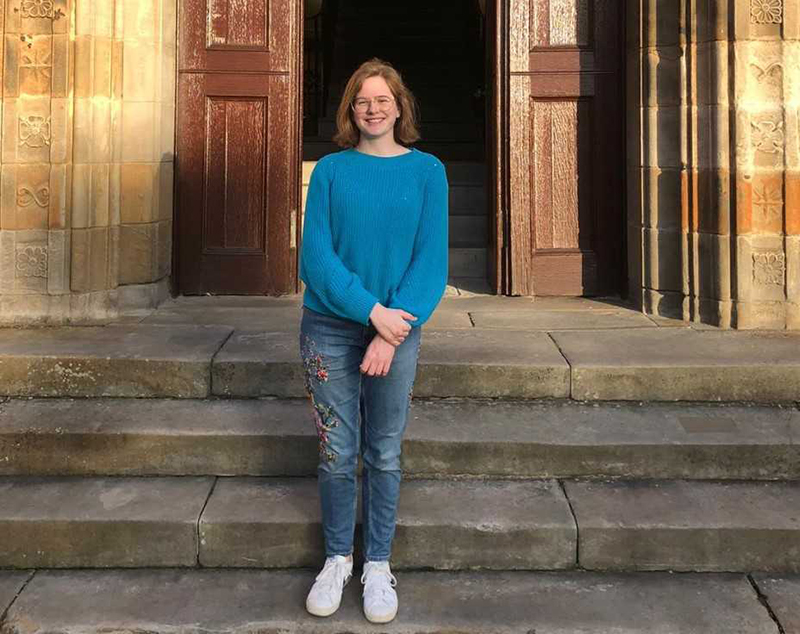 Minister of Education Diallo Rabain said, "We are pleased to fulfil the pledge made by Mr. Maybury and Mr. Alibhai to give full scholarships to Bermudian students at University of St. Andrews. Their commitment is a testament to their belief in Bermuda's youth.
"We are grateful to Mr. Maybury and Mr. Alibhai and look forward to continuing to working with them to afford this opportunity to additional students. We are delighted to have facilitated the scholarship process and acknowledge Ms. Grainge's outstanding academic credentials and wish her well in her studies.
Ms. Grainge, who has begun studies at St Andrew's said, "I am deeply honoured and grateful to be awarded the St Andrew's scholarship. It is so exciting to be studying Art History at such a prestigious university that will hopefully set me on the path to working in the heritage sector; I would love to eventually work for a Bermudian museum.
"I already love the town of St Andrews and its close-knit, friendly community, which reminds me of Bermuda. Even though Covid has made the university experience more difficult, the professors have been very supportive and all the new students help each other in any way we can. "
"We are honoured to give back to the Bermudian community by offering deserving students a scholarship to St. Andrews," said Mr. Alibhai. "We are confident that St. Andrews' unparalleled educational experience will not only enrich the lives of the scholarship recipient but will also have a profound impact on the greater Bermuda community when students return to Bermuda with new knowledge and leadership skills."
Founded in 1413, the University of St. Andrews is Scotland's oldest university, and it offers over 900-degree courses, organised across four faculties: Arts, Divinity, Medicine, and Science.
"Mr. Maybury proposed the University of St. Andrews due to its range of degree courses, and the broad courses of study that allow for exploration and exposure in a student's first year of university. St. Andrews also has a diverse international study body and provides significant levels of support to its students, both local and from overseas," a spokesperson said.
"The scholarship is valued at up to £35,000 annually for 4 years, for British Overseas Territory fee status students and covers tuition, accommodation, food, return airfare and a computer.  The intent of the donors was to fully fund all expenses so that scholarship recipients did not have to worry about money, but instead be focused on their studies and the successful completion of their programme of study at the University of St. Andrews.
"In order to apply for this scholarship, students must first apply directly to the University of St. Andrews at https://www.st-andrews.ac.uk/study/apply/ug/direct/. Students can then submit their scholarship application on Bermudascholarships.com."

Read More About