The Bermuda National Trust has appointed Andrew Vaucrosson as its new Executive Director, with Britt Franklin Call and Randolph Joynes also filling senior roles.
A spokesperson said, "The Bermuda National Trust is pleased to announce the appointment of Andrew Vaucrosson as its new Executive Director, effective November 1."
BNT President Alana Anderson said, "As the Trust marks its half-century, we are excited to bring Andrew into the fold.
"His years of experience in both the corporate and nonprofit sector will be hugely valuable to the Trust during these unprecedented times. We very much look forward to welcoming him to the team."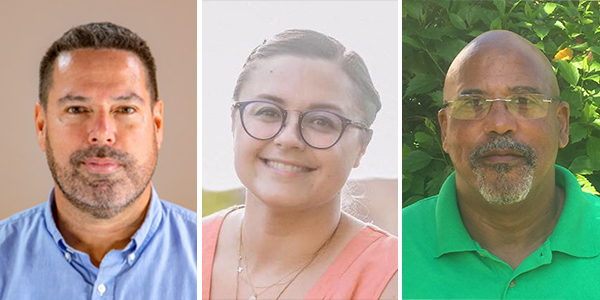 The spokesperson said, "Andrew Vaucrosson has spent the past 25 years working in banking, investments and [re]insurance, where his role has focused on a variety of areas including marketing and business development, communications, strategic planning and implementation, operational development and risk management
"He was employed at the Zurich Insurance Group for 14 years, and more recently has worked for companies involved in technology and asset management. In the nonprofit sector he was President of Greenrock [2006-2012], and a Board member at the Eliza Dolittle Society."
Mr. Vaucrosson said, "I'm delighted to have this opportunity to join the Trust team.
"This is an organisation that plays an increasingly important role in our community. Today, issues like climate change, coastal erosion and lack of open space and farmland are particularly threatening to small islands.
"For 50 years, the Trust has been a leader in advocacy for the protection of the natural environment, our amazing built heritage and the unique Bermuda culture. I look forward to contributing to this track record."
The spokesperson said, "The Bermuda National Trust has recently welcomed two other Bermudians to senior staffing positions. Britt Franklin Call took up the role of Director for Development and Engagement on October 1, and Randolph Joynes has been confirmed as Property Manager.:
Ms. Anderson said, "We are so please to be able to fill these important positions at the Trust with such well qualified Bermudians."
The spokesperson said, "Ms. Call is a fund raising and development professional with a background in museums and archives. She has two Masters' degrees, one in Museums Studies and one in Ancient History and Archaeology.
"Most recently, she was Donor & Corporate Relations Manager at The Buffalo History Museum in Buffalo, New York, before returning to Bermuda last month with her family.
"Mr. Joynes has been confirmed as the Trust's Property Manager, with responsibility for the stewardship of the organization's property portfolio of more than 60 historic buildings and gardens.
"A qualified facilities management administrator, [FMA] [BOMI], he previously worked at the Bermuda Hospitals Board, Bermuda College and the US Consulate General."

Read More About